Scroll Down & Click on Location for More Information
from $115.00 USD

One of the biggest attractions in Nassau is the Dolphin Swim park where you can get up close to the wondrous creatures and swim with them in their natural habitat. Our Dolphin Swim program, our Dolphin Encounter (non-swim) and our Dolphin Swim/ Sea Lion Combo packages offer visitors of all ages to have a unique experience on their vacation. Blue Lagoon Island is close to both Nassau and Paradise Islands and where your adventure awaits you. The island is secluded and offers a truly tranquil and tropical environment in which to interact with some friendly and exotic sea creatures. You'll have the opportunity to feed, hug, swim and play with dolphins in this one-of-a-kind marine adventure! MORE INFORMATION >>>

[hr][/hr]

from $44.00 USD

Ocho Rios & Negril Jamaica is a tropical paradise that offers spectacular beaches, friendly locals and delicious food. It also happens to be a destination where your dreams can come true, that is if you're one of those people who's always dreamed of swimming with the dolphins. Did you think you couldn't swim with these amazing creatures unless you were a marine biologist? Well guess again. We offer every day people a chance to experience the beauty and wonder of dolphins up close. MORE INFORMATION >>>

[hr][/hr]

from $89.00 USD

Our Natural & Trained Dolphin Swim program in the gorgeous area of Punta Cana & Puerto Plata will thrill and amaze you. Spend the day amidst miles of pristine beaches in crystal clear waters interacting with some of the most playful and intelligent creatures on the planet. For families or groups of friends, or even honeymooners, spending the day participating in our fun, educational and interactive marine programs will add such wonderful highlights to your Tropical vacation. Which would you rather do, go home with pretty shots of the beach and palm trees, or go home with shots of you hugging and swimming with dolphins! MORE INFORMATION >>>

[hr][/hr]

from $81.00 USD

There is no place on Earth quite like Virgin Islands. Between the white sand beaches, sparkling turquoise waters, mystical ancient ruins, tantalizing local cuisine and warm, hospitable islanders, you'll come to understand that these islands are a special place indeed. Tortola, which is actually the largest island in the BVI chain, offers an abundance of wonderful activities for visitors to enjoy, one of the biggest attractions being the dolphin swim. The dolphin swim, as well as the dolphin encounter, gets visitors up close to the wondrous creatures. Whether you want to swim out in the open water with them, or stay in the shallow waters and frolic and play, your dolphin interactions will be the highlights of your vacation. MORE INFORMATION >>>

[hr][/hr]

from $99.00 USD

Anguilla is an island made up mostly of limestone and coral, and is located in the Caribbean Ocean east of Puerto Rico and the Virgin Islands. Known for its stunning coral reefs and beaches, the territory also includes many smaller islands and cays, most of which are very small and uninhabited. Besides all of this stunning beauty, Anguilla also has a fantastic Dolphin Facility which is located at Blowing Point Beach on the beautiful southern coast. There is a ferry that runs between St. Maarten to Blowing Point and will get you to the dolphins in 20 minutes. Once here, you will be able to spend the day learning about these amazing creatures, playing with them and even swimming with them out in their natural habitat. If you ever dreamed of swimming with these playful and intelligent beings, here's your chance. MORE INFORMATION >>>

[hr][/hr]

from $111.00 USD

If you and your family are headed to Grand Cayman and looking for a fun and unique experience, then we have something we think you'll enjoy. Ever dreamed of swimming with dolphins? Then let us help you make that dream come true. There was a time only Marine biologists had the privilege of getting up close and personal with these amazing creatures, but not anymore. Our programs allow visitors of all ages to swim and interact with dolphins right here in the Grand Cayman. The Dolphin Center is located right across the street from Turtle Farm, only 20 minutes away from George Town., so you can easily take a taxi from either the cruise port or downtown. This makes the Dolphin Center an ideal destination for a day trip. If you make a reservation early there are many discounts offered for the dolphin swim. MORE INFORMATION >>>

[hr][/hr]

from $89.00 USD

A near perfect vacation – that's how you might think of St Kitts and Nevis. The two-island nation combines beaches with beautiful mountains, activities to engage your body and rich history to engage your mind. The legacies of the sugar industry survive in pleasant plantation inns and the local culture is mellow, friendly and infused with a pulsing soca beat. If you are coming from a Cruise Ship or staying on island, The Dolphin Center is located about a 10 – 15 minutes taxi ride from the St. Kitts Cruise Port. This makes the Dolphin Center an ideal destination for a day trip. If you make a reservation early there are many discounts offered for the dolphin program  MORE INFORMATION >>>
Why Swim with Dolphins in the Caribbean?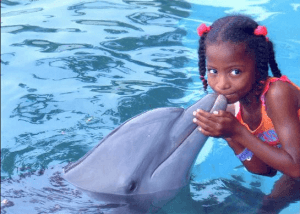 The warm diverse culture of the Caribbean makes for a great vacation choice, there really is no better relaxation spot. Pristine beautiful beaches, all inclusive resorts, food, drink you name it and its in the Caribbean.
All of the swim with Dolphins in the Caribbean locations programs contain regular swim and encounter program. The Royal Swim can be described as the very best that we have to offer. It includes a toe push, belly ride, dorsal tow and full interactive experience. The Regular swim while very popular does not come with the tow push and belly ride, but still contains the dorsal fin ride and interactive experience. The encounter is the only hands on interactive experience, including petting, touching, holding, kissing and feeding the dolphin.
There are also a variety of combo programs in the Caribbean that facilitate additional activities and interactions with manatees, rays, sea lions and shark shows. There are even opportunities to snorkel in the ocean, and see the underwater marine life first hand. With an amazing atmosphere, good vibes, good prices, and many choices to choose from, the swim with dolphins Caribbean locations offers any vacationer a good bang for your buck buy.