Scroll Down & Click on Program for More Information
ALL PROGRAMS IN ANGUILLA ARE CLOSED UNTIL FURTHER NOTICE
from

$99.00

USD
Includes: Dolphin Royal Swim Program – A 50 minute shallow and deep water experience including touching, feeding and training with a dolphin and the opportunity for a deep-water interaction with a dolphin like a dorsal fin ride from one of the pool to the other, foot push, petting, kissing, and petting the dolphin. Must be 8 years old and up to participate. MORE DETAILS >>>

[hr][/hr]

from

$99.00

USD
Includes: Dolphin Swim Adventure Program – A 30 minute program where the dolphin greets you with a handshake, a kiss on the cheek, and lets you kiss them as well. Later, you will get close and personal with your new friend while it takes you on a belly-ride. At the end, you will enjoy moments of great spontaneity during your free time together. It is an unforgettable experience! Must be 8 years old and up to participate. MORE DETAILS >>>

[hr][/hr]

from

$99.00

USD

Ages 1+

Includes: Dolphin Encounter Program – A 30 minute shallow water experience including touching, feeding and training with a dolphin. Perfect for non-swimmers! In this program there is NO Swimming with the Dolphins.  Must be 1 years old and up to participate. MORE DETAILS >>>

[hr][/hr]

Packaged Separately
from Dolphin Program

Ferry services from Dutch St. Maarten to Anguilla are frequent, speedy and efficient – the perfect way to go island hopping and to get to your Dolphin Program on Blow Point  Anguilla, only a 5 minute taxi ride from the ferry terminal.  Below are schedules if you purchase the Round Trip Ferry for your Dolphin program. IMPORTANT: You must have a Passport to travel between Islands. More Ferry Information >>>

Ferry From St. Maarten to Anguilla
Dutch Side Terminal

Leave Time:
7:30am

Return Time:
6:15pm
Why Swim with Dolphins Anguilla Program?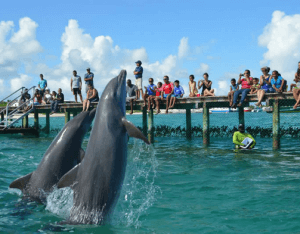 Come on, admit it, you deserve a spectacular Caribbean vacation. We thought so, which is why we want to tell you about Anguilla, the tiny island with the big reputation as being an idyllic locale for any vacation or holiday. Anguilla is only 16 miles long and 3 miles wide, but this tiny island boasts 33 pristine white sand beaches surrounded by sparkling azure waters.
The island also offers an air of style and sophistication along with world-class accommodations and excellent restaurants. Oh, and there are also many wonderful activities to enjoy, one of the most thrilling being a swim with dolphins Anguilla, a quick ferry ride from St Martin!
Anguilla is an island made up mostly of limestone and coral, and is located in the Caribbean Ocean east of Puerto Rico and the Virgin Islands. Known for its stunning coral reefs and beaches, the territory also includes many smaller islands and cays, most of which are very small and uninhabited.
Besides all of this stunning beauty, Anguilla also has a fantastic Dolphin Facility which is located at Blowing Point Beach on the beautiful southern coast. There is a ferry that runs between St. Maarten to Blowing Point and will get you to the dolphins in 20 minutes. Once here, you will be able to spend the day learning about these amazing creatures, playing with them and even swimming with them out in their natural habitat. If you ever dreamed of swimming with these playful and intelligent beings, here's your chance.