Here is some General Information for Anguilla and St Martin/St Marteen you will need to know before making a reservation for this amazing program with the dolphins.
Local Guests
If you are staying on Anguilla, where some of the best beaches in the world are located, you can drive or take a local taxi to the dolphin facility on Anguilla. If you are staying on a resort in St Martin/St Marteen, you will need to travel by a local ferry to Anguilla. Please read the information below to understand how to travel between the two Caribbean countries.
Video of Anguilla Facility
Cruise Ship Passengers
Yes, Cruise Ship can book their own Dolphin activity in Anguilla but you must keep in mind traveling distance and have a valid passport to travel between the countries.
Many guests are coming on Cruise Ship to St Marteen and land in Philipsburg port. Upon debarkation, please make your way to the Marigot Ferry Terminal. Ferries depart every 45 minutes. Please note that St. Maarten to Anguilla departures start at 8:15am and finish 7:00pm. The first departure for Anguilla to St. Maarten leaves at 7:30am and the last one is at 6:15pm. Ferry schedules might change without prior notice and the cost of the ferry is not included in the tour price.
From the John Craane cruise terminal located in Phillipsburg, to the Marigot Ferry Terminal is aproximately a 30 minute taxi ride. We recommend you to go directly to Marigot Ferry Terminal since going to the Princess Juliana International airport will be more expensive and will take longer to get to Blowing Point in Anguilla. The price of the taxi to the ferry terminal is not included in the tour price.
The dolphinarium is located in Blowing Point beach, 50 meters from Immigration Office. There are two ways to reach this destination: From St. Maarten taking the boat in Marigot from the French side will take 30 minutes by Ferry or from the Princess Juliana International airport in the Dutch side will take 45 minutes by Ferry. Once the boat has stopped at Blowing Point, you will have to get to our offices by your own. From there we will take you by taxi (included) to the dolphinarium that is 500 meters from the Office. Remember you have to be at the dolphinarium 30 minutes prior of your program.
Ferry Route from St Martin to Anguilla Map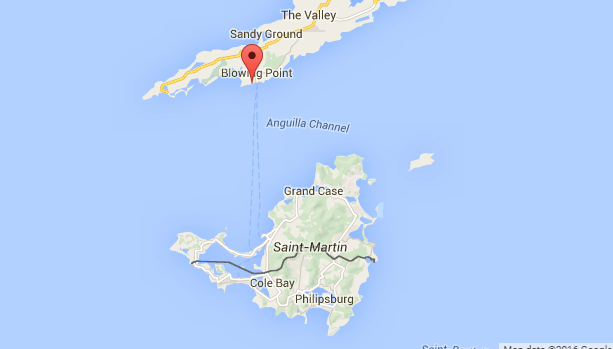 Anguilla Dolphin Facility Map
The Dolphin Facility is only 5 – 10 minutes by taxi from the Blowing Point Ferry terminal. It will cost your $10usd each way per taxi.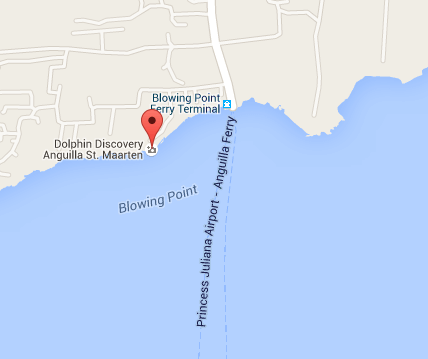 Frequently Asked Questions (FAQ)
Do I need to have a printed ticket?
No, you can have your pre-paid ticket within your email of your smart phone or if you need the ticket text to your phone we can do that also. If you are staying on one of the islands, we can email your resort and have them print the ticket for you.
Do you provide photography?
Yes, there are professional photographs taken during your dolphin session. You can purchase the photos afterward and the prices for your CD with all your photos on it range from $60 and up.
What happens if my trip by cruise ship or plane is cancelled and I cannot make it to my program?
Let us know. Only if you send us a letter from the airline or cruise ship company informing about the situation, we will schedule again the same program for any date with a valid certificate for 1 year or we will give you a 80% refund on the total cost, due to a 20% cancellation charge.
Will I have a refund if there is bad weather the day of my program or if it is cancelled for some reason?
You will be able to enjoy your program during the next 7 days or we will offer a certificate valid for 1 year + 15% discount on additional bookings.