Scroll Down & Click on Location for More Information
from

$89.00

USD
Located along the shimmering coast of the Domincan Republic is the charming destination of Puerto Plata. The area is also known as the Amber Coast because of its high concentration of amber which the locals use to create beautiful unique jewelry. Puerto Plata is also surrounded by a lush and breathtaking mountain range and home to a variety of resorts, spas and historical sites. But perhaps the most thrilling thing the area offers is the swim with dolphins program. MORE INFORMATION >>>

[hr][/hr]

from

$125.00

USD
Are you one of those people who's always dreamed of swimming with the dolphins? Well we have just the opportunity for you! Our Natural Dolphin Swim program in the gorgeous area of Punta Cana will thrill and amaze you. Spend the day amidst miles of pristine beaches in crystal clear waters interacting with some of the most playful and intelligent creatures on the planet. MORE INFORMATION >>>
Why Swim with Dolphins Dominican Republic?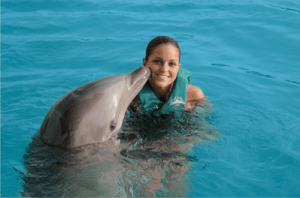 Our Natural & Trained Dolphin Swim program in the gorgeous area of Punta Cana & Puerto Plata will thrill and amaze you. These Dominican Republic dolphin locations are some of the best in the world. You can swim with dolphins Dominican Republic where you will play, kiss, pet and best of all swim with them.
Spend the day amidst miles of pristine beaches in crystal clear waters interacting with some of the most playful and intelligent creatures on the planet. For families or groups of friends, or even honeymooners, spending the day participating in our fun, educational and interactive marine programs will add such wonderful highlights to your Tropical vacation.
Which would you rather do, go home with pretty photos of the beach and palm trees, or go home with photos of you hugging and swimming with dolphins!