The Caribbean is known for some very geographically diverse countries and islands, but the Dominican Republic in particular is home to some of the prettiest landscapes with its old-world architecture, lush mountain scenery and long stretches of pristine beaches. The Dominican Republic is also home to Ocean World in gorgeous Puerto Plata.
Puerto Plata, Spanish for "silver port" is a gem of a location hidden away on the northern coast of DR. One of the biggest draws of the area is that it is a place where you can get away from huge crowds and yet still enjoy world-class amenities, but all at bargain prices. Puerto Plata offers visitors amazing hiking opportunities, miles of gorgeous white sand beaches, and lively small towns that come even more alive once the sun sets.
A Video Tour of Ocean Word, Puerto Plata
Enjoy Many Fun Activities in Puerto Plata
There are so many amazing activities in Puerto Plata, and many of them are right in Ocean World.
Book Your Ocean World Dolphin Program Online Now >>>
For starters, there's the Royal Dolphin Swim Program. This hour-long session will get you up-close-and-personal to some of the world's friendliest and most playful creatures – the bottlenose dolphins. You'll first get to learn all about these intelligent mammals in a brief orientation. After, you'll get into the water and learn all about dolphin behavior, then experience what it's like to get a hug and kiss from one. You'll also be able to feed the dolphins. But the fun doesn't stop there; you'll get to really interact with the dolphins in their natural environment and go for a pectoral ride and get a foot-push on a boogey board. What an amazing thrill and one you won't soon forget!
There's also the Sea Lion Encounter which is a fun program the whole family will enjoy. Sea lions are called the clowns of the sea, and once you meet one, you'll understand why. You'll be able to get up close in Ocean World's interaction pool and touch, feed, pet and play with sea lions. They are truly wonderful creatures and your time with them is guaranteed to be very special.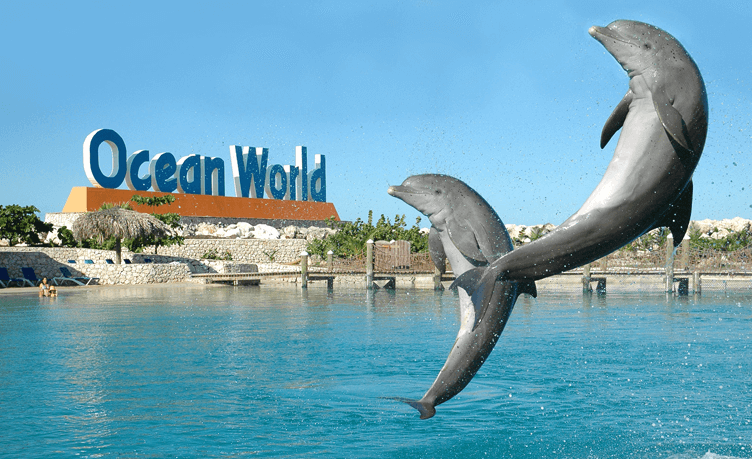 Enjoy the Amazing Nightlife
Ocean World is not just about having fun in the sun and water. Nope, there are plenty of things to do in Puerto Plata once the sun goes down and the sea creatures go to bed. If you like the idea of enjoying some sensational food while watching an extravagant show with dancers in eye-popping costumes, then you'll absolutely love Ocean World's Bravissimo Show.
Enjoy fine dining at its best on a gorgeous terrace that overlooks the marina. Dinner will consist of delicious local dishes as well as unlimited wine, beer and rum. The restaurant is open Tuesdays through Sundays, opening at 7PM, and the best part is, they offer transportation to and from many of the hotels in Puerto Plata, which is nice, because did we mention dinner comes with unlimited wine, rum and beer?!
Vacations generally only come once a year. This year wouldn't you rather spend it with the ones you love in a warm and friendly environment that offers breathtaking scenery, amazing opportunities to meet friendly creatures from the sea, and a nightlife that promises to thrill and entertain? Then head to beautiful Puerto Plata in the Dominican Republic.