Located in beautiful Puerto Plata, Ocean World Adventure Park is a unique Caribbean tourist destination with an extraordinary dolphin swim experience.  Set within the lush tropical island of the Dominican Republic, Puerto Plata boasts warm weather perfect for experiencing nature and swimming with ocean life all year long. The Ocean World Dolphin Swim takes you far beyond the spectator role of traditional aquariums and water parks. As a participant, you will learn about dolphin behavior from trained professionals and swim with and closely interact with dolphins in the largest man-made habitat in the world.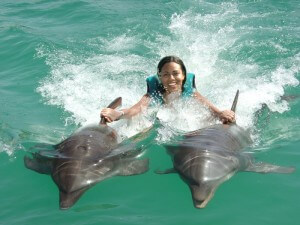 Experience the World's Largest Man-made Habitat in the Ocean World Dolphin Swim
As a part of the 30-minute or 1 hour Dolphin Swim experience, you will:
Participate in an informational program about Atlantic Bottlenose dolphins.
Observe Ocean World Adventure Park trainers as they use hand signals and positive reinforcement to interact with the dolphins.
Introduce yourselves to the dolphins by entering the largest man-made dolphin habitat in the world, wearing appropriate water safety gear.
Experience playful dolphins up close, as they skim the water, jump over you, and otherwise perform with you in the water with them!
Swim with the dolphins, often including a double dorsal fin tow.
Feed the dolphins under the direction of trainers.
Pet, kiss, and hug them as much as you'd like during your time in the pool.
So you will have the choice of the Regular 30 minute Dolphin Swim Puerto Plata or the Royal 1 Hour Swim Ocean World program.
What Does it Take to Participate?
The Dolphin Swim experience is open to everyone ages 6 and older, but requires the following guidelines be followed:
Children under age 11 must be accompanied by an adult in the dolphin habitat.
Participants must be able to swim and must use the provided water safety equipment.
Pregnant women are not permitted to participate.
Cameras, glasses, and ear, neck, and hand jewelry are not permitted in the Dolphin Swim experience.
Participants are asked to shower before entering the dolphin habitat and to provide their own sunscreen, towels, and bathing suits.
[button color="blue" link="https://reservation.dolphinworldstore.com/reserve-dominican-republic.htm"]Puerto Plata Pricing >>[/button]
You Get More than a Dolphin Program
As if this remarkable one-on-one experience with the dolphins was not enough, your incredible Dolphin Swim package also includes:
Door-to-door shuttle service from your local hotel to Ocean World
All of the benefits of a day pass, including snorkeling with tropical fish, swimming in the Tiger Grotto, attending sea lion, shark, dolphin, and tropical bird shows, relaxing on Dolphin Beach, and experiencing all of the other amenities of Ocean World Adventure Park
A delicious lunch, provided by the park
An educational program for children, available in both English and Spanish.
The Ocean World Dolphin Swim is an incredible opportunity for animal lovers young and old, offering a unique and thrilling experience. In the largest man-made dolphin habitat in the world, among the beautiful reefs of Puerto Plata, the dolphins you encounter will capture your heart with their playful, loving natures and the priceless memories you make will last a lifetime.