Scroll Down & Click on Program for More Information
from

$195.00

USD
Includes: Dolphin Swim, A 45 Minutes shallow and deep water dolphin experience including Dorsal Fin Ride, Foot Push or Belly Ride, touching, petting, kissing, swimming with the dolphin. The Royal Dolphin Swim means that you if you want to be pulled or pushed by the dolphins, it will happen in this program. Also, the group size is a maximum of 10 person in the water at one time. Plus, you get to Snorkel with Tropical Fish, Rays, and Nurse Sharks, and Transportation (Bavaro/Punta Cana Area) Must be 8 years old and up to participate. MORE INFORMATION >>>
* View Photos
* Photo Prices

[hr][/hr]

from

$155.00

USD
Includes: Dolphin Swim, A 40 Minutes shallow and deep water dolphin experience including touching, petting, kissing, swimming with the dolphin. Natural Dolphin Swim means that the dolphins behave on their terms and do minimal trained behaviors. You get to free swim and touch the dolphins but do not expect a dorsal fin ride or toe push. Plus, you get to Snorkel with Tropical Fish, Rays, and Nurse Sharks, and Transportation (Bavaro/Punta Cana Area) Must be 8 years old and up to participate. MORE INFORMATION >>>

[hr][/hr]

from

$115.00

USD
Includes: Dolphin Encounter, A 20-30 minute shallow water experience including touching, feeding and training with a dolphin. Perfect for non-swimmers! In this program there is NO Swimming with the Dolphins. Plus, you get to Snorkel with Tropical Fish, Rays, and Nurse Sharks, and Transportation (Bavaro/Punta Cana Area) Must be 2 years old and up to participate. MORE INFORMATION >>>
Why Swim with Dolphins in Punta Cana?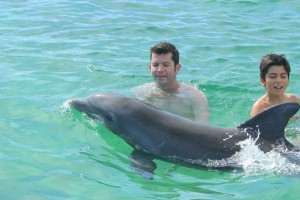 Are you one of those people who's always dreamed of swimming with the dolphins? Well we have just the opportunity for you! Our Natural Dolphin Swim program in the gorgeous area of Punta Cana will thrill and amaze you. Spend the day amidst miles of pristine beaches in crystal clear waters interacting with some of the most playful and intelligent creatures on the planet.
For families or groups of friends, or even honeymooners, spending the day participating in our fun, educational and interactive marine programs will add such wonderful highlights to your Tropical vacation. Which would you rather do, go home with pretty shots of the beach and palm trees, or go home with shots of you hugging and swimming with dolphins?!
Punta Cana and Bavaro is an area of the Dominican Republic people have called a paradise on Earth and it's where vacationers go to be thrilled and inspired. Located on the southeastern side of the Dominican Republic, the pristine stretches of beach and the azure waters are a hotspot for nature lovers from around the world. The area is also a travel-friendly destination with many all-inclusive resorts located close to the airport.
All of the beauty aside, the thing that makes Punta Cana-Bavaro such a special place is the opportunity you'll have to swim with dolphins Punta Cana in their natural environment or in a pool. This exhilarating 1/2 day program will get you up close and personal with these astounding animals and you'll be able to create memories that will last a lifetime. The Punta Cana vacation packages offered as well as the Marine Animal Programs will be so worthwhile and unique, you'll want to come back year after year.