When you go to Dolphin Island in Punta Cana, photos can be purchased after your Punta Cana Dolphin Swim or Sea Lion Swim is completed. You can not bring a camera into the water with you, so if you don't have an observer with you to take photos, don't worry, the professional photographers will be there. Below is the Dolphin Island photo prices, check it out if you are interested!
Dolphin Island Photo Prices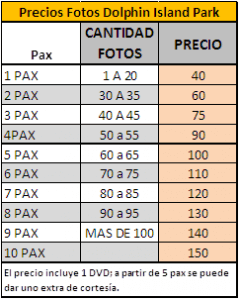 We know this graph is in Spanish but what it means, Column 1 is the amount of people in the water with the Dolphins/Sea Lions. Column 2 is the Amount of Photos you (and your group) on a photo CD/Memory Stick. Column 3 is the cost of the CD / Memory Stick.
Remember, it is important that you check that your CD works before you leave Dolphin Island!
---
Here is what your Photos will Look Like!
If you haven't already, Book Your Punta Cana Dolphin Swim today!