Of all the beauty the Caribbean offers visitors, perhaps its most geographically diverse country is the Dominican Republic. With miles of lush mountains, tropical beaches, desert scrublands and charming colonial architecture, DR offers visitors endless ways to have their breath taken away. And while you're enjoying all of this beauty; all of the ocean vistas and coconut scented breezes, you may want to consider spending a fun-filled day at Dolphin Island Park or Dolphin Discovery in beautiful Punta Cana.
If you've never been to Punta Cana you're in for an unforgettable treat. Pristine beaches with soft sand and azure waters as far as the eye can see and lined with all-inclusive luxury resorts that cater to your every whim. Actually, Punta Cana is really two distinct areas: Punta Cana – which is located at the eastern most tip of the Dominican Republic – is the area that has the more luxurious resorts and primo golf courses that practically hug the ocean's shore.
Bavaro Beach is the second half of the area and is where people who love to swim and snorkel generally like to stay and play all day. With its gorgeous 2 km of white sand beach that are protected by a coral reef that turns the ocean into the most glorious swimming pool, Bavaro should really be called Bravo.
No matter where you stay, it's only a short ride to Dolphin Island Park (Ocean Location) and Dolphin Discovery (Pool Location).
[button color="green" link="https://reservation.dolphinworldstore.com/reserve-dominican-republic.htm#royal"]Book Your Punta Cana Dolphin Online Now >>>[/button]
A Video Tour of Dolphin Island Park in Beautiful Punta Cana, DR
Enjoy Swimming with Dolphins in Punta Cana – Ocean and Pool Locations
Ocean Location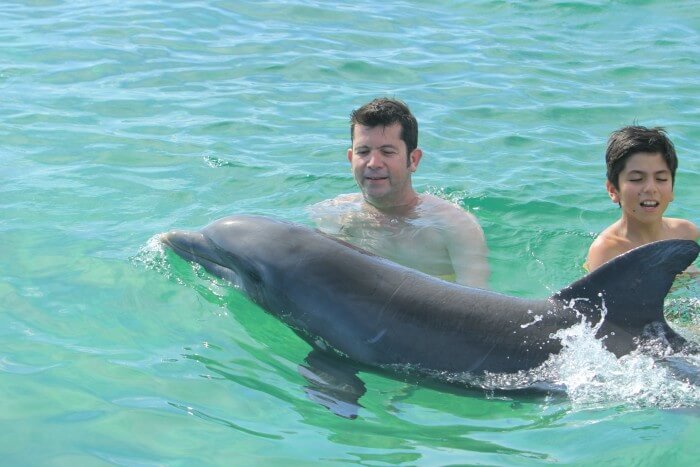 Dolphin Island Park offers three distinct swim with dolphin programs. The Dolphin Encounter Experience is great for visitors of all ages, from the very young to the young at heart, and no special swimming ability is necessary as you'll be in shallow water. For 20 awesome minutes you'll be able to watch dolphins do spectacular stunts like jumping and twirling in the air, and even be able to give them a hug and a kiss when you say goodbye.
The Dolphin Action Program will have you learning all about threats and conservation efforts before you finally get in the water and interact with these magical creatures. Once you're up close and personal with a dolphin, you'll understand what makes them so special, and yes there'll be plenty of playing!
The Dolphin Royal Swim Program is the most complete dolphin swim experience offered by the park. Spend your time in the open water with two dolphins and experience a dorsal tow, foot push, and belly ride. You will never forget what that feels like!
Pool Location
The pool location at Dolphin Discovery is where you can relax and enjoy the dolphins in a safe and a consistent environment. All the swims are similar as the Ocean programs except the Dolphin Swim (the middle priced one), this program is  called the Dolphin Swim Adventure here in the pool. In this program, you do get one ride with the dolphin, usually a belly ride with the dolphin, where in the ocean location, you only get to swim and touch the dolphins in deep water and there are no rides (look at photo above). Otherwise, you get the same petting, hugging and holding of the dolphins in both locations. < Pool Location More Information >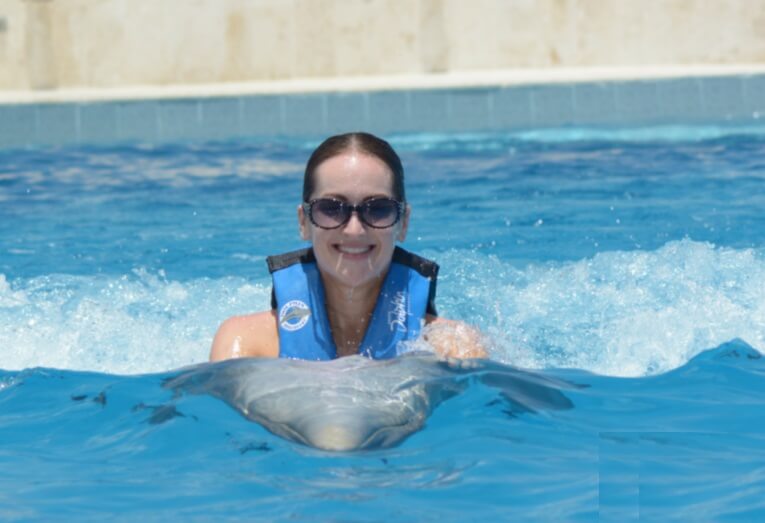 Map of Area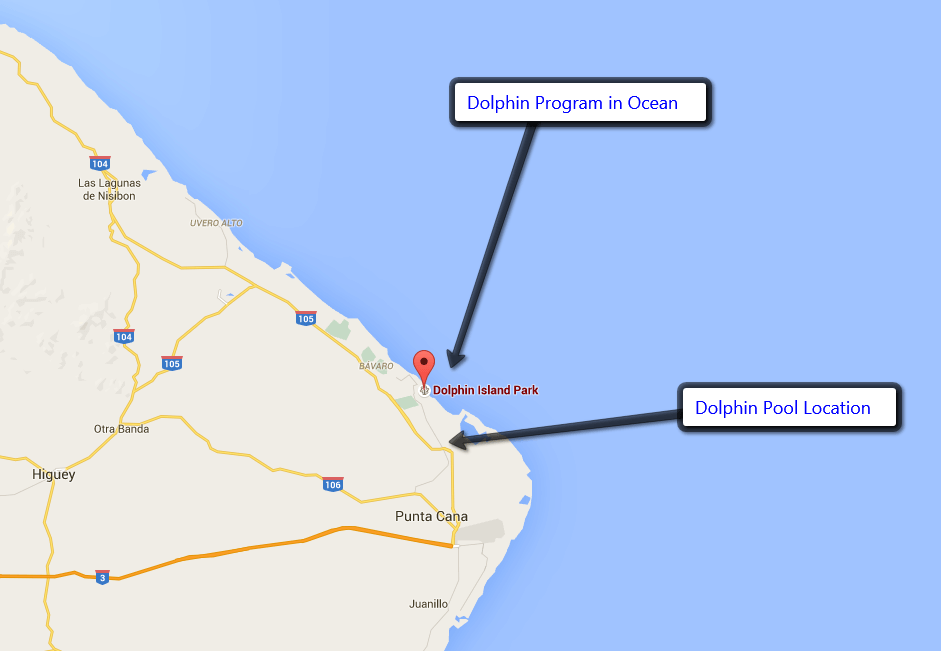 Extra Amenities from Ocean Location
Not only will you have the opportunity to swim with dolphins, you'll also be able to snorkel with sharks and stingrays (if you dare in Ocean Location only)! Once you're done being active, feel free to hang out at the park and relax in the sun on the beach. When you're ready to head back to your hotel, don't forget to stop by and pick up photos of you fun-filled day as souvenirs.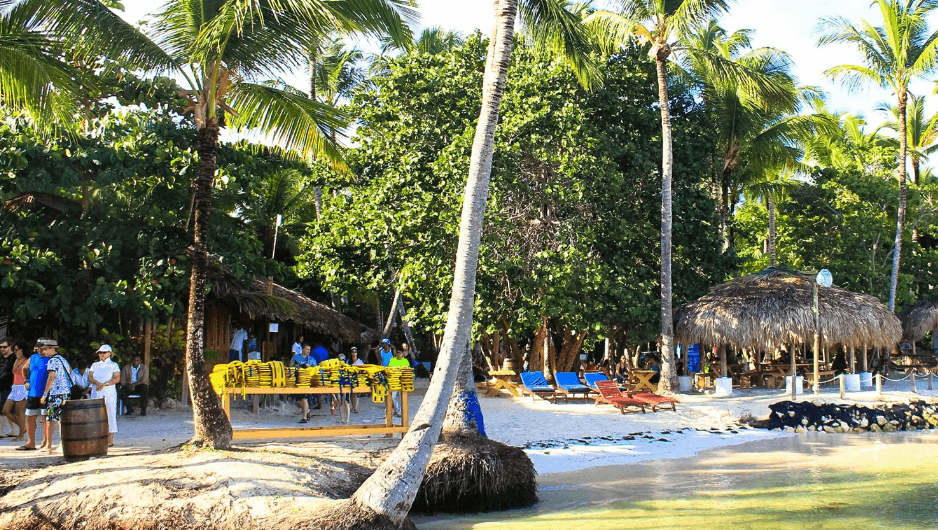 Transportation from Most Resorts
Oh, and don't worry about transportation to and from the park, because Dolphin Island and Dolphin Discovery offers a pick up and drop off service from most of the resorts on Bavaro Beach and Punta Cana Beach. And not just ordinary transport from Dolphin Island – you'll be driven to and from in an open-top bus that provides entertainment.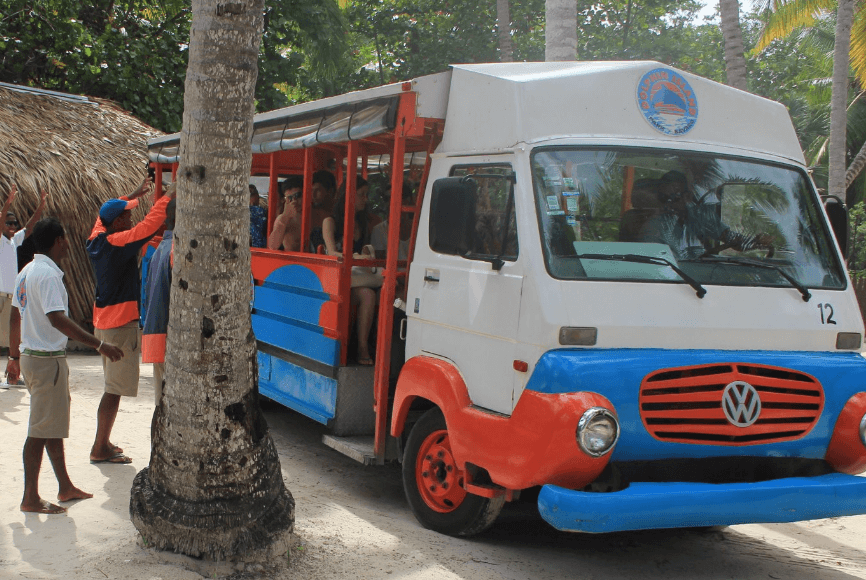 You knew a vacation in the Dominican Republic sounded like a good idea, you just didn't know HOW good!
[button color="green" link="https://reservation.dolphinworldstore.com/reserve-dominican-republic.htm#royal"]Book Your Punta Cana Dolphin Online Now >>>[/button]
FAQ
Why do you have two locations, Ocean and Pool?
We work with two suppliers. The Ocean Location has been in Punta Cana the longest and does offer to be with the dolphin in Natural Ocean water. Some guests really like natural ocean environment. Recently, a brand new facility has been built in Punta Cana and this offer the dolphins in a pool environment. Some people prefer this because they are nervous in the Ocean. Both locations are great!
Do you pick up from La Romana?
No, you need to find your own transportation from La Romana.
Do you offer any discounts?
Yes, the ocean location we offer $10 – $5 off if you book early. The pool location offer 20 – 25% off if you book early.
Do you sell photos and how much are they?
Yes, professional photographs are sold to you afterwards. The price is bases on how many people are in your group, 1 person only is from $40 – $50, for each person afterwards, it is an extra $20 – $30 per person. This is for all your photos on 1 CD for you to either print or publish.