Scroll Down & Click on Program for More Information
from

$159.00

USD
Includes: Dolphin Royal Swim Program – A 40 minute shallow and deep water experience including touching, feeding and training with a dolphin and the opportunity for a deep-water interaction with a dolphin like a dorsal fin ride from one of the pool to the other, foot push, petting, kissing, and petting the dolphin. Must be 8 years old and up to participate.  More Details >>>

[hr][/hr]

from

$139.00

USD
Includes: Dolphin Swim Adventure Program – A 30 minute program where the dolphin greets you with a handshake, a kiss on the cheek, and lets you kiss them as well. Later, you will get close and personal with your new friend while it takes you on a belly-ride. At the end, you will enjoy moments of great spontaneity during your free time together. It is an unforgettable experience! Must be 8 years old and up to participate. More Details >>>

[hr][/hr]

from

$109.00

USD
Includes: Dolphin Encounter Program – A 30 minute shallow water experience including touching, feeding and training with a dolphin. Perfect for non-swimmers! In this program there is NO Swimming with the Dolphins. Must be 1 years old and up to participate. More Details >>>

[hr][/hr]

Cruise Ships to Grand Cayman

Packaged Separately
from Dolphin Program

Cruise Ships – Grand Cayman main tourist group is from the Cruise Ships and we enjoy when this group of tourist come to lovely Grand Cayman. Unfortunately, many cruise ship come on the same day and time, so dolphin spaces are really limited with the dolphins. If you are a cruise ship passenger, you need to book early!!  Also, one thing about booking direct with us, you will save a lot of money and time. Transportation is not provided, you will need to take a taxi from the Cruise port to the Dolphin Facility, about $10 per person.

The Dolphin Programs are on Grand Cayman Island Time Not Cruise Ship Time!



Taxi Ride:
$10 pp

Local Jitney Bus:
$2 pp
Why Swim with Dolphins in Grand Cayman Program?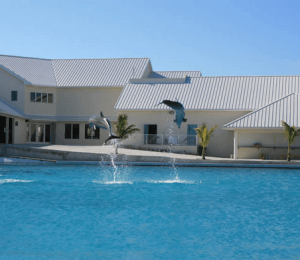 If you and your family are headed to Grand Cayman and looking for a fun and unique experience, then we have something we think you'll enjoy. Ever dreamed of swimming with dolphins? Then let us help you make that dream come true. There was a time only Marine biologists had the privilege of getting up close and personal with these amazing creatures, but not anymore. Our programs allow visitors of all ages to swim and interact with dolphins right here in the Grand Cayman.
The Dolphin Center is located right across the street from Turtle Farm, only 20 minutes away from George Town., so you can easily take a taxi from either the cruise port or downtown. This makes the Dolphin Center an ideal destination for a day trip. If you make a reservation early there are many discounts offered for the dolphin swim.
As if swim with dolphins in Grand Cayman wasn't great enough, you'll also have the opportunity to explore the rest of the island. Spend time snorkeling in the azure waters which contain vibrant, tropical fish, and stunning limestone rock formations, or just stroll along the miles of pristine beach. You can head to the Cayman Turtle Farm, right across the street from our dolphin swim programs, or visit the Queen Elizabeth II Botanic Park, or perhaps you'd be more interested in touring the National Trust's Mastic Trail, the Cayman Islands National Museum, Or the Pedro St. James Historic Site. Ever heard of Hell and Rum Point? It's a real place and you can visit it on your Grand Cayman holiday.