Scroll Down & Click on Location for More Information
from

$99.00

USD
Ocho Rios Jamaica is a tropical paradise that offers spectacular beaches, friendly locals and delicious food. It also happens to be a destination where your dreams can come true, that is if you're one of those people who's always dreamed of swimming with the dolphins. Did you think you couldn't swim with these amazing creatures unless you were a marine biologist? Well guess again. We offer every day people a chance to experience the beauty and wonder of dolphins up close. MORE INFORMATION >>>

[hr][/hr]

from

$89.00

USD
Have you ever asked yourself what the absolute most laid back location is on the planet? It has to be Negril Jamaica. This is a mecca for all weary souls in need of a little R&R. Visitors to the area spend their days either lounging by the pool at their resort, or strolling along miles of pristine beaches that stretch out along ridiculously turquoise waters. Once visitors have gotten a little rest and are feeling adventurous, there are numerous activities that offer thrills. Just wandering around downtown will fill your senses with a kaleidoscope of sights and sounds. There's snorkeling, scuba diving, cliff diving, sailing, and just about any other water sport you can think of. MORE INFORMATION >>>
Why Swim with Dolphins in Jamaica?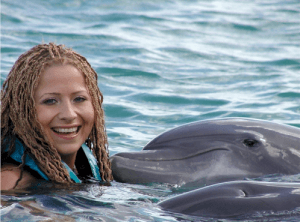 Today's visitors will appreciate their trip to Jamaica all the more if they embrace the island's unique character and the uniqueness of its population. Aside from its people, Jamaica has much to offer, the curious, thirsty or weary traveller.
Jamaica dolphin locations are some of the best in Ocho Rios and Negril. The Blue Mountains boasts the world's best coffee, try a cup in the century-old factory at Mavis Bank. There are world-class reefs for diving including those at Runaway Bay and Ocho Rios and great stretches of palm-fringed sand at Treasure Beach or Frenchman's Cove near Port Antonio. There are offbeat bush-medicine hiking tours, congenial fishing villages, pristine waterfalls, cosmopolitan cities, wetlands harboring endangered crocodiles and manatees, unforgettable sunsets – in short, enough variety to comprise many utterly distinct vacations.
Spend the day amidst miles of pristine beaches in crystal clear waters interacting with some of the most playful and intelligent creatures on the planet. For families or groups of friends, or even honeymooners, spending the day participating in our fun, educational and interactive marine programs will add such wonderful highlights to your Tropical vacation. Which would you rather do, go home with pretty shots of the beach and palm trees, or go home with shots of you hugging and swimming with dolphins!