Scroll Down & Click on Program for More Information
from

$89.00

USD
Includes: Dolphin Ultimate Swim – A 30 minute shallow and deep water experience including touching, petting, kissing, dorsal tow or a foot push with 2 dolphins, and jumps. Most of the behaviors are in deep water – You must be able to swim for this program. Plus, Briefing Time with Trainer, Interacting with Stingrays, Glass-Bottom Kayaking on the Caribbean Ocean, Snorkeling in the Ocean, Shark Show and more. Must be 3 years old and up to participate. Transportation from Montego Bay and surrounding areas available upon request. MORE INFORMATION >>>
Transportation
Video
FAQ

[hr][/hr]

from

$89.00

USD
Includes: Dolphin Swim – A 30 minute shallow and deep water experience including touching, petting, kissing, Belly Ride with 1 dolphin, and jumps. Most of the behaviors are in shallow water except for your ride which is in the deep water- You must be able to swim for this program. Plus, Briefing Time with Trainer, Interacting with Stingrays, Glass-Bottom Kayaking on the Caribbean Ocean, Snorkeling in the Ocean, Viewing the Shark Show and more. Must be 3 years old and up to participate. Transportation from Montego Bay and surrounding areas available upon request. MORE INFORMATION >>>
Transportation
Video
FAQ

[hr][/hr]

from

$89.00

USD
Includes: Dolphin Encounter(non-swim) Program – A 30 minute shallow-water experience including kiss, touch, race, sing, tail walk. Plus, Briefing Time with Trainer, Interacting with Stingrays, Glass-Bottom Kayaking on the Caribbean Ocean, Snorkeling in the Ocean, Shark Show and more. All Participants must be 1 years old and up. Transportation from Montego Bay and surrounding areas available upon request. MORE INFORMATION >>>
Why Negril/Montego Bay Swim with Dolphins Program?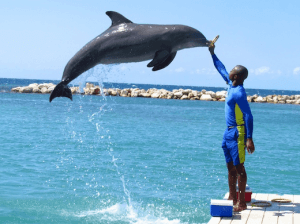 Have you ever asked yourself what the absolute most laid back location is on the planet? It has to be Negril Jamaica. This is a mecca for all weary souls in need of a little R&R. Visitors to the area spend their days either lounging by the pool at their resort, or strolling along miles of pristine beaches that stretch out along ridiculously turquoise waters.
Once visitors have gotten a little rest and are feeling adventurous, there are numerous activities that offer thrills. Just wandering around downtown will fill your senses with a kaleidoscope of sights and sounds. There's snorkeling, scuba diving, cliff diving, sailing, and just about any other water sport you can think of.
Nighttime offers a very lively atmosphere as the bars and restaurants come alive and make for excellent people watching. Strolling along you can take in the scents of coconut and jerk spices as reggae music pours out from various clubs and bars.
The area offers more than just sparkling white sand, azure waters and a laidback lifestyle. For those seeking a truly unique experience, nearby Dolphin Cove offers visitors the chance to get up close and personal with dolphin, a one-of-a-kind experience. The Negril / Montego Bay Swim with Dolphins programs, dolphin encounters and educational programs are offered here. The all-inclusive packages make the day affordable and easy, and a delicious lunch comes with a thrilling experience. Those families, groups of friends, or even honeymooners looking to create vacation memories that will last a lifetime should head to the Negril Montego Bay Dolphin Program in beautiful Jamaica.