Scroll Down & Click on Program for More Information
from

$99.00

USD
Includes: Dolphin Ultimate Swim – A 30 minute shallow and deep water experience including touching, petting, kissing, dorsal tow or a foot push with 2 dolphins, and jumps. Most of the behaviors are in deep water – You must be able to swim for this program. Plus, Briefing Time with Trainer, Interacting with Stingrays, Glass-Bottom Kayaking on the Caribbean Ocean, Snorkeling in the Ocean, Shark Show and more. Must be 3 years old and up to participate. Transportation available upon request. MORE DETAILS  >>>

[hr][/hr]

from

$99.00

USD
Includes: Dolphin Swim – A 30 minute shallow and deep water experience including touching, petting, kissing, Belly Ride with 1 dolphin, and jumps. Most of the behaviors are in shallow water except for your ride which is in the deep water- You must be able to swim for this program. Plus, Briefing Time with Trainer, Interacting with Stingrays, Glass-Bottom Kayaking on the Caribbean Ocean, Snorkeling in the Ocean, Viewing the Shark Show and more. Must be 3 years old and up to participate. Transportation available upon request. MORE DETAILS  >>>

[hr][/hr]

Dolphin Encounter (Non-Swim) Program

from

$99.00

USD
Includes: Dolphin Encounter(non-swim) Program – A 30 minute shallow-water experience including kiss, touch, race, sing, tail walk. Plus, Briefing Time with Trainer, Interacting with Stingrays, Glass-Bottom Kayaking on the Caribbean Ocean, Snorkeling in the Ocean, Shark Show and more. All Participants must be 1 years old and up. Transportation available upon request. MORE DETAILS  >>>
Why Swim with Dolphins in Ocho Rios Jamaica?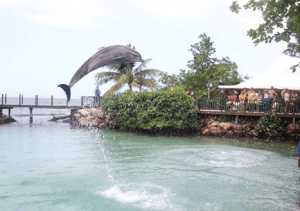 Ocho Rios Jamaica is a tropical paradise that offers spectacular beaches, friendly locals and delicious food. It also happens to be a destination where your dreams can come true, that is if you're one of those people who's always dreamed of swimming with the dolphins. Did you think you couldn't swim with these amazing creatures unless you were a marine biologist? Well guess again. We offer every day people a chance to experience the beauty and wonder of dolphins up close.
On the northeastern coast of Jamaica, Ocho Rios is often referred to as Ochi, and is a mecca for cruise ships and tourists seeking a calmer vibe. There are a plethora of all inclusive resorts and island attractions like famous Dunn's River Falls and many places where you can scuba dive, snorkel and enjoy other water activities.
Within Ochi is an ideal exotic retreat, set among the lush vegetation of Jamaica's North Coast, where visitors from all over the world can come to get an opportunity to swim with bottle nose dolphins in their natural habitat. The Swim with Dolphins Ocho Rios Program is a wonderful place to spend the day with friends and family and enjoy learning about and spending time interacting with dolphins and other marine animals. Come and create memories that will last a lifetime.