Ocho Rios Dolphin Park is, in and of itself, an adventure. The biggest attraction is Dolphin Cove, a natural cove surrounded by acres of lush, tropical rainforest. This is the destination for getting your adventure on and having fun!
A Video Tour of Your Dolphin Park in Lovely Ocho Rios
Get Up-Close-And-Personal with the Dolphins
Have you ever wanted to swim with dolphins in Ocho Rios? You'll get to do that and more at Dolphin Park in Ocho Rios Jamaica. There is absolutely no other experience like swimming with dolphins in their natural habitat. You'll find these playful creatures are as interested in you as you are in them.
They may give you a hug or a kiss, a dorsal pull or a foot push. Watch as they dance and frolic all around you, even giving you a playful splash now and then. No matter what your age, there is a Dolphin program that will get you up-close-and-personal with these magical creatures.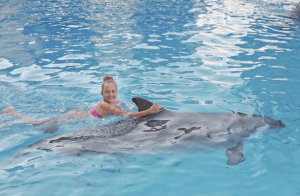 Sharks!
For those who aren't faint of heart, try the thrilling shark encounter and come face-to-face with the most fearsome creatures of the sea. Start your encounter off by watching the hilarious shark show, then get into the water yourself and hold, touch and feed these mysterious creatures. Under careful supervision of the highly-trained staff, you will be able to swim along with the sharks in their own habitat.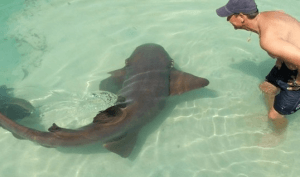 Other Fun Activities Await You
Why not spend the entire day at Dolphin Park in Ocho Rios because there's plenty more to see and do. For example, you can rent a mini-boat and explore the gorgeous coastline, or snorkel with stingrays. Maybe you and your family would like to take a glass-bottom kayak ride and watch the colorful fish swimming below you as you glide atop the tranquil turquoise water.
There's so much fun and adventure to be had at Dolphin Cove in Ocho Rios, you'll most likely have to come back for a second and third visit!
What to Expect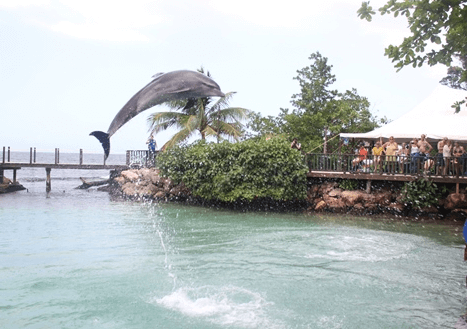 The Dolphin Cove in Ocho Rios entrance cost includes full use of the following activities:
Mini-boats to explore the coast
Interact and snorkel with stingrays
Take a glass-bottom kayak ride to explore the fascinating underwater world
Watch our hilarious Shark Show
Interact with exotic birds, snakes and iguanas on the Jungle Trail walk
Relax on our glistening white sandy beaches
Guests can enjoy the tropical surroundings, taste our famous Jamaican coffee at our Star Buccaneers coffee shop, browse for souvenirs or jewellery at our very own gift shops.
See the Shark Show while the pirates roam freely along the boardwalk of "Little Port Royal" and perform a "jig or two".
Be entertained while you are having lunch against the backdrop of the Caribbean Sea.
Cruise Ship Guests

Transportation
The best way to travel from the Cruise Ship docks is by taxi. There are plenty of taxi waiting to take you for the 10 – 20 minute ride to the dolphin facility. An average cost for a taxi should be about $35 for 1 – 4 persons from Ocho Rios to the Dolphin Facility.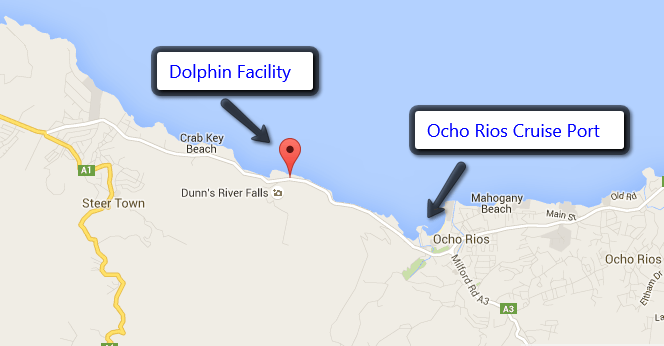 Resort Guests
Transportation
We do provide transfers from these resort towns. All Transfers are paid upon arrival.
Round Trip Transportation to Ocho Rios Dolphin Facility
Couples San Souci($12pp)
Couples Tower Isle($20pp)
Boscobel($25pp)
Runaway Bay($25pp)
When making your reservation online, please put in the comment box of  the online form that you want transfer service. We will contact you by email with a pick up time from you resort. You will need to pay for your round trip transfer upon arrival to dolphin facility.