Scroll Down & Click on Program for More Information
from

$249.00

USD
Includes: the 1 Hour Royal Dolphin Swim Program & Beach Day – A 1 Hour shallow and deep water experience including the amazing dorsal tow, star turns, cradling and kissing the dolphin as well as an exciting foot-push with a boogey board and plenty of touching and training with a dolphin. Plus, Boat Transportation from Nassau (Paradise Island) to Blue Lagoon Island, Beach Day, Food & Drink, and Educational Briefing about Bottlenose Dolphins. 6 years old and up.  MORE DETAILS  >>>

from

$185.00

USD
Includes: a Dolphin Swim Program – A 30 minute deep water experience including touching, feeding and training with a dolphin and the opportunity for a deep-water interaction with a dolphin like a foot push ride (the superman) from one side of the pool to the other. Plus, Boat Transportation from Nassau (Paradise Island) to Blue Lagoon Island, Entrance to Park, and Educational Briefing about Bottlenose Dolphins. 6 years old and up.  MORE DETAILS  >>>

[hr][/hr]

from

$115.00

USD
Includes: Dolphin Encounter Program – A 15-20 minute shallow water experience including touching, feeding and training with a dolphin. Perfect for non-swimmers! In this program there is NO Swimming with the Dolphins. Plus, Boat Transportation from Nassau (Paradise Island) to Blue Lagoon Island, Entrance to Park, and Educational Briefing about Bottlenose Dolphins. Must be 1 years old and up to participate. MORE DETAILS  >>>

[hr][/hr]

from

$119.00

USD
Includes: Sea Lion Encounter Program – A 20 minute shallow water experience including touching, feeding, petting and training with the sea lions. In the sea lion encounter you will get plenty of interactions with them because the sea lions love to splash and play in this shallow water program. Plus, Boat Transportation from Nassau (Paradise Island) to Blue Lagoon Island, Entrance to Beach, and Educational Briefing about the Sea Lions. Must be 8 years old and up to participate. MORE DETAILS  >>>

[hr][/hr]

from

$45.00

USD
Includes: One of the best beaches in the Bahamas, Blue Lagoon Island, just minutes from Nassau & Paradise Island, is yours to enjoy for the day! Enjoy the scenic boat tour, swim in the calm lagoon, relax on the serene beach, enjoy water sports, grilled lunch, refreshing tropical drinks or just do nothing but watch the coconut palms sway as you lounge in a double hammock. There are plenty of activities for the whole family to enjoy. Make a day of it! MORE DETAILS >>>
Why a Swim with Dolphins Nassau/Paradise Island?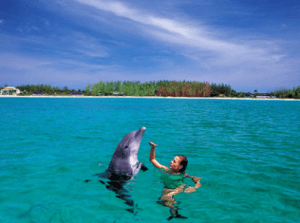 Nassau Paradise Island is truly a paradise on Earth. Rife with history as well as gorgeous architecture from the 18th and 19th century, it is a destination that leaves visitors breathless. The island is a common destination for Caribbean cruise ships, and those debarking often make their way across the bridge to Paradise Island, which is one of the most gorgeous resort centers in the entire world. Both islands offer families, friends and romantic couples an exciting assortment of activities, especially the Nassau Paradise Island Swim with Dolphins.
One of the biggest attractions in Nassau is the Dolphin Swim park where you can get up close to the wondrous creatures and swim with them in their natural habitat. The swim with Dolphins Nassau / Paradise Island program, our Dolphin Encounter (non-swim) and our Dolphin Swim/ Sea Lion Combo packages offer visitors of all ages to have a unique experience on their vacation.
Blue Lagoon Island is close to both Nassau and Paradise Islands and where your adventure awaits you. The island is secluded and offers a truly tranquil and tropical environment in which to interact with some friendly and exotic sea creatures. You'll have the opportunity to feed, hug, swim and play with dolphins in this one-of-a-kind marine adventure!