As a family or a single or a couple, you can signed up for the Dolphin Swim or Dolphin Encounter (Non-Swim) at Blue Lagoon Dolphin Encounters. This is without a doubt one of the best things do on Nassau Bahamas because you get your dolphin program, plus a crowded free Caribbean beach and all the amenities on the Private Island of Blue Lagoon. Your round trip ferry transportation from Paradise Island is included in your price. The staff is extremely knowledgeable of the dolphins and a ton of fun. Your group size is kept to a minimum so you will have plenty of time to enjoy the dolphins. The animals here are very healthy in their natural sea water habitat. You will come away with memories that are going to be hard to beat anywhere you go on your vacation!
Book Your Nassau Program Online Now >>>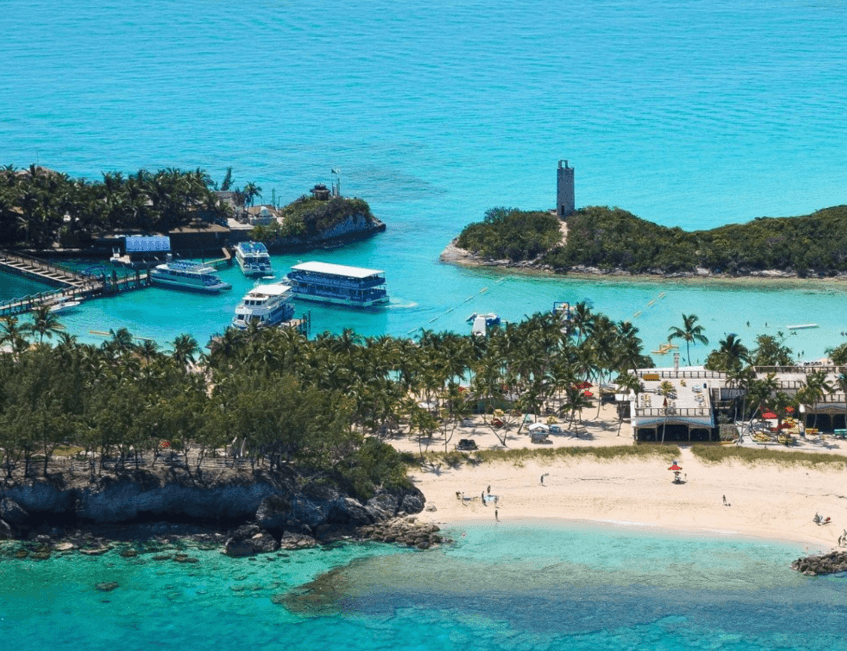 Video of Dolphins in Nassau
Map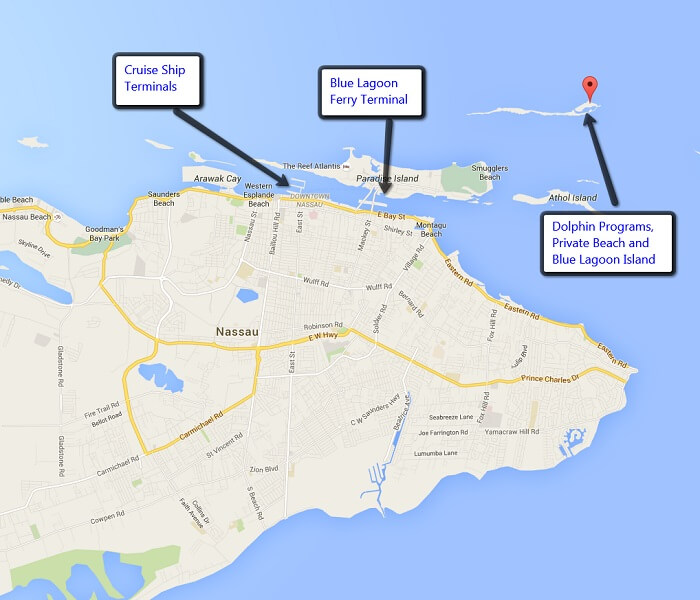 Transportation
From a Resort
If you are staying on Paradise Island, Atlantis Resort, most of the resorts are in walking distance to the Blue Lagoon ferry entrance or you can take a quick taxi ride, $5 each way. If you are staying on the New Providence / Nassau / Cable Beach, you can either take a local taxi, about $20 each way plus $1 toll. You can also have Johnson Bus service pick you up at your resort, $12 round trip (you will need to request this on your reservation form).
From a Cruise Ship
You will take a taxi which goes over a nearby bridge to Paradise Island. Taxi will take about 10 min, and cost around $10-$12 or so plus $1 for the bridge toll. There are plenty taxi waiting for you at the cruise ship dock.
Cruise Ship Customers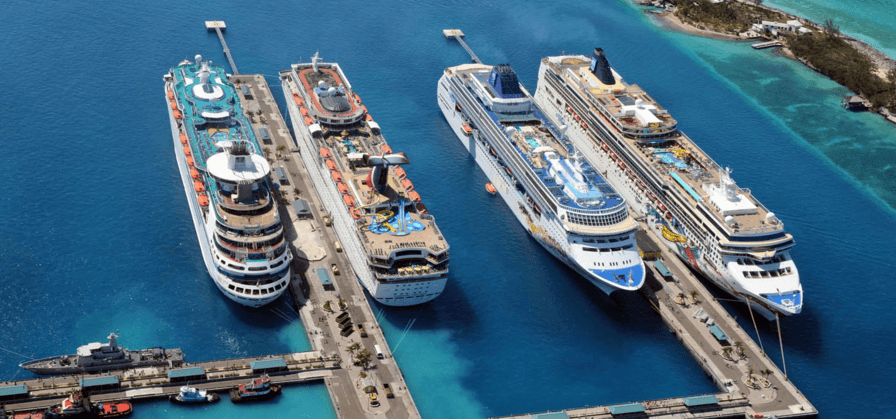 If your cruise ship arrives Nassau 7am or before and leaves 7pm or after, you will be able to book a dolphin program with us.
If your cruise ship arrives Nassau 8am or after and leaves 6pm or before, you will NOT be able to book with us. Spaces are limited and the cruise ship pre-purchased these spaces before they arrive to the Island. So the only way to get spaces at this point is through your cruise ship shore excursion program.
Book Your Nassau Program Online Now >>>
Frequently Asked Questions (FAQ)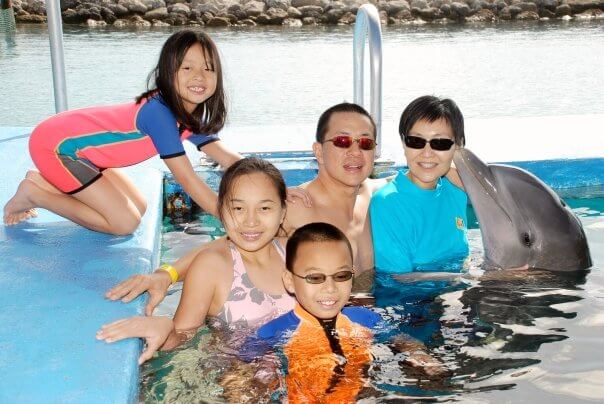 Timid or non-swimmers
Worried that your lack of swimming skills will keep you from meeting a dolphin or sea lion? DON'T BE!!! Our Dolphin and Sea Lion Encounter programs take place in shallow water where you will stand on a platform. The animals will swim up and over the platform where you can meet them one-on-one. We want you to feel comfortable and to enjoy the program as well. We welcome all timid and non-swimmers and encourage you to make your dolphin and sea lion dreams come true.
How large are the Blue Lagoon ferry boats?
Our catamarans are large, double-decker vessels that can each carry well over 100 passengers. Each boat has a captain and mate, is equipped with life vests and is fully licensed and inspected. The ride is approximately 20-minutes and you never lose sight of land or venture far out to sea. Sit back, relax and enjoy as we cruise through Nassau's historic harbour, past Paradise Island and over to Blue Lagoon Island. The boat ride is very picturesque and worth the trip!
How do I get from the cruise ship to the island?
You would be required to catch a taxi (automobile and not a water taxi) from the cruise ship pier to the Paradise Island Ferry Terminal for check-in.
*** If you are visiting Dolphin Encounters Ltd. as a part of your cruise vacation, please remember to bring along a towel and cash/credit cards (Visa, MasterCard and AMEX only) for any purchases that you may require while at our facility.
What is the water temperature?
Water temperatures range from 72° F (22° C) in the winter to 85° F (30° C) in the summer.
Where is Blue Lagoon Island located?
Blue Lagoon Island is located 2 miles northeast of Paradise Island and Nassau. Blue Lagoon Island is approximately 2.2 miles long and features a gorgeous natural lagoon near the eastern end where our facility is located. The beach scenes in the movie "Splash" were filmed on Blue Lagoon.
Are there lockers, changing areas and showers on the island?
Yes. We offer lockers free of charge to all of our guests that are participating in an animal interaction. There are lockers for rent at the beach. We also have indoor and outdoor showers.
Are there food and beverages available on the island?
Yes. We have a snack shop on the island which sells snacks, and drinks. On the beach lagoon side we have a full service grill and a bar.
Do you sell photos and videos?
Our onsite state-of-the-art photo/video lab sells great personalized pictures of your interactions with the dolphins and sea lions. They come in a variety of styles ranging from key chains and refrigerator magnets, printed photos as well as digital images. We also sell DVDs of your Encounter or Swim program, which includes a pre-recorded section with highlights of Paradise Island, Nassau/Bay Street, and Blue Lagoon Island.
Will there be other people in our program?
The maximum allowed in each "Dolphin Swim" and "Sea Lion Encounter" is ten persons and the maximum for the "Dolphin Encounter" is 30 persons although only ten people at a time are in the water interacting with the dolphins.
How deep is the water in the "Dolphin Swim" program? Do you provide wet suits and life vests when it is cold?
The water is 10-25 feet deep in the "Dolphin Swim" program. Wet suits (short type) are available at no cost, while life vests are mandatory in the swim program which help participants interact more freely with the dolphins by eliminating the need to tread water.
Can paid participants bring friends or relatives to watch their dolphin programs?
Anybody can observe our programs by paying the observer fee, which includes round-trip boat transportation to and from Blue Lagoon Island.
Can I book a private platform?
Yes. We offer private platforms. The cost of the private Swim platform is $1,650. To book a private Encounter platform please contact the Sales & Marketing Department for price and availability
What times do the boats depart?
Our boats depart from Paradise Island Ferry Terminal at four regularly scheduled times: 8:30am, 10:30am, 1:30pm and 3:30pm.There is also a 12:30 p.m. departure.
How long is the boat ride?
The boat ride to Blue Lagoon Island is approximately 20-minutes. It is mandatory that our boat captains go slowly while cruising through Nassau Harbour. Once they have passed a certain point, the boat increases speed.
Is the boat ride to Blue Lagoon included in the price?
Yes.
What should I bring to the island?
You should bring a towel, sunscreen, change of clothing, jacket or windbreaker for the boat ride (during the winter time) and cash/credit card for souvenirs. Please bring all necessary medications with you.
Can I bring a camera and/or video recorder?
Yes, you can take cameras and video recorders, but please be aware that the dolphins will splash and Dolphin Encounters will not be responsible for any damage to your equipment. (We do provide personalized photo and video services onsite).