Scroll Down & Click on Program for More Information
from

$99.00

USD
Includes: Dolphin Royal Swim Program – A 40 minute shallow and deep water experience including touching, feeding and training with a dolphin and the opportunity for a deep-water interaction with a dolphin like a dorsal fin ride from one of the pool to the other, foot push, petting, kissing, and petting the dolphin. Must be 8 years old and up to participate.  MORE DETAILS >>>

[hr][/hr]

from

$99.00

USD
Includes: Dolphin Swim Adventure Program – A 30 minute program where the dolphin greets you with a handshake, a kiss on the cheek, and lets you kiss them as well. Later, you will get close and personal with your new friend while it takes you on a belly-ride. At the end, you will enjoy moments of great spontaneity during your free time together. It is an unforgettable experience! Must be 8 years old and up to participate. MORE DETAILS >>>

[hr][/hr]

from

$99.00

USD
Includes: Dolphin Encounter Program – A 30 minute shallow water experience including touching, feeding and training with a dolphin. Perfect for non-swimmers! In this program there is NO Swimming with the Dolphins. Must be 1 years old and up to participate. MORE DETAILS  >>>

[hr][/hr]

Cruise Ships to Saint Kitts

Packaged Separately
from Dolphin Program

Cruise Ships –  St Kitts main tourist group is from the Cruise Ships. All Cruise Line passenger can book with our online system. One thing about booking direct, you will save a lot of money. If you book online, you need to take a taxi from the Cruise port to the Dolphin Facility which is about $10 per person.

The Dolphin Programs are on St Kitts Island Time Not Cruise Ship Time!



Taxi Ride:
$10 pp

Local Jitney Bus:
Prices Negotiable
Why Saint Kitts for a Dolphin Program?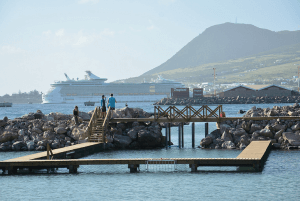 A near perfect vacation – that's how you might think of St Kitts and Nevis. The two-island nation combines beaches with beautiful mountains, activities to engage your body and rich history to engage your mind. The legacies of the sugar industry survive in pleasant plantation inns and the local culture is mellow, friendly and infused with a pulsing soca beat.
But if the pair offer much that's similar, they differ in the details. St Kitts is the larger and feels that way, from bustling Basseterre and mighty Brimstone Hill Fortress to the party strip and resorts of Frigate Bay.
Nevis is a neater package, anchored by a single volcanic mountain buttressed by a handful of beaches and a tiny capital, Charlestown. Nature walks take you into the verdant upper reaches of the peak. History here centers on the big names of Horatio Nelson and Alexander Hamilton.
The Dolphin Center is located about a 10 – 15 minutes taxi ride from the St. Kitts Cruise Port. This makes the Dolphin Center an ideal destination for a day trip. If you make a reservation early there are many discounts offered for the dolphin program if you book online or call us.
As if swimming with dolphins wasn't great enough, you'll also have the opportunity to explore the rest of the island. You may wonder what distinguishes St. Kitts and Nevis trip from other Caribbean spots? We have two words for you: black sand. For some of the most distinctive activities, check out the shore along Pump Bay or Belle Tete on St. Kitts. Of the two islands, St. Kitts is also where you'll find the most activities away from the shore (including tours of the historic Brimstone Fortress and several golf courses). Quiet Nevis is better known for its beaches, including the famous Pinney's and clear water snorkeling at Oualie Beach.