Scroll Down & Click on Program for More Information
ALL PROGRAMS IN TORTOLA ARE CLOSED UNTIL FURTHER NOTICE
from

$129.00

USD
Includes: Dolphin Royal Swim Program – A 30-40 minute shallow and deep water experience including touching, feeding and training with a dolphin and the opportunity for a deep-water interaction with a dolphin like a dorsal fin ride from one of the pool to the other, foot push, petting, kissing, and petting the dolphin. Ferry provided at an additional cost from St Thomas and St Johns. MORE DETAILS  >>>

[hr][/hr]

from

$109.00

USD
Includes: Dolphin Swim Adventure Program – A 30 minute program where the dolphin greets you with a handshake, a kiss on the cheek, and lets you kiss them as well. Later, you will get close and personal with your new friend while it takes you on a belly-ride. At the end, you will enjoy moments of great spontaneity during your free time together. It is an unforgettable experience!  Ferry provided at an additional cost from St Thomas and St Johns. Must be 8 years old and up to participate. MORE DETAILS  >>>

[hr][/hr]

from

$89.00

USD
Includes: Dolphin Encounter Program – A 30 minute shallow water experience including touching, feeding and training with a dolphin. Perfect for non-swimmers! In this program there is NO Swimming with the Dolphins. included. Ferry provided at an additional cost from St Thomas and St Johns. Must be 1 years old and up to participate. MORE DETAILS  >>>

[hr][/hr]

Packaged with Dolphin Program

Ferry services within the larger islands of the BVI & USVI are frequent, speedy and efficient – the perfect way to go island hopping and to get to your Dolphin Program on Tortola. Below are schedules if you purchase the Round Trip Ferry with your Dolphin program. You can save a lot of money if you package the ferry service with the dolphins but you can go on your own and purchase the ferry separately from your dolphin program. IMPORTANT: You must have a Passport to travel between Islands. More Information >>>

Ferry From this Location to Tortola
St Thomas USVI
St Johns USVI


Leave Time:
8:00am
8:30am

Return Time:
4:00pm
4:15pm
Why Swim with Dolphins in Tortola/Virgin Islands?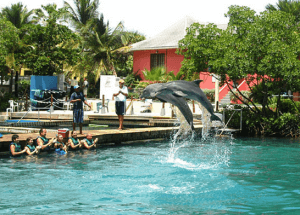 There is no place on Earth quite like Tortola, British Virgin Islands (BVI). with its wonderful beaches, sparkling waters, mystical ancient history, tantalizing local cuisine and warm, hospitable islanders, you'll come to understand that Tortola is a special place indeed. Tortola, which is actually the largest island in the BVI chain, offers an abundance of wonderful activities for visitors to enjoy, one of the biggest attractions being the dolphin swim.
The dolphin facility is nettled within  a mangrove cove to protect the dolphins and the guests with consistently calm and warm waters. The dolphin swim, as well as the dolphin encounter, gets visitors up close to the wondrous creatures. Whether you want to swim out in the open water with them, or stay in the shallow waters and frolic and play, your dolphin interactions will be the highlights of your vacation.
The swim with dolphins Tortola & Virgin Island programs were designed to be fun and educational, and that's exactly what they are. They are a great way for families, friends, or honeymooners to bond together over a unique experience. Whatever your age, if you've ever dreamed of having a close encounter with nature – chances are a swim with the dolphins in the Virgin Islands will make that dream come true.
Besides swimming with the dolphins, visitors can also catch a ferry to and from Tortola to St. Thomas or St. John where they can discover an island paradise full of dazzling beaches where they can dip into the sea for a bit of snorkeling fun, and charming Caribbean towns that offer a bit of shopping and dining pleasures. All-in-all Tortola is an enticing destination with something for everyone, and the swimming with the dolphins programs will no doubt be an experience you'll not soon forget.