Are you staying on St Thomas or St. John US Virgin Islands? Or Maybe you are coming to and staying on Tortola BVI? This British Virgin island offers little in historic sites, but that doesn't seem to bother the thousands of visitors who flock here every year, from Air or Sea. That's because they come for the spectacular scenery and gorgeous beaches – 21 square miles of beaches to be exact and to swim with dolphins on Tortola too!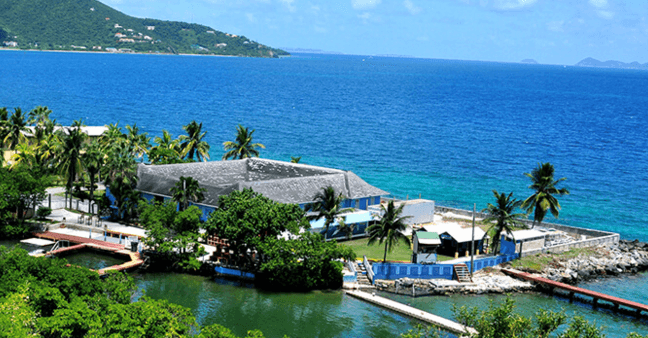 A Video Tour of Your Dolphin Swim in Tortola, British Virgin Islands
)
Try the Dolphin Discovery Encounter Swim
Bottlenose dolphins are really social animals and love interacting with humans. The dolphin discovery swim will get you up close and personal to these playful animals. The Dolphin Encounter is the shallow water program where anyone from 1-year-old and up can participate. This program is both educational and fun. The certified dolphin trainers will teach you all about the bottlenose dolphins before you get in waist deep water for some frolicking and maybe even a dolphin kiss!
An Adventure in the Water!
The Dolphin Swim Adventure is for those visitors who want to kick their adrenaline up a notch. This
program is quite unique and offers a variety of dolphin activities. Dive in and receive a hug or a kiss from one of these playful creatures, and if you get really lucky, you'll get to experience the thrill of a lifetime when you go for a belly ride. Yep, you'll hold on to the dolphin's fins as he swims backwards. No matter your age, this is a thrill of a lifetime.
Be Treated like a Royal
Take part in the Dolphin Royal Swim program and experience the playful interactions as you receive a kiss, a hug, and even a handshake.
But even more exciting is experiencing the thrilling foot-push, when two dolphins push you by the soles of your feet. You'll feel like a super hero, arms outstretched skimming atop the water.
You'll also feel what it's like to hold on to a dolphin's dorsal fin while they rapidly (dolphins can swim up to 35 MPH!) swim backwards. It is such an exciting ride and one you'll never forget.
[button color="green" link="https://reservation.dolphinworldstore.com/caribbean-locations/tortola-and-us-virgin-island-dolphin-programs/"]More Tortola BVI Dolphin Program Information >>[/button]
A Quick Ferry Ride from US Virgin Islands – St Thomas and St John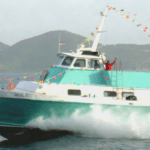 Are you staying on St Thomas or St John? There is no reason you cannot enjoy the dolphin programs on Tortola, BVI. All you need is a valid passport and away you can go and be with the dolphins, while discovering the fun of this British Virgin Island. The ferry ride each way is about 50 minutes.
When you take your quick ferry ride from From St Thomas Island, only 50 minutes away, or St Johns, only 30 minutes away by public ferry. You may find you have extra time on Tortola to discover this tropical paradise. Take a taxi to Sky World, home of one of the most beautiful spots in the Caribbean. Stop at Cane Garden Bay for a little beach break and enjoy a leisurely lunch.
Next, enjoy a tour of Carrot Bay and Long Bay making sure to stop for a photo opportunity at the famous Bomba Shack. If you are staying on St Thomas, US Virgin Islands, you can take a ferry round trip ride from St. Thomas to Tortola, where you will pinch yourself and remember the day wasn't a dream, it actually happened!
If you book our Dolphin program and Ferry combo from the US Virgin Islands, you can save money on your ferry ride. Observers ( a person NOT going into the water with the dolphins) can come along but will need to pay ferry ride on their own. Click here for rates.
Passport and Taxes
It is very important to know, you will need to have a valid passport to enter Tortola. Also, you will need to pay a British entrance tax upon arrival.
Cruise Ship Guests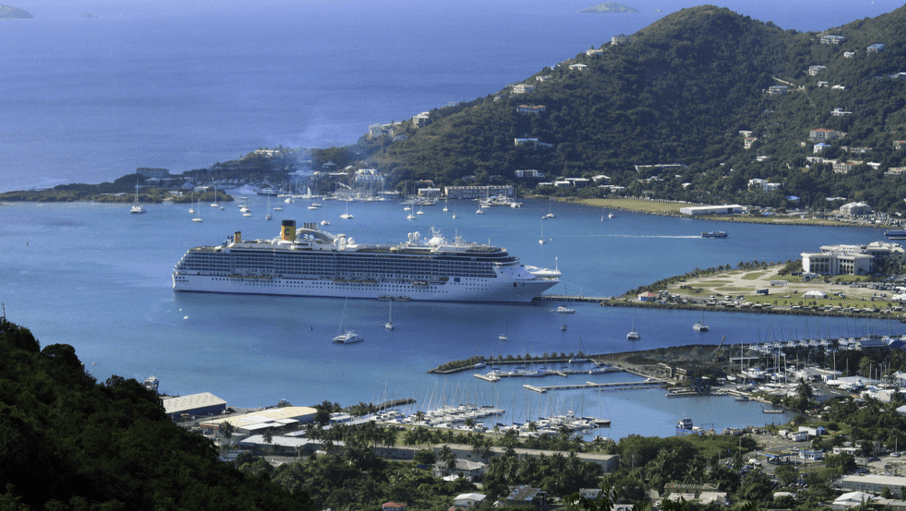 Tortola Cruise Ship Guests
You Cruise Ship will either Dock or Tender while in Tortola. If your cruise ship fits, you will dock and have an easy walk to Road Town where all the main shops and restaurants are on Tortola. If you are coming on a Super Class Cruise Ship and can not fit at the dock, you will be Tender to Road Town. You should find out which way your ship will be staying in Road Town to help gauge your time back to your cruise ship.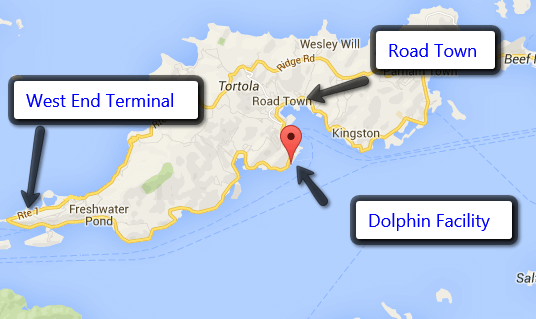 Transportation
There will be plenty of Taxis waiting by the Road Town or West End dock to take you to the Dolphin Facility, the fare will be between $6 and $8 USD round trip and is about 5 minutes taxi ride from the pier to the dolphin facility.
St Thomas Cruise Ship Guests
When your cruise ship comes to beautiful St Thomas, is important to see what time your ship comes in and leaves the port. You will NOT be able to book our combo Dolphin program with the Ferry Service. You will need to buy the dolphin swim by yourself and be responsible for your own transportation. Click this link for Ferry service to Tortola and Schedules. In order to make the Ferry schedule, your cruise ship must port St Thomas by 7am, no later, and must leave after 5:30pm, no earlier.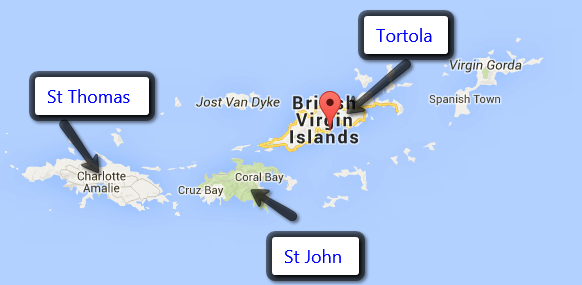 Fun Full Day Tortola Activity
Get ready for a day full of wonder and adventures that will start with a 45 minute scenic ferry ride across the stunning Caribbean Seafrom Red Hook St. Thomas towards West End Tortola making a stop in Cruz Bay. Dolphin Discovery is located in a natural environment at Tortola, one of the largest isles of the British Virgin Islands.
Your day includes the Dolphin Royal Swim program, the gem of our programs is best defined by two words: action and speed, because it is the most dynamic of our dolphin interactions and feel the strength and love of these marine animals as they push you by your feet soles until you fly out of the water surface in the famous foot push, the Dorsal Tow occurs when you hold on to the dolphin fins and go for a sweet ride. Also he kisses you, hugs you, plays and dances with you.
After your dolphin program, we will continue our day by taking our safari taxi to Sky World, home of one of the most beautiful spots in all of the Caribbean. Next, passengers docking in Tortola will stop at Cane Garden Bay for a beach break, where lunch is available at the customer's cost. The Island tour will continue to Carrot Bay and Long Bay enjoying the northern face of the island with a photo stop at the famous Bomba Shack. Book this Now <<< 
Tortola Dolphin Program FAQ
Which are the entrance piers for the British Islands?
Road Town and West End in Tortola, Great Harbour in Jost Van Dyke and St. Thomas Bay in Virgin Gorda. Our dolphinarium is located in Tortola. For more information about ferries we advise you to visit the following website www.tortolafastferry.com
Where is the dolphinarium in Tortola?
We are located beside Prospect Reef, in Road Town (near Reef House Convention Center).
How long and how much is the taxi ride from the ferry dock or cruise ship pier to Dolphin Discovery Tortola location?
Between $6 and $8 USD round trip and is about 5 minutes.
Is it difficult to find taxis from the pier to Dolphin Discovery Tortola location?
No, once you get off the ship, you will notice that there are available taxis along the street.
How can I get to Dolphin Facility Tortola location from St. Thomas or St John (USVI)?
You will need to take a taxi from St. Thomas/St John to the Ferry point, and once in Tortola, you will have to take a taxi to the location.
If I'm in USVI, do I need a passport/visa to go to Tortola?
Yes, check the details and requirements with your migration officer and visit our Passport and Visa section.
What services are offered at the Dolphin Facility on Tortola?
We have cubicles for your belongings, dressing rooms, showers, restrooms and a snack bar with sandwiches, hotdogs, ice creams, French fries and sodas for sale.
What else could I do after my dolphin program in Tortola?
You can go to Cane Garden Bay, the most famous beach located at the other side of the island. The round trip will take about 20 minutes and will cost about $16 USD. Nancy Cay is a Marina about 7 minutes from our dolphinarium, it has a beach, swimming pool and restaurant. The round trip is about $6 USD.
Is there an entrance fee for observers?
Visitors and companions are welcomed to watch from a designated area and are FREE.
What do I need to bring to the swim with dolphins in Tortola?
Towels, Suncare products, and dress for the weather accordingly.