Scroll Down & Click on Location for More Information
from

$110.00

USD
Your family's swimming with the dolphins in Miami takes place at one of the finest dolphin swim locations in south Florida. You will make friends with many marine mammals, and spend shallow and deep water time with the dolphins. The Miami dolphin swim adventure also includes many marine mammal shows and other exciting attractions of the facility. Best of all, the Miami dolphin is just one component of your Miami Beach vacation. Dolphin World is not only an expert in dolphin swim locations, we can also help you plan days of action-packed activities. Water sports, trips to the zoo, shopping, dining and more. You name it, we'll help you plan it! MORE INFORMATION >>>

---

from

$85.00

USD
The relaxed atmosphere of the Florida Keys is a perfect place for a swim with dolphins Key Largo and wild dolphin encounters in Key West. During your swimming with the dolphin Key Largo area mini-workshop, you'll come face to face with smiling cetacean and a wide variety of other creatures. Enjoy a show of frolicking sea lions and a tour of the Key Largo area dolphin swim facility!If water sports and high seas adventures are part of your family's wish list, the Florida Keys offers lots of opportunities for recreation. Let Dolphin World help you plan the rest of your vacation so that it is as fun, exciting and relaxing as possible! MORE INFORMATION >>>

---

from

$34.00

USD
This city has a lot history because it is the oldest city in the United States and has one of the first aquariums with Florida dolphins too! You will come in contact with some of the best cared for dolphins in the country and has the oldest dolphin in captivity, almost 60 years old. You can say this enticing marineland with dolphins and free beaches is the place to enjoy with family and friends, a perfect place to have a dolphin encounter. This place is a great alternative day tour for guests going to Orlando, Daytona Beach, and Jacksonville Beach and makes the swimming with the dolphins St. Augustine a great location to visit. MORE INFORMATION >>>

---

from

$89.00

USD
Most tourist know Panama City Beach as the Spring Break mecca of Florida, which it is, but also known for Swimming with Dolphins too. Panama City Beach Florida offers 27 miles of stunning white sand, emerald green waters and surefire enjoyment in, on or under the water. Explore the vast expanse of things to do, from family-friendly mazes and Florida sport fishing to exciting nightlife and relaxing spa getaways. With boatloads of attractions, which includes the swimming with the dolphins in Panama City Beach, top-notch restaurants, beach activities, amazing accommodations and world-class events, you'll never forget a Panama City Beach vacation. This dolphin program is a great alternative day trip for guests going to Pensacola, Destin, Mexico Beach, Port St. Joe, or Tallahassee. MORE INFORMATION >>>

---

from

$229.00

USD
Swimming with the Dolphins in Orlando, Florida is the ultimate vacation destination! Discovery Cove limits its daily visitation to 1,000 people, so each guest is guaranteed to have a spectacular experience. Perfect for the entire family, Discovery Cove is packed with activities for every age. The Dolphin Swim experience is one of the best in Florida, but that's not all. Your all-inclusive day package includes breakfast, lunch, beverages and snacks throughout the day. In addition to the dolphin swim with beaming bottlenose dolphins, you get to snorkel in the tropical fish lagoon among thousands of shimmering tropical fish. The tropical river and resort pool are relaxing spots for a swim or a stretch in the sun. Towels, sunscreen, snorkel gear, wetsuits and more are included in your package. You bring excitement, we provide the fun! MORE INFORMATION >>>
Why Go Swimming with the Dolphins in Florida?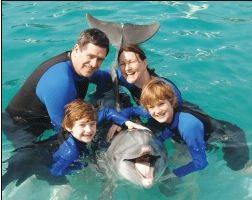 A trip to the Sunshine State is only complete after a you go swimming with the dolphins in Florida. The Florida Dolphin are the friendliest and smartest marine mammals which beckon swimmers from around the world to their crystal clear native lagoons and dolphin swim facilities around the state. We have the places to go Swimming with the Dolphins in Florida. You can swim with the dolphins in Orlando, Miami, St. Augustine, Panama City Beach, or the Florida Keys, enjoying a variety of captive and wild dolphin encounters. Each of the dolphin swim locations boasts it own specialties and unique opportunities. There are many Florida Locations to Swim with Dolphins so you need to check out which one would be perfect for you!
A constant between dolphin swim locations in Panama City Beach, Orlando, St. Augustine, Miami and the Florida Keys is that the dolphin swim experiences are extremely popular and reservations are sold out months in advance. You definitely need to plan your dolphin swim in Florida as soon as you plan the rest of your vacation. Dolphin World's fifteen years of experience combined with a comprehensive, secure online booking system ensure that you have a hassle-free dolphin swim reservation. If you are looking for last minute spots, we might be able to help you, but we do encourage everyone to reserve a spot well in advance. If, for any reason, there is not a dolphin swim reservation available for your requested date, we will immediately contact you and offer alternative suggestions. Our goal is to make your Florida vacation as fun and hassle-free as possible!
Recommendations