Key Largo, that tropical paradise known for its turquoise waters, white sand beaches, and laid back locals who know how to have a good time. It's the perfect place to set sail on a sunset cruise, hunt for seashells in the early morning hours, or try your hand at deep sea fishing. If you are lucky enough to hook a big one, just bring it ashore where any number of restaurants will be willing to clean and cook it for you. If you'd rather swim with fish than catch and eat them, then you'll surely enjoy a swim with dolphins and a snorkel trip in the Key Largo area, where you can explore coral reefs, seagrass beds, and mangrove estuaries
Video Tour of Dolphin World, Key Largo, Florida
Swimming with Dolphins in Key Largo is an Experience You'll Never Forget
If you've always dreamed of swimming with dolphins then you're in for the time of your life when you sign up for Dolphin World's 1 Day Dolphin Swim Mini-Workshop. In the morning, you'll take part in an entertaining and interactive class where you'll learn everything you've ever wanted to know about Bottlenose dolphins and also what you can expect from your face-to-face encounter with them.
Once class is over you'll submerge yourself into the warm, clear waters of the park's natural salt water lagoon and meet your new aquatic friends. Spend a little time getting to know each other, give some hugs and kisses, and even help to train and feed these amazing creatures.
Next, head on out into deeper waters where you can swim underwater with the dolphins and even experience the thrill of getting a foot push, dorsal fin or belly ride. You'll feel like you're flying!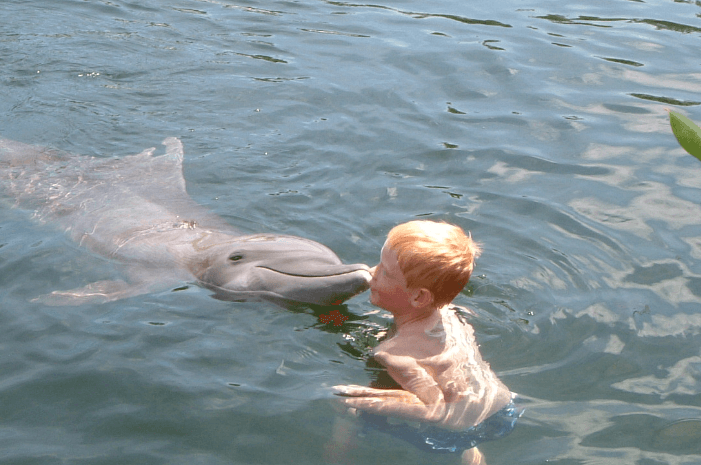 [button color="green" link="https://reservation.dolphinworldstore.com/keylargoflorida/swimmingwithdolphinsandsnorkeltrip.html"]Book Your 1 Day Dolphin Swim Mini Workshop Florida Keys Online Now >>>[/button]
Take a Snorkel Trip in Key Largo
Dolphin World's Keys program is one of the few places in the world to offer both a dolphin swim and snorkeling trip in the same day. Take a leisurely boat ride to John Pennekamp Coral Reef and explore the beauty of this unique protected coral reef, one of the most beautiful and diverse living communities in the entire world.
Opened in 1963, John Pennekamp Coral Reef State Park was the first undersea park in the United States. Along with the adjacent Florida Keys National Marine Sanctuary, the Coral Reef Park covers approximately 178 nautical square miles of coral reefs, seagrass beds and mangrove swamps. The park was established to protect and preserve a portion of the only living coral reef in the continental United States and was added to the National Register of Historic Places in1972.
While in the underwater park, you'll get to see a wide variety of tropical vegetation, shore birds and abundant marine life. The vibrant coral formations are thrilling to behold and the mangrove swamps and tropical hammocks are like something out of this world. Visitors to the park will be privileged to see some of the most beautiful scenes in nature anywhere in the US.  Snorkel trip includes mask, snorkel and fins.
Key Largo is just one of those destinations that relaxes you and excites you at the same time. If you'd like your next vacation to be magical, unique, and a whole lot of fun, a visit to Dolphin World will deliver all of that and more!