[highlight color="yellow"]PLEASE READ[/highlight]
Thank you for your Dolphin World online order. You will be notified within 12 – 24 hours with a confirmation of the status of your reservation, either by phone, email or fax. While you are waiting for your confirmation status, you may want to look at some recommended Florida Keys Hotels – and Travel Insurance. That information is below (Please scroll down).
Your space is not confirmed until we email, mail, or fax you a confirmation with complete ticket and directions. You DO NOT need to print your ticket. You can hand write the information on paper, bring your electronic device with your information, or print it. In order to complete your reservation, you need to have paid your ticket in full. Any questions about billing of your credit card, please contact your Dolphin World Specialist. Once you have received your confirmation, it is very important that you verify your times and dates on the confirmation to prevent any mistakes. Please contact us immediately if you see any discrepancies.
Additional Information for Your Trained Dolphin Program

Child Care Authorization Form – If you are not the legal parents of the children that are participating, it is very important that you fill out, print and bring this CCA form with you.  The children will not be allowed to participate without this fill form. More >>
Note – The Dolphin Facility in the Keys is home to a colony of abandoned cats. If you have any aversions or allergies, please take appropriate measures.
Hilton Key Largo Resort – Hilton Key Largo Resort is a tropical island paradise convenie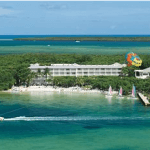 ntly located only three miles from downtown and less than one hour from Miami. Hike extensive nature trails, walk along a private white-sand beach, or enjoy exciting water sports and breathtaking sunsets. This island resort–with a white-sand beach on the Gulf of Mexico–has a quarter-mile-long boardwalk trail winding through it 12 acres of dense foliage and rare trees. Pools and water sports. The resort includes tennis courts and nature trails, and pools for adults and children; guests can also rent sailboats, Jet Skis, and snorkeling gear. Step-out balconies. Guestrooms at this Hilton resort come equipped with wireless Internet access and private, furnished balconies. Most offer views of the ocean or surrounding forest.. … More >>
Southernmost on the Beach Key West Hotel – This Key West historical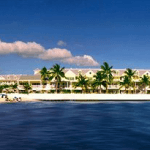 district hotel is 2 blocks from Southernmost Point. Ernest Hemingway Home and Museum, and Key West Lighthouse and Keeper's Quarters Museum are both a half-mile away. Southernmost On The Beach features a private beach with a pier, 3 outdoor pools, and a fitness facility. Guests enjoy beach massages, cocktails at the poolside bar, and complimentary beach towels. Guestrooms at Southernmost On The Beach feature ceiling fans and premium bedding. TVs come with satellite service. Rooms provide refrigerators as well as complimentary wireless Internet access….More >>
Transportation and Directions

Complete ticket and directions will be sent to you. You will need to come to Upper Keys (Key Largo &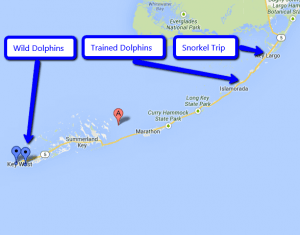 Islamorada) or Key West. If you want to get a general idea where you need to go to, click on the Map Image. The drive from South Beach,Miami Beach and Airport location is about 1 1/2 hours to this location. From Fort Lauderdale, it is about a 2 1/2 hours, Key West to Key Largo is about a 2 hour drive by car. For those that do not want the hassle of driving we offer a pick up service, please email us if you want more information on this service. Pick Up Service Information >>
Travel Insurance – Protect Your Vacation and Dolphin Program

We do have a strict cancellation policy, which you acknowledge that you have read, but if you did not read it, please read it again. All cancellations must be received by Dolphin World / Keys Adventure Tours, Inc. in writing by email or
regular mail. A 10% service charge will apply per person for any cancellations prior 30 days of activity date. A 50% service charge will apply per person for any cancellations within 29 – 15 day period prior activity date. A 75% service charge will apply per person for any cancellations within 14 – 8 day period prior activity date. Prior 8 days of your reservation date, you may change your reservation to a gift certificate, where you would not incur any penalties except the change fee. This gift certificate will be good for 1 year from the date of the certificate. NO REFUND WILL BE GIVEN TO ANY ACTIVITY PARTICIPANTS who cancel within the 7 day period, does not show up, are late for scheduled program(s).

We highly recommend that you protect your whole vacation, dolphin activity, flight, hotel, car rental and other travel related expenses. We recommend TravelEx Insurance. Get a quote for the Travel Lite policy. Travel Lite is all you will need. Get a Quote NOW >>