Scroll Down & Click on the Dolphin Programs for More Information
from

$199.00

USD
Includes: Dolphin Swim Program – A 30 minute shallow and deep water experience including touching, feeding and training with a dolphin and the opportunity for a deep-water interaction with a dolphin like a dorsal fin ride from one of the pool to the other, foot push, belly ride, free swimming with the dolphin, plus, General Admission to Park, Dolphin Show, Marine Tour, and other Marine Animal Shows. A car ride from Key West to the Islamorada is about 2 hours. MORE INFORMATION >>>

[hr][/hr]

from

$95.00

USD
Includes: A 4 hour boat  Key West trip with the leader of the Dolphin Alliance of Key West. The Dolphin Alliance oversees the well being of the Key West bottlenose dolphins. Your Captain will share her knowledge and leadership skills of helping these incredible bottlenose dolphin pods that reside all year long in Key West waters. Since in Key West you are not allowed to get in the water with Wild Dolphins, you will get to observe and learn about this local pod of dolphins in their own natural habitat. This tour starts from Key West (Stock Island). MORE INFORMATION >>>

[hr][/hr]

from

$139.00

USD
Includes: A 4 hour boat trip with the leader of the Dolphin Alliance of Key West. The Dolphin Alliance oversees the well being of the Key West bottlenose dolphins. Your Captain will share her knowledge and leadership skills of helping these incredible bottlenose dolphin pods that reside all year long in Key West waters. Since in Key West you are not allowed to get in the water with Wild Dolphins, you will get to observe and learn about this local pod of dolphins in their own natural habitat. Mask, Snorkel, Fins, Wetsuit, Floatation Vest will be provided for the snorkel portion of your trip. The trip also includes snacks, beverages, and towels. Also part of your day is a 2 Hour Guided Kayak Tour which you paddle at a relaxing pace and explore the shallow, calm, blue-green waters of the back country of Key West to understand the diverse Ecology System that protect the Wild Bottlenose Dolphins with shelter and food. This tour starts from Key West (Stock Island).  MORE INFORMATION >>>

[hr][/hr]

from

$329.00

USD
Includes: Round Trip Van Service from your Key West hotel or residence to the Islamorada facility (about a 2 hour van ride). Plus, the Dolphin Swim Program – A 30 minute shallow and deep water experience including touching, feeding and training with a dolphin and the opportunity for a deep-water interaction with a dolphin like a dorsal fin ride / toe push from one of the pool to the other, General Admission to Park, Dolphin Show, Sea Lion Show, Marine Tour, and other Marine Animal Shows MORE INFORMATION >>>
Why the Florida Keys for a Dolphin Program?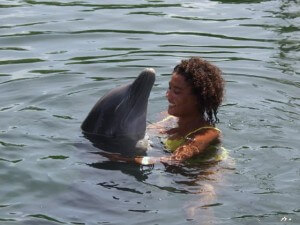 Key West is a vacation destination like no other. It almost has everything there to do and many activities. The one unique activity that Key West has is the Wild Dolphin Trip. Unfortunately, the one activity it does not have on Key West are the Trained Dolphins but it is close by.
The Wild Dolphin Trip is where you get to go on a intimate 6 passenger boat to the Wild Dolphin Playground. There are big pods of wild dolphins that stay all year round near Key West. Our boat captain has over 25 years of experience and can find these pods of wild dolphins. You will get to see the wild dolphins in their natural habitat and get to watch them interact with each other within their Key West pod.
Now, if you have the need to touch, play and get a ride with the dolphin, you will have to make a 2 hour effort and drive up the Keys to Islamorada to be with Trained Dolphins. You can drive yourself and have this amazing experience where you will get a trainer and their trained dolphins and you will get to that special opportunity to get into the water to be up close with these amazing animals and swim with the dolphins in the Florida Keys. If you don't have a vehicle, don't worry, we have a van service to bring you to the dolphin facility in the Upper Keys.
The Florida Keys are a coral cay archipelago in the southeast United States. They begin at the southeastern tip of the Florida peninsula, about 15 miles south of Miami, and extend from Key Largo and to Key West, the westernmost of the inhabited islands. The islands lie along the Florida Straits, dividing the Atlantic Ocean to the east from the Gulf of Mexico to the west, and defining one edge of Florida Bay.
These dolphin programs in the Florida Keys are designed to be fun, very informative, and interactive for you. This may be a great way for a family to spend quality time together, a unique and romantic experience for a honeymoon couple, or a special event for young adults learning about marine biology and land animal behaviors. Your Swim with Dolphins in the Upper Keys, near Key Largo or Wild Dolphins in Key West. It will be a trip you won't forget.