How would you like to swim with dolphins and enjoy the convenience of van service in South Florida on your next vacation? If you enthusiastically said yes, then read on to find out the adventure that awaits you.
Welcome to Beautiful South Florida
A tropical paradise awaits you, and one that showcases some of Florida's most glorious beaches, unique shopping districts, and myriad cultural opportunities to experience. In other words, there's something for every vacationers here.
While in South Florida, explore the gorgeous Revival architecture and trendy cafes and boutiques of Palm Beach, then had over to the South Beach section of Miami, where the hot Latin rhythms pulse, and have a fabulous lunch at one of the many chic restaurants, then sit and relax by the shimmering water and enjoy the ocean breezes while inhaling the intoxicating scents of jasmine and orange blossoms around you. After you've rested up and are ready for an adrenaline rush, you'll be driven to Miami where you'll come face-to-face with some pretty amazing animals.
[button color="green" link="https://reservation.dolphinworldstore.com/product/van-tour-dolphin-swim-adventureodyssey-miami/"]Book Your Miami Swim with Dolphin Tour Online Now >>>[/button]
A Video Tour of Dolphin Swim Pickup Service, South Florida
Experience a Thrilling Dolphin Swim and Marine Animal Show
Have you ever wondered what it would be like to come face-to-face with a Bottlenose dolphin? Well now's your chance to find out! During the dolphin swim and marine animal show, you will learn about some of the most amazing underwater animals in an interactive class where you'll learn the basics about dolphins and what will happen during your dolphin program.
After this fun instruction, you'll then slip into some shallow water where you can then interact with the Dolphins. You won't believe how amazing it is to get a hug and kiss from these playful creatures. You'll also have the opportunity to rub, pet, and dance with the dolphins in this heart-warming program.
Still looking for thrills and adventure? Then head into deeper waters and be whisked away by a dolphin as you hold onto its fin, flying across the top of the water.  But the fun doesn't end once you get out of the water and towel off! After your dolphin adventure, spend the rest of the day exploring the many exhibits and presentations offered at the Miami dolphin facility.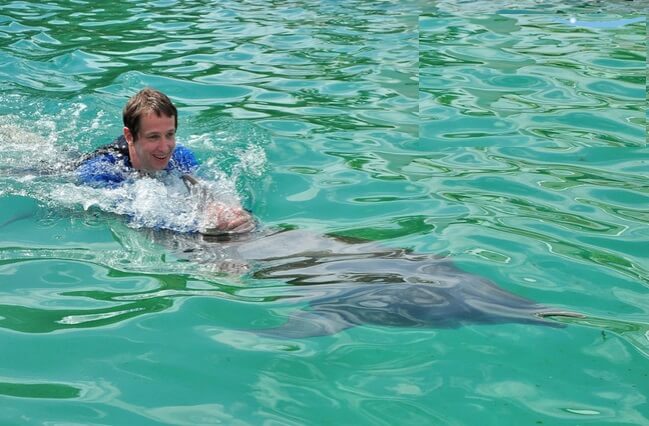 Why Use the Swim with Dolphins Transportation Service?
Let's face it, when you go on vacation you generally do it for one main reason: to escape the daily hassles of your life. The last thing you want to do is plan your vacation, book your vacation, then be stuck on a plane for however many hours, land and have to go through the hassle of fining the rental car agency kiosk, stand in line and hope they have your reservation in their system and the car class you requested. Aren't you exhausted (and annoyed) just thinking about it?
Wouldn't it be much easier to use a pickup service? The swim with dolphins transportation service provides round trip pickup service and includes a delicious snack and beverages, souvenirs keep sake, and one complimentary polaroid group photo. On this South Florida tour you'll be whisked away to an adventure where you'll interact with some of the most amazing animals on the planet, and you'll be able to leave your cares and worries at home where they belong! Beside the dolphin swim, we do provide other tour, Click this Button to see more options.
[button color="green" link="https://reservation.dolphinworldstore.com/florida-locations-to-swim-with-dolphins/miami-location-to-swim-with-dolphins/south-florida-dolphin-animal-tours/"]South Florida Van Tours >>>[/button]