Scroll Down & Click on Program for More Information
from

$229.00

USD
Includes: All Inclusive Dolphin Swim Program – A 30 minute shallow and deep water experience includes the following: a ride with a dolphin, hugging, touching, petting, kissing, and playing with the Dolphins. Plus, Educational Briefing, Snorkeling with thousands of tropical fish and rays, Encounters with playful otters, Hand feeding exotic birds, Relaxing on pristine beaches, Complimentary breakfast and lunch and unlimited snacks and beverages throughout the day. Must be 6 years old and up. MORE DETAILS  >>>

[hr][/hr]

from

$129.00

USD
Includes everything except going into the water with the dolphins – Snorkeling with thousands of tropical fish and rays, Encounters with playful otters, Hand feeding exotic birds, Relaxing on pristine beaches, Complimentary breakfast and lunch and unlimited snacks and beverages throughout the day, Relaxing on pristine beaches, Floating along our scenic Wind-Away River, Lockers, sunscreen, snorkel gear, changing facilities, and Unlimited admission to SeaWorld and Aquatica, SeaWorld's Waterpark in Orlando for 14 consecutive days around the date of your reservation. MORE DETAILS >>>
Why Participate in a Swim with Dolphin Orlando Program?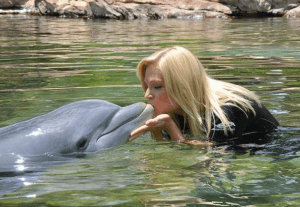 Orlando's Discovery Cove is a paradise of adventure and activities including the premier Swim with Dolphin Orlando program. The park's many amenities and reservations-only admission policy makes it one of the most sought after and difficult to access activities in all of Orlando. If you wait until your wheels hit the pavement in Florida to make your reservations, you will be out of luck and will miss the action. Dolphin World has over 20+ years of experience helping visitors plan their dolphin swim adventures. Plus, we can assist with the rest of your vacation needs! If you struggle with ideas to keep your family excited and entertained, we've got a few plans for you up our sleeves!
Discovery Cove limits park visitors per day and with millions of people visiting central Florida at any given time, it is imperative that you reserve your Discovery Cove experience at least two months in advance. If time is running out, you can always contact us to see if we have space, but we urge you to book as early as possible to ensure that your dream of swimming with the dolphins comes true. The strict limitation of daily visitors ensures that every guest has a personal experience and is able to enjoy each activity to the fullest. In addition to your experience, your visit to swimming with the dolphins Discovery Cove Orlando Florida includes the following activities….
A reserved 30-minute dolphin swim, if package is purchased
Complimentary breakfast and lunch, plus unlimited snacks and beverages throughout the day
Snorkeling with thousands of tropical fish and rays in The Grand Reef
Encounters with playful otters and curious marmosets in Freshwater Oasis
Hand feeding exotic birds in a free-flight aviary
Relaxing on pristine beaches
Floating along our scenic Wind-Away River
Lockers, sunscreen, snorkel gear, changing facilities
All day self-parking at Discovery Cove
Unlimited admission to SeaWorld and Aquatica, SeaWorld's Waterpark in Orlando for 14 consecutive days around the date of your reservation
Requirements
All Participants must be 6 years old and up
Any Participant within 6 – 12 years old, must have a paid Adult participant (An Adult is anyone 18 years or older).
No Refunds or Changes or Cancellations within 7 Days of the Activity Date.
Program goes on Rain or Shine.
Video of Your Orlando All Inclusive Dolphin Experience
Where to Stay to be Close to the Action!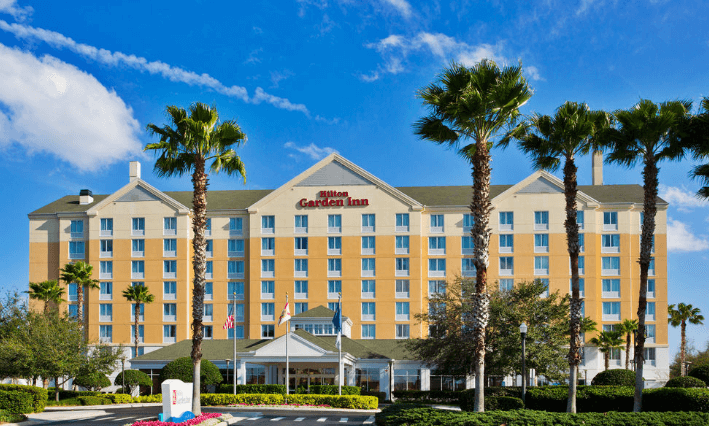 This Orlando hotel is adjacent to SeaWorld, a half-mile mile from Aquatica and Discovery Cove, 1 mile from the Convention Center; and less than 7 miles from Universal Studios and Walt Disney World Resort. An official SeaWorld hotel, families will enjoy this Orlando Hilton Garden Inn's complimentary shuttles to SeaWorld, Walt Disney World Resort, and Universal. Roomy quarters with 224 guestrooms at this Hilton Garden Inn offer desks with ergonomic chairs, microwaves and refrigerators, and complimentary high-speed Internet access. < MORE... >
Discounts for Florida Resident Rates
Save money if you live and have a valid Florida ID. No discounts during Summer and Spring Break. < Learn More.. >