Scroll Down & Click on Program for More Information
from

$119.00

USD
Includes: a Dolphin Royal Swim Program – A 30 minute shallow and deep water experience includes the following: foot push ride, dorsal tow ride, handshaking, hugging, touching, petting, kissing, and playing with the Dolphins. Educational Plus, Educational Briefing, General Admission to Park, Dolphin Show, Sea Lion show, Marine Tour, and other Shows. Must be 3 feet 5 inches tall or taller to participate. MORE DETAILS  >>>

from

$99.00

USD
Includes: a Dolphin Swim Program – A 20 minute shallow and deep water experience including touching, feeding and training with a dolphin. You'll also swim into deeper water for more interactions and even have a chance to pet and swim with the dolphin across the pool with the famous belly ride ride. Educational Plus, Educational Briefing, General Admission to Park, Dolphin Show, , Sea Lion show, Marine Tour, and other Shows. Must be 3 feet 5 inches tall or taller to participate.MORE DETAILS >>>

[hr][/hr]

from

$79.00

USD
Includes: Dolphin Encounter Program – A 20 minute shallow water experience including touching, feeding and training with a dolphin. Instead of getting a ride with the dolphin, you will get a dolphin body hug, which the swim participants do not get this behavior. Plus, Educational Briefing, General Admission to Park, Dolphin Show, Sea Lion show, Marine Tour, and other Shows. Must be 1 year old or older to participate. MORE DETAILS  >>>

[hr][/hr]

from

$69.00

USD
Ages 8+
Includes: Sea Lion Encounter – You get a 15 to 20 minute pool-side interactive sea lion program gives you an opportunity to pet, play, and get kissed by the sea lion. Educational Briefing, General Admission to Park, Dolphin Show, , Sea Lion show, Marine Tour, and other Shows. Must be 8 years old or older to participate. MORE DETAILS >>>
Why Swim with Dolphins in Panama City Beach?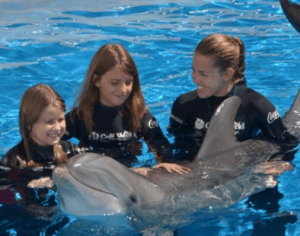 What's not to love about Panama City Beach? It offers 27 miles of absolutely stunning white sand beaches that stretch out next to some of the bluest water you'll ever see. The area offers world-class events, top-notch restaurants that serve up fresh local seafood, fine accommodations and legendary attractions. It is quite literally a destination that offers something for everyone.
Those who love outdoor activities will particularly be delighted chartering a boat and going out to reel in a big one, or scuba diving and snorkeling in and among some of the prettiest coral reefs imaginable. There are also some great golf courses in and around the area that will challenge you while taking your breath away.
For a really unique experience want not swim with the dolphins? It's not just for marine biologists any more. Anyone who's ever dreamt of swimming with these magical creatures can now make that dream come true. The Swim with Dolphins Panama City Beach and the Dolphin Encounter programs get you up close and personal to these highly intelligent animals. Swim with them, play with them, give them a hug and learn all about their anatomy and ability to communicate. We promise it will be an experience you will never forget.