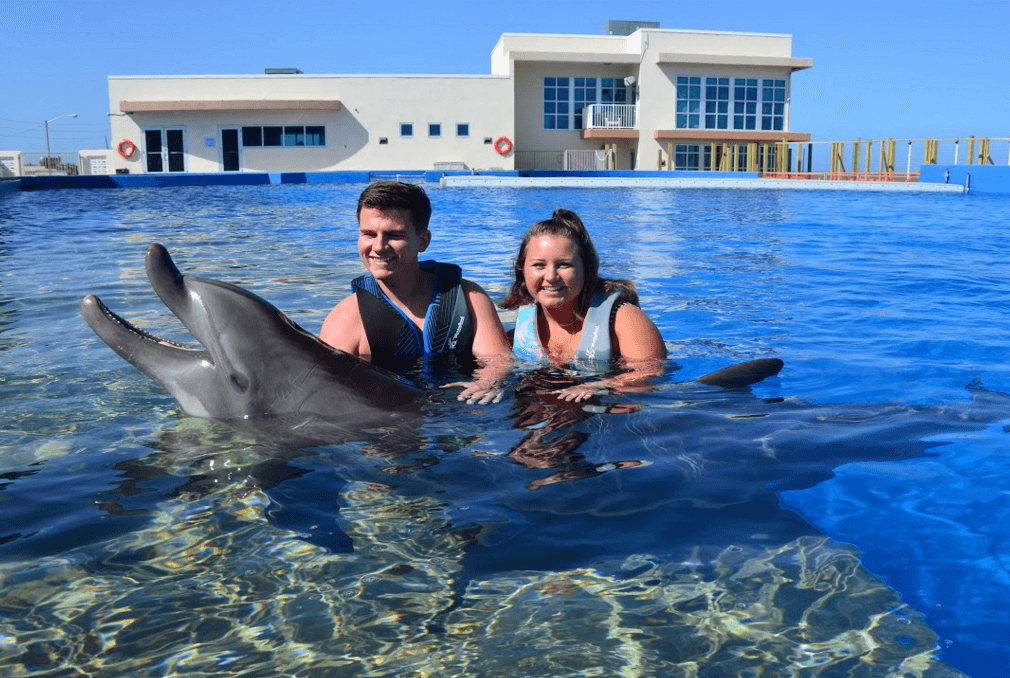 Pricing and Availability
Dolphin Encounter Discover Participant (5 years old+)

[highlight color="yellow"]$179*[/highlight]
Low Season – January, February, September – December

Dolphin Encounter Discover Participant (5 years old+)

[highlight color="yellow"]$199*[/highlight]
High Season – March – August  < Click Here to Book High Season>

Adult Observer (10 years +)

$16.95*

Child Observer (3 – 12 years old)

$11.95*

Baby Observer (0-2 years old)

Free
*Plus 7% sales tax
St Augustine, Florida Journey to the Marine Land Park in South Augustine Beach, Florida, and have a chance to get up close and personal with a dolphin. watch, touch, feed, hug and play with the dolphins in this shallow water marine adventure.
More details below
CLICK THE GET STARTED NOW BUTTON ABOVE TO BOOK YOUR ENCOUNTER!
Promotion Code Discounts Available (Look Below)
Details
Online Discounts
Terms and Conditions
FAQ
Gallery
You can come face-to-face with an Atlantic Bottlenose dolphin. You will learn about these underwater mammals in an interactive class that teaches you the basics about dolphins and what is going to happen during your dolphin program. You will be in safe waist deep water as you interact with the Dolphins as you get to touch, feed and get to train with a dolphin. Become part of the dolphins' watery world as you step into their habitat with a trainer and for 20 exhilarating minutes you will be in the water experiencing first hand what it's like to be close to these incredible animals..
Inclusions:
A 15-30 minute educational classroom presentation prior to entering the water.
A 20 minute shallow water experience including touching, holding, playing, feeding and training with a dolphin.
Professional photo opportunities with a dolphin.
A wetsuit are provided if needed.  Guests should bring their own bathing suits & towels.
Lockers, Showers, and Changing rooms available.
Each Dolphin Encounter Discover session is unique, based upon the guests and dolphins.
A special guided tour of Neptune Park and the Aquarium Room
Complimentary admission to all animal exhibits
All Participants must be 5 years old and up. Anyone within 5 – 9 years old, must have a paid Adult participant  (An Adult is anyone 16 years or older with the child).
Must be able to understand directions given in English or have a paid family member or friend in the water to translate.
8 participants maximum per session.
Open 365 Days a Year.
Available:
The time slots available includes a guaranteed 30 minute dolphin program, educational briefing, animal exhibits, changing time, & reviewing your photos. Total time of activities is about 2 – 3 hours.
10am – Morning Session
1pm – Afternoon Session
Location:
The Dolphin Facility is on South St Augustine Beach. You will get complete written directions with your ticket. < Map >
Note:
Driving Times: These times are approximate from the location listed below to St Augustine Beach, depending on traffic and weather conditions
St Augustine City Center – 30 minutes
Daytona Beach – 1 hour
Jacksonville – 1 hour
Orlando City – 1 1/2 – 2 hours
Walt Disney World – 2 hours
Tampa  – 3 hours
Sarasota – 3 1/2 hours
Get started now >>
Save Money and make your reservation online. In order to get any of these discounts, you must type the Online Discount Promotional Code in the discount box of the reservation form (Page2/3). After picking the amount of participants/observers, date of travel, and time of program, you will be taken to the reservation form to start your dolphin adventure. When you get to check out page 2/3, this is where the promotional code needs to be written in the comment box. Without this written code, you will not get the promotional discount. These online promotions can not be combined with any previous orders or discounts. These discounts are for online orders only and the discounts will NOT be offered or honored over the phone with a Dolphin World representative.
Dolphin World Online Promotions:
Make your reservation more than 8 days or more in advance get 2.5% off. CODE: staugustinebookingspecial
Group of 10 or more that make their reservation 8 days or more in advance get 5% OFF per participant and per observer. CODE: BIGSTAUGUSTINEDISCOUNT 
Get started now >>
Redemption Instructions
Upon arrival, please proceed to check-in window, present your dolphin program confirmation number or your last name, which you will receive after making your reservation.
You do not need to have a printed voucher.
All customers/participants are required to sign liability waivers before participating in this activity.
Get started now >>
Dolphin Encounter Discover Restrictions:
All Participants must be 5 years old and up.
Anyone within 5 – 7 years old, must have a paid Adult participant  (An Adult is anyone 16 years or older with the child).
Children under 18 years old must be accompanied by a parent or guardian, either as a participant or an observer.
This program is not available to expectant mothers.
All Participants that are going in the water must be able to understand directions given in English or provide a translator who will be in the water with them.
You can not enter the water with any jewelry, hair beads, sunglasses or body piercing. (nose, tongue, or any areas of the body)

No personal camera in the water or program area.

Food is not included
< Photos >
Refunds / Cancellations and Changes:
All cancellations must be received by Dolphin World / Keys Adventure Tours, Inc. in writing by email or regular mail.
A 10% service charge will apply per person for any cancellations prior 31 days of activity date.
A 50% service charge will apply per person for any cancellations within 30 – 15 day period prior activity date.
A 75% service charge will apply per person for any cancellations within 14 – 8 day period prior activity date.
Prior 8 days of your reservation date, you may change your reservation to a gift certificate, where you would not incur any penalties except the change fee. This gift certificate will be good for 1 year from the date of the certificate.
NO REFUND OR CHANGES WILL BE GIVEN TO ANY ACTIVITY PARTICIPANTS who tries to cancel or change within 7 days of the activity date, does not show up, are late for scheduled program(s). Once a reservation has a confirmation number and confirmed, a refund or change can only be made more than 7 days of the activity date and any change to the program date is subject to availability. Changes made to existing reservations are subject to a $25.00 per person change fee.
The Dolphin Encounter goes on Rain or Shine.
WE STRONGLY RECOMMEND THE PURCHASE OF TRIP INSURANCE, which will cover your purchase 100% for any interruptions to your Dolphin World activities! We recommend TravelEx Insurance. Ask a Dolphin World Travel professional for advice on Travel Insurance.
Get started now >>
How many dolphins does the Dolphin Facility have?
The Dolphin Facility houses 14 Atlantic bottlenose dolphins, 8 females and 6 males.
Are there dolphin shows?
The Dolphin Facility no longer does formal dolphin shows, but you can still watch our dolphins play or interact with them in any one of our many wonderful programs.
What can I do as a general admission guest?
General admission guests are able to view the dolphins through 6 x 10 foot acrylic windows as they swim, play and interact with guests in programs alongside the pristine Atlantic coastline.
Does the Dolphin Facility have a restaurant on-site?
No. We no longer have a restaurant on-site. We recommend that you bring your own food or go to St. Augustine or Daytona Beach to grab a bite to eat.
Is the Dolphin Facility all outdoors? What might the weather to be like?
Yes, the Dolphin Facility is entirely outdoors and is located directly on the Florida coastline. When planning your visit, please prepare as you would to be outdoors on the beach. In mid-summer, temperatures are in the 80s and 90s, and the air is humid. Daily afternoon showers may occur, and brief afternoon thunderstorms are not uncommon. Because of this, your program may be delayed. During the winter months, daytime temperatures can range from 40 to 70 degrees, with winds off the water.
Whether you are just visiting or participating in a partial or full-day program, please remember to eat normally and to remain well hydrated prior to arrival and throughout your visit. Sunscreen, protective hats and clothing and sunglasses are recommended.
Is the Dolphin Facility wheelchair accessible?
Yes, our facility is wheelchair accessible, and we can also accommodate other types of special needs.
Do the programs still go on when it rains?
The Dolphin Facility Dolphin Adventure runs programs rain or shine. If it starts to lightning and we think it would be dangerous for guests to enter the water, we will postpone until later in the day. The only time we cancel programs is if there is a hurricane.
Are the pools heated?
Yes, our pools are heated.
Are the interactive programs in the ocean?
No. The programs are held in our 1.3 million gallon pool facility.
Where do I check-in for the interactive programs?
You should check-in at the Gift Shop, which is at the entrance to the Dolphin Facility. You must present the Dolphin Ticket we sent to you by email or text.
Is there anything else to do before or after the dolphin program?
Yes, you have FREE access to the beach and the Atlantic ocean. Bring your own chair, towels, drinks and food and enjoy the Atlantic ocean.
How do I get to the Dolphin Facility?
After you have made your reservation, you will get complete ticket and directions sent to you via email or text.
Can other family members take pictures of me while I'm in my program?
Yes, family members are allowed to stand/sit in the general admission area to take pictures and watch your interaction.
Is there one part of the day when the dolphins will interact more?
No. Our dolphins participate in programs at will and continue to play throughout the day.
Do I get to touch the dolphins when doing an interactive program?
Yes, you'll have plenty of opportunity to touch the dolphins and do a variety of other interactions as well!
Do I get to touch the dolphins as a general admission guest?
No. You will be able to watch the interactive programs, but not participate.
What do I need to bring for the interactive programs?
Please be sure to bring a swimsuit and towel for programs in the water. For dock-side programs, please wear something that you would be comfortable being splashed in.
Are wet suits & life jackets available?
Yes, wetsuits and life jackets are available at no additional charge.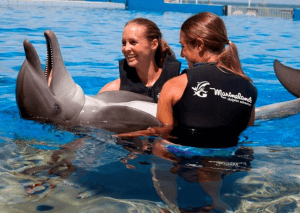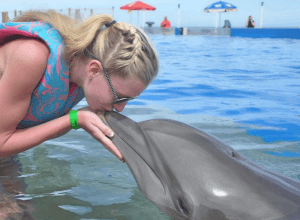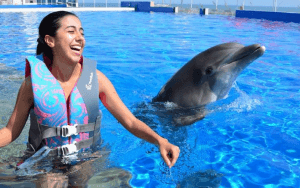 Other Programs in the St Augustine / Daytona Area
At Dolphin World / Keys Adventure Tours we do offer other activities options while in Florida. Please contact your Dolphin World specialist to see if any are good for you.
Get started now >>