Scroll Down & Click on Program for More Information
from $

210.00

USD
Includes: a Dolphin Swim Program – A 30 minute shallow and deep water experience including touching, feeding and training with a dolphin and the opportunity for a deep-water interaction with a dolphin like a dorsal fin ride from one of the pool to the other, General Admission to Park, Dolphin Show, Marine Tour, and other Marine Animal Shows. Must be 52 inches or 132 centimeters tall to participate. A short car ride from WPB to Miami is about 1 1/2 hours.  MORE INFORMATION >>>

from $

110.00

USD
Includes: Dolphin Encounter Program – A 30 minute shallow water experience including touching, feeding and training with a dolphin. Perfect for non-swimmers! In this program there is NO Swimming with the Dolphins. Plus, General Admission to Park, Dolphin Show, Marine Tour, and other Marine Animal Shows. Must be 5 years old and up to participate. A short car ride from WPB to Miami is about 1 1/2 hours. MORE INFORMATION >>>

from $

110.00

USD
Includes: Seal Swim Program – A 20 minute shallow and deep water experience including touching, feeding and training with the seal and the opportunity for a deep-water free swimming interaction with the seals too. Plus, General Admission to Park, Dolphin Show, Marine Tour, and other Marine Animal Shows. Must be 5 years old and up to participate.A short car ride from WPB to Miami is about 1 1/2 hours.  MORE INFORMATION >>>
Map & FAQ

from $

109.00

USD
Includes: Round Trip Van Service from your West Palm Beach hotel or residence to the Miami/Key Biscayne facility. Plus, the Dolphin Swim Program – A 30 minute shallow and deep water experience including touching, feeding and training with a dolphin and the opportunity for a deep-water interaction with a dolphin like a dorsal fin ride from one of the pool to the other, General Admission to Park, Dolphin Show, Marine Tour, and other Marine Animal Shows MORE INFORMATION >>>
---
Why Pick West Palm Beach Tour & Tickets for a Dolphin Program?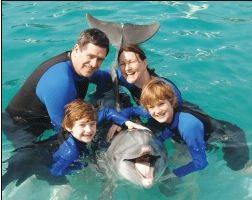 The reason to pick us is because we have been in business for over 20 years now and provide the ONLY DOLPHIN SWIM IN THE SOUTH FLORIDA AREA. Unfortunately, West Palm Beach and Ft Lauderdale do not have any dolphin facilities, so you will have have either drive yourself or have our van service pick you up and bring you to Miami.
If you are traveling to the West Palm Beach and looking for exciting and adventurous activities for you and your loved ones and want to swim with dolphins, then you have come to correct website. We have programs for anyone from 5 years old and up, so call us today to find out more information.
You will have in-depth program where you get the amazing opportunity to learn about dolphins, marine animals, and land animals, all on the famous Island of Key Biscayne, Miami! This location is great for anyone who is staying in South Florida as it is less than 2 hours from West Palm Beach by car!
Don't have a ride? Don't worry, Dolphin World has special transportation services that will escort you both to the park and back to where you are staying in West Palm Beach, Delray Beach, Boca Raton, or Singer Island. Our Dolphin Swim Programs and Encounters are sure to give you unique memories during your vacation that will last a lifetime!
These programs are specially designed to be fun, very informative, and extremely interactive just for you! They are a perfect way for a family to spend quality time together, a unique and romantic experience for a honeymoon couple, or a special event for young adults learning about Marine Biology behaviors. Dolphins love shallow water, but competition for these tickets runs deep- book early either by phone or online!
"My sister and I had an amazing experience. The Miami Swim with Dolphin Tours provided transportation to and from West Palm Beach, and completely walked us through the entire process getting us where we needed to be, explaining throughout. The experience itself was amazing, a long time bucket list for me. They filmed the entire experience, and made an incredible video of our entire experience that he sent to us in a timely manner. Anyone looking for a great experience should definitely book through Miami Swim with Dolphin Tours!" 
From Lauren Ryan
A review from one of our guests
If you are booking from the Discover Palm Beach site, please use this code: discoverpboff to get 2.5% off