Scroll Down & Click on Location for More Information
from

$254.00

USD
Includes: Dolphin Royal Swim Program – A 30 minute shallow and deep water experience including touching, feeding and training with a dolphin and the opportunity for a deep-water interaction with a dolphin like a dorsal fin ride from one of the pool to the other, foot push, petting, kissing, and petting the dolphin, plus, General Admission to Park, Dolphin Show, Marine Tour, and other Marine Animal Shows. This Hawaii Dolphin Swim is fun for everyone 8 years old and up! MORE DETAILS  >>>

---

from

$189.00

USD
Includes: Dolphin Swim Adventure Program – A 30 minute program where the dolphin greets you with a handshake, a kiss on the cheek, and lets you kiss them as well. Later, you will get close and personal with your new friend while it takes you on a belly-ride. At the end, you will enjoy moments of great spontaneity during your free time together. It is an unforgettable experience! Plus, General Admission to Park, Dolphin Show, Marine Tour, and other Marine Animal Shows. 8 years old and up. MORE DETAILS  >>>

---

from

$129.00

USD
Includes: Dolphin Swim Program – A 30 minute shallow water experience including touching, feeding and training with a dolphin. Perfect for non-swimmers! In this program all your interactions are done in waist deep water, so this program can handle anyone from 1 year old and up. Plus, General Admission to Park, Dolphin Show, Marine Tour, and other Marine Animal Shows. 3 years old and up. MORE  DETAILS  >>>

---

from

$69.00

USD
Includes: Dolphin Touch & Feed Program – This 15 – 20 minute shallow water experience lets you get close to dolphins with your clothes on. At the backstage pool, you can pet and feed the dolphins and enjoy while they perform unique behaviors with splash and jump. Have fun interacting with our dolphin friends. Plus, General Admission to Park, Dolphin Show, Marine Tour, and other Marine Animal Shows. 1 year old and up.  MORE DETAILS >>>

---

from

$69.00

USD
Includes: The Sea Lion Program – A 30 minute shallow & deep water sea lion experience where you will receive a unique opportunity to swim with a Sea Lion in a playful, educational, and interactive atmosphere. During the program, guests will be able to stroke a sea lion as the sea lion swims underwater. Guests will receive a performance and kiss from their sea lion! Act as a trainer and learn to communicate with the sea lion using hand signals, plus, General Admission to Park, Dolphin Show, Marine Tour, and other Marine Animal Shows. 8 years old and up.  MORE DETAILS >>>

---

from

$69.00

USD
Includes: The Ray Reef Encounter Program – A 30 minute swim in a special lagoon and meet these curious animals face-to-face as they glide through the water. There is no better place to go swimming with sting rays on Oahu! Using flotation vests, a snorkel, and a mask, participants can observe and interact with adorable Hawaiian Rays. Guests have the opportunity to swim with and touch the rays. These graceful marine animals are gentle and friendly. Program includes General Admission to Park, Dolphin Show, Marine Tour, and other Marine Animal Shows. 4 years old and up.  MORE DETAILS >>>

---

from

$69.00

USD
Includes: The Sea Lion Program – A 30 minute venture in a 300,000 gallon aquarium for a very personal, extremely up close encounter with the most feared and misunderstood predators on the planet, the shark. Immerse yourself among native Hawaiian sharks, up to four different species and other sea life. There is no substitute for the intense thrill of Shark Trek,  plus, General Admission to Park, Dolphin Show, Marine Tour, and other Marine Animal Shows. 8 years old and up.  MORE DETAILS >>>
Why the Swim with Dolphins Oahu Hawaii Program?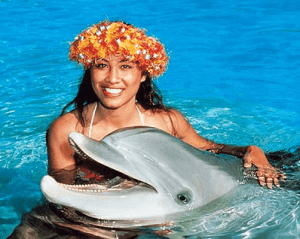 Oahu is a Hawaiian paradise that attracts millions of visitors every year from all over the world. Known for its outstanding shopping and dining options, this tourist mecca has something for everyone who wishes to combine a laidback tropical vacation with a little culture as well. For those who seek a little bit of an adventure in their vacation, the dolphin swim program offers the kind of fun they'll never forget.
With Oahu being a jewel in the ocean, it should come as no surprise that the island itself is shaped a bit like a diamond. The land is dramatically divided by an emerald green mountain range that is breathtaking in all kinds of sunlight. First time visitors to the island usually spend the first day or two of their vacation with mouths agape, trying to take in the tropical paradise around them.
The dolphin facility is a special destination on this already-special island and offers visitors a unique opportunity to interact with exotic sealife. Most importantly, you can swim with dolphins Oahu Hawaii and experience all the wonders being with these special sea creatures. Also, a day at the park has guests being with sea lions, learning about penguins, diving with rays and hand-feeding sea turtles. A day here will leave you with memories that last a lifetime.
The park is located just a short distance from the Waikiki Hotel so it makes a perfect day trip for those staying in the area. The park features gorgeous coral reefs, shimmering lagoons and pools, and state-of-the-art educational theaters, and people of all ages are welcome to take part in the exhilarating marine encounters.