Pricing and Availability
Participant (3 years old +) Anyone 3 – 7 years old must have a paid adult participant. 1 Adult per 1 Child.

[highlight color="yellow"]$129.99**[/highlight]
Low Season – January – May, September – December
High Season – March – August  < Click Here to Book High Season Rate>
[highlight color="yellow"]$139.99**[/highlight]

Adult Observer (11 years +)

$39.99*

Child Observer (3 – 10 years old)

$24.99*

Baby Observer (0-2 years old)

Free
*Plus 4.712% sales tax
Hawaii / Oahu The Dolphin Encounter is a shallow water only experience which include Touching, Kissing, Singing, Tail Walking, Hugging, and Dolphin Jumps. The Facility is located north of Hanauma Bay, which features a beautifully designed park with reefs, lagoons, pools, and theaters. We also provide guests with access to our restaurant, snacks bars, lockers, restrooms, dressing rooms, and a spacious parking lot.
More details below
CLICK THE GET STARTED NOW BUTTON TO BOOK LOW SEASON RATES!
Promotion Code Discounts Available (Look Below)
Low Season Dates January – May, September – December
Details
Online Discounts
Terms and Conditions
FAQ
Gallery
You can come face-to-face with an Atlantic Bottlenose dolphin. You will learn about these underwater mammals in an interactive class that teaches you the basics about dolphins and what is going to happen during your dolphin program. You can submerse yourself in the water in a waist deep and a safe platform as you interact with the Dolphins. You will get to Hug, Kiss, Rub, Pet, and get up-close to the dolphins in this heart-warming program. Partake in an opportunity to be entertained by the dolphins in shallow water for every age from 3 year old and up. After your dolphin adventure, spend the rest of the day exploring the many exhibits and presentations offered at the Oahu dolphin facility.
Inclusions:
A 15-20 minute educational presentation prior to entering the water with the dolphins.
A 30 minute shallow water experience including touching, feeding, holding, playing and training with a dolphin.
Personal photo opportunities with a dolphin.
A wetsuit and life jackets can be provided for use during the dolphin session.
Guests should bring their own bathing suits and towels.
Lockers, Showers, and Changing rooms available.
Each Dolphin session is unique, based upon the guests and dolphins.
Observer gets to watch the dolphin interaction & shows
All Participants must be 3 years old and up
Anyone within 3 – 7 years old, must have a paid Adult participant 1 Adult per 1 Child.
Must be able to understand directions given in English or have a paid family member or friend in the water to translate.
12 participants maximum per dolphin session. (which can be broken into smaller groups).
Free Round Trip Transportation for all Participants and Observers from Selected Waikiki Hotels.
Open 365 Days a Year
< More photos >
Available:
The time slots available includes a guaranteed 30 minute dolphin program, educational briefing, dolphin shows, sea lion show, & marine park tours. This can be 3 – 4 hours of activities.
10am – AM session
1pm – PM session
Location:
The Dolphin Facility is located north of Hanauma Bay. You will get complete written directions and mapquest links with your ticket. Free Round Trip Transportation for all Participants from Selected Waikiki Hotels. ( You must state on reservation form whether you want transportation or not)
Note:
Driving Times: These times are approximate from the location listed below to Hanauma Bay area, depending on traffic and weather conditions.
Waikiki Beach – 30 minutes
Honolulu – 40 minutes
Honolulu Cruise Port – 45 minutes
Ko Olina – 1 hour
Turtle Bay Resort – 1 1/2 hours
Get started now >>
Save Money and make your reservation online. In order to get any of these discounts, you must type the Online Discount Promotional Code in the discount box of the reservation form (Page2/2).  These online promotions can not be combined with any previous orders or discounts. These discounts are for online orders only and the discounts will NOT be offered or honored over the phone with a Dolphin World representative.
Dolphin World Online Promotions:
Make your reservation more than 8 days or more in advance get 2.5% off each person. CODE: oahubookingspecial
Get started now >>
Redemption Instructions
Upon arrival, please proceed to check-in window, present your dolphin program confirmation number or your last name, which you will receive after making your reservation.
Confirmation number is a must for entrance.
You do not need to have a printed voucher.
All customers/participants are required to sign liability waivers before participating in this activity.
Get started now >>
Oahu Hawaii Dolphin Encounter – (Non Swim):
All Participants must be 3 years old and up
Anyone within 3 – 7 years old, must have a paid Adult participant per child (an Adult is anyone 18 years or older). 1 Adult per 1 Child.
If children are 8 years old or over, they may swim on their own during the Dolphin Royal Swim.
Must be able to understand directions given in English or have a paid family member or friend in the water to translate.
This program is not available to expectant mothers.
Food is not included
Refunds / Cancellations and Changes:
All cancellations must be received by Dolphin World / Keys Adventure Tours, Inc. in writing by email or regular mail.
A 10% service charge will apply per person for any cancellations prior 31 days of activity date.
A 50% service charge will apply per person for any cancellations within 30 – 15 day period prior activity date.
A 75% service charge will apply per person for any cancellations within 14 – 8 day period prior activity date.
Prior 8 days of your reservation date, you may change your reservation to a gift certificate, where you would not incur any penalties except the change fee. This gift certificate will be good for 1 year from the date of the certificate.
NO REFUND OR CHANGES WILL BE GIVEN TO ANY ACTIVITY PARTICIPANTS who tries to cancel within the 7 day period, does not show up, are late for scheduled program(s). Once a reservation has a confirmation number and confirmed, a refund or change can only be made more than 7 days of the activity date and any change to the program date is subject to availability. Changes made to existing reservations are subject to a $25.00 per person change fee.
The Dolphin Swim goes on Rain or Shine.
WE STRONGLY RECOMMEND THE PURCHASE OF TRIP INSURANCE, which will cover your purchase 100% for any interruptions to your Dolphin World activities! We recommend TravelEx Insurance. Ask a Dolphin World Travel professional for advice on Travel Insurance.
Get started now >>
What Hotels do you Pick Up from in Waikiki Beach? You will be picked up from any hotel in the Waikiki Beach Hotel zone. You may have to walk a few blocks to be picked up from Selected hotel in the Waikiki Beach area. You will get exact time you will get picked up on your email confirmation from us. The bus will be well marked for Sea Life Park, so you should not miss the bus.
Does your program go on Rain or Shine? Yes, this program goes on Rain or Shine. The dolphin swim and shows, will go on most of the time. If there is thunder, there might be a delay before the program resumes again. The snorkel portion of the day could get postponed or canceled due to weather. If your snorkel trip does get canceled, you can reschedule or get a partial refund for that part of your day.
What does it mean to be an Observer? An Observer is a Participant's friend or family member. Observers participate in all aspects of the program minus the in-water interaction. During the interaction you can cheer on the Participants and take photos. The Observers stay in the stands and have no contact with the dolphins. The fee includes complimentary admission to the dolphin park, so you can see the rest of the shows and exhibits. Observers under 10 years old must be accompanied by an adult.
What should I bring? A bathing suit or swimming attire is required. You can rely on us to provide the following: Showers, lockers(refundable deposit), and wetsuits. Wetsuits can be rented. All jewelry must be removed prior to entering the water.
What about taking photographs with the Dolphins during my session? Yes, there are professional staff photographers taking photographs or video of you and your dolphin session. You can purchase these photographs after your session. Prices ranges from $40 and up, depending on how many photographs you purchase. You can not take a regular camera into the water with you during your dolphin session. If you do have a family or a friend come with you as an observer, they can take photographs of you during your session. Hint: If you don't have an observer in your group, you might ask another observer from another group to take a few photographs with your camera.
What kind of pools do the animals live in at the Dolphin facility? The animals live in natural salt-water pools. The water is pumped in from the Pacific Ocean.
Do you have a restaurant on the property? A snack bar/grill is available and serves a variety of delicious foods at the dolphin facility.
Do we have to pay extra parking fees ? Yes, there is a charge, $5 for all day parking.
Are glasses/contacts permitted in the water? No, Contact lenses can be worn.
Get started now >>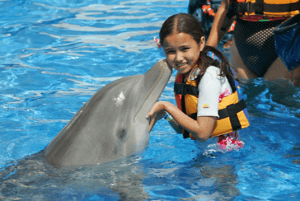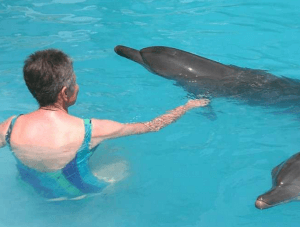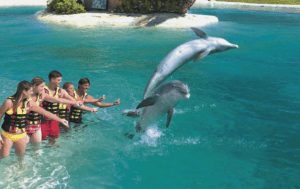 Other Programs in the Oahu Hawaii Area
At Dolphin World / Keys Adventure Tours we do offer other activities options while in Oahu. Please contact your Dolphin World specialist to see if any are good for you.
Get started now >>