Scroll Down & Click on Location for More Information
from

$89.00

USD
If you're headed to Cancun Mexico on vacation and are looking for a unique experience you and the whole family can enjoy together, we have just the thing you're looking for. Our in-depth marine animal programs offer visitors 8 years and older to swim with dolphins in their beautiful and natural habitat! Our programs are not only educational, they're a whole lot of fun as well. Whether you are traveling with family, friends, or on your honeymoon, our interactive programs are designed to inform, inspire and leave you with memories that will last a lifetime. MORE INFORMATION >>>

[hr][/hr]

from

$79.00

USD
One of the coolest things to do in the area is interact with dolphins and other exotic animals. Our dolphin programs and marine animal workshops are enjoyed by people of all ages, not just those studying to be marine biologists. Our vacation packages allow people to get up close and personal to some of the most beautiful and intelligent creatures on the planet all right here in Playa del Carmen, Mexico! MORE INFORMATION >>>

[hr][/hr]

from

$79.00

USD
If you're headed to Cozumel, Mexico and are looking for a thrilling adventure – we've got the adventure for you! How would you like to interact with fascinating dolphins in their natural habitat and have the opportunity to snorkel along some of the most beautiful stretches of beach in the world? Located only 15-20 minutes from the Cozumel Cruise Ship port and hotel center, our interactive programs make the perfect day trip. Our marine animal programs offer something for everyone. You don't have to be a marine biologist to enjoy learning about and interacting with marine mammals in a natural setting. MORE INFORMATION >>>

[hr][/hr]

from

$79.00

USD
And speaking of things to see and do in Puerto Vallarta, or should we say sea and do, a visit to the Aquaventuras Park is a must experience to anyone traveling to the area in search of a one-of-a-kind experience. The park offers education shows about the many sea creatures prominent in the area, as well as a thrilling water park and opportunities to interact with playful dolphins. This is the place to come to with your family, friends, or the one you love to make the kind of memories that will last a lifetime. Besides the water park and swimming with dolphins program, visitors to the park can enjoy a journey down the river or just swim and relax by the pool. MORE INFORMATION >>>

[hr][/hr]

from

$89.00

USD
For a really memorable adventure in Los Cabos, why not spend an afternoon swimming with the dolphins? Our dolphin programs will get you up close and personal to these charming creatures. Swim, play, frolic, heck, give them a hug. You'll learn all about their personalities and anatomy and how they communicate with each other, which is very fascinating. These 1 day programs are perfect for families, groups of friends, and even those on their honeymoon. A dolphin swim in Los Cabos is an experience you'll never forget. MORE INFORMATION >>>
Why Swim with Dolphins in Mexico Program?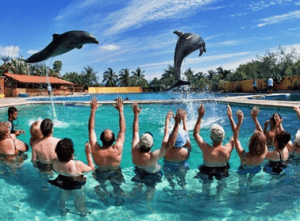 Mexico is a nation so diverse that most tourist have only a vague inkling of what it's about. Its landscapes range from ethereal cloud forests to barren, desert terrain. Much of the country is a vacation mecca of high-design resorts and spas—sites chosen for their postcard perfect combination of white beach and crystal sea of the Gulf and Pacific Ocean.
All of the Swim with Dolphins in Mexico Locations contain regular dolphin swim and non-swim encounter program. The Royal Swim can be described as the very best that we have to offer. It includes a toe push, belly ride, dorsal tow and full interactive experience.
The Regular swim while very popular does not come with the tow push and dorsal fin ride. but still contains the belly ride and shallow water interactive experience. The encounter is the only hands on interactive experience, including petting, touching, holding, kissing and feeding the dolphin.
So click on one of the many Mexico locations we offer and start your fun today!