Scroll Down & Click on Program for More Information
from

$99.00

USD
Includes: Dolphin Royal Swim Program – A 60 minute shallow and deep water experience including touching, feeding and training with a dolphin and the opportunity for a deep-water interaction with a dolphin like a dorsal fin ride from one of the pool to the other, foot push, petting, kissing, and petting the dolphin. Plus, National open bar and lunch buffet, Beach Club (lockers, showers, swimming pool, lounge chairs), Fantasy Snorkel – Stingrays or sharks, and Round trip Ferry from Cancun to Isla Mujeres. MORE INFORMATION >>>

[hr][/hr]

from

$99.00

USD
Includes: Dolphin Swim Adventure Program – A 50 minute program where the dolphin greets you with a handshake, a kiss on the cheek, and lets you kiss them as well. Later, you will get close and personal with your new friend while it takes you on a belly-ride, a special swim with dolphin Cancun experience. At the end, you will enjoy moments of great spontaneity during your free time together. It is an unforgettable experience! Plus, National open bar and lunch buffet, Beach Club (lockers, showers, swimming pool, lounge chairs), Fantasy Snorkel – Stingrays or sharks, and Round trip Ferry from Cancun to Isla Mujeres. MORE INFORMATION >>>

[hr][/hr]

from

$99.00

USD
Includes: Dolphin Encounter Program – A 40 minute shallow water experience including touching, feeding and training with a dolphin. Perfect for non-swimmers! In this program there is NO Swimming with the Dolphins. Plus, National open bar and lunch buffet, Beach Club (lockers, showers, swimming pool, lounge chairs), Fantasy Snorkel – Stingrays or sharks, and Round trip Ferry from Cancun to Isla Mujeres. MORE INFORMATION >>>

[hr][/hr]

from

$99.00

USD
Includes: Dolphins + Manatees + Sea Lions Program – A shallow and deep water experience including touching, feeding and training with Royal Dolphin Swim + Manatees Encounter + Sea Lions Encounter and the opportunity for a deep-water interaction with a Dolphins + Manatees + Sea Lions all done separately.  Plus, National open bar and lunch buffet, Beach Club (lockers, showers, swimming pool, lounge chairs), Fantasy Snorkel – Stingrays or sharks, FREE Transportation from your hotel is included, and Round trip Ferry from Cancun to Isla Mujeres. MORE INFORMATION >>>

[hr][/hr]

Packaged Separately
from Dolphin Program

Ferry services from Cancun to Isla Mujeres are frequent, speedy and efficient – the perfect way to go island hopping and to get to your swim with the Dolphin Cancun Program on Isla Mujeres. The ferry terminal on Cancun is very easy to get to by Taxi or Public Bus that run on the hotel strip.  Click Map to See Location:

Ferry From Cancun to Isla Mujes
Dock Fee ( $6.00 USD)


Taxi to Ferry:
$5.00

Public Bus
$1.00
Why Swim with Dolphins in Cancun?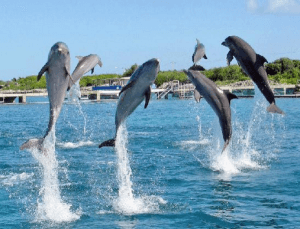 If you're headed to Cancun Mexico on vacation and are looking for a unique experience you and the whole family can enjoy together, we have just the thing you're looking for. Our in-depth Cancun / Isla Mujeres dolphin programs and marine animal programs offer visitors 8 years and older to swim with dolphins in their beautiful and natural habitat!
Our programs are not only educational, they're a whole lot of fun as well. Whether you are traveling with family, friends, or on your honeymoon, our interactive programs are designed to inform, inspire and leave you with memories that will last a lifetime.
Your Cancun adventure awaits you and so do the dolphins! Our exhilarating swim with Dolphins Cancun / Isla Mujeres package allows you to either swim with these amazing animals or stay in the shallow water where you can interact and play. Besides our dolphin encounters, visitors will also have the opportunity to trek beautiful Isla Mujeres and explore the breathtaking Mayan ruins, meander through a lovely Mexican village, and snorkel in the crystal clear waters where the vibrant coral reefs shimmer life jewels. The island is a short ferry ride (just 15 minutes) from the Cancun Hotel area, so it makes the perfect day trip. If you've been dreaming of the chance to swim with dolphins Cancun and in a stunning natural environment, our Cancun programs will make those dreams come true.
Recommendations