If you've ever dreamed of swimming with dolphins in Cancun Mexico, you have come the right place. The Dolphins are in beautiful turquoise ocean water and you get to be them in an amazing setting. Your dream is about to come true but first you need to make your reservation to guarantee space for you and your family and friends. Just a short ferry ride from Cancun, Mexico. Isla Mujeres is a tropical paradise that boasts miles of pristine beaches, exotic flora and fauna, and you will be one of the largest all natural dolphinariums in the entire world.
A Video Tour Your Experience in Beautiful Isla Mujeres
Get Up Close and Personal with Magical Dolphins
Swimming with these majestic creatures in a pool is one thing, swimming with them in their own natural habitat – the ocean – is something entirely different and special. Dolphin Discovery's programs allow you to become a part of their world and interact with them; and in doing so, you'll learn firsthand just how playful, inquisitive and intelligent these creatures are. Dolphins will shake your hand, let you rub their bellies, sing to you, and you can even try to perform the thrilling Belly-Ride where your new dolphin pal will take you for a ride on his belly atop the water's surface.
Book Your Cancun Dolphin Program Now >>
Meet Some other "Gentle Giants"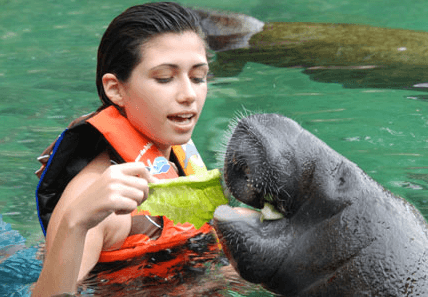 At beautiful Dolphin Discovery, you'll also get the chance to meet other amazing creatures who call the ocean home, like manatees. Known as gentle giants, manatees are friendly creatures who will quickly become your friend as you learn all about their life and habitat.
You'll also learn about sea lions and get a chance to feed them and pet them and if you're lucky, you might get a big, wet kiss from one of them! For those thrill seekers, you may slip into some snorkeling gear and swim with stingrays and sharks.
Adventure or Relaxation – The Choice is Yours
There is so much to see and do on Isla Mujeres and one of the must-see attractions is Garrafon Park, an area of Cancun known for ecology, breathtaking nature and adventure! You can explore the spectacular cliffs and other stunning landscapes; or you can bike, zip line, snorkel and kayak. Then again, if rest and relaxation is what you're in the mood for, feel free to lounge in a hammock by the sea with a cool beverage in hand. When hunger calls, you'll have your choice of delicious Mexican dishes to dine on, then, with belly full, you can make your way back to your hammock and dream about the wonderful day you've had.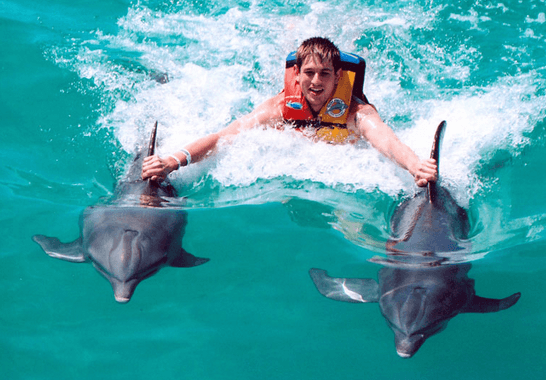 Book Early and Get a Discount !!
Make your reservation more than 8 days in advance get 10% off each participant. CODE: dolphinworld
Book Your Cancun Dolphin Program Now >>