Scroll Down & Click on Program for More Information
from

$89.00

USD
Includes: Dolphin Royal Swim Program – A 30 minute shallow and deep water experience including touching, feeding and training with a dolphin and the opportunity for a deep-water interaction with a dolphin like a dorsal fin ride from one of the pool to the other, foot push, petting, kissing, and petting the dolphin. Plus, entrance to Chankanaab National Park, Sea Lion show, Facilities: Mayan exhibits, beach, pool, lockers, showers, restrooms. Must be 8 years old and up to participate. MORE DETAILS  >>>

Observers Pay at Gate
$21 Adult, $14 Child

[hr][/hr]

from

$89.00

USD
Includes: Dolphin Swim Adventure Program – A 30 minute program where the dolphin greets you with a handshake, a kiss on the cheek, and lets you kiss them as well. Later, you will get close and personal with your new friend while it takes you on a belly-ride. At the end, you will enjoy moments of great spontaneity during your free time together. It is an unforgettable experience! Plus, entrance to Chankanaab National Park, Sea Lion show, Facilities: Mayan exhibits, beach, pool, lockers, showers, restrooms. Must be 8 years old and up to participate. MORE DETAILS  >>>

Observers Pay at Gate
$21 Adult, $14 Child

[hr][/hr]

from

$89.00

USD
Includes: Dolphin Encounter Program – A 30 minute shallow water experience including touching, feeding and training with a dolphin. Perfect for non-swimmers! In this program there is NO Swimming with the Dolphins. Plus, entrance to Chankanaab National Park, Sea Lion show, Facilities: Mayan exhibits, beach, pool, lockers, showers, restrooms. Must be 1 years old and up to participate. MORE DETAILS >>>

Observers Pay at Gate
$21 Adult, $14 Child

[hr][/hr]

Cruise Ships to Cozumel

Packaged Separately
from Dolphin Program

Cruise Ships –  Cozumel's main tourist group is from the Cruise Ships and we enjoy when this group of tourist come to lovely Cozumel. Unfortunately, many cruise ship come on the same day and time, so dolphin spaces are really limited with the dolphins. If you are a cruise ship passenger, you need to book early!!  Also, one thing about booking direct with us, you will save a lot of money and time. Transportation is not provided, you will need to take a taxi from the Cruise port to the Dolphin Facility, about $10 – $20 per group.

The Dolphin Programs are on Cozumel Time Not Cruise Ship Time!



Taxi Ride:
$10-20 per group Transportation Information

Chankannab Park Entrance:
$21 Adult, $14 Child
Why Swim with Dolphins in Cozumel Mexico?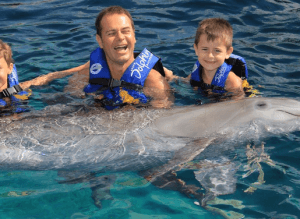 Get ready to experience all the Cozumel Dolphin Programs and adventure like no other! A beautiful Caribbean island off the eastern coast of Mexico's Yucatan Peninsula and close to the Yucatan Channel, it is a destination that offers visitors breathtaking beauty and warm and friendly locals. It is also a spot that avid snorkelers and divers flock to because of the crystal clear waters and vibrant fish and reefs.
If you're headed to Cozumel, Mexico and are looking for a thrilling adventure – we've got the adventure for you! How would you like to interact with fascinating dolphins in their natural habitat and have the opportunity to snorkel along some of the most beautiful stretches of beach in the world? Located only 15-20 minutes from the Cozumel Cruise Ship port and hotel center, our interactive programs make the perfect day trip. Our marine animal programs offer something for everyone. You don't have to be a marine biologist to enjoy learning about and interacting with marine mammals in a natural setting.
The Swim with Dolphins in Cozumel program is dynamic and fun and gives you the opportunity to experience the wonder of these amazing creatures. You'll also have the chance to also explore the gorgeous Chankanaab Park and trek around the mystifying Mayan ruins, tour a lively Mexican village, and snorkel among the pristine coral reefs teeming with vibrant schools of fish. The park is a mere 20 minute taxi ride from the Cozumel Cruise port and those who choose to visit are always astounded by the beauty of the land and the intelligence of the creatures that inhabit it. If you've dreamed of experiencing something truly unique and special, our Cozumel programs are just the things you've been waiting for!