There are many Taxi in Cozumel Mexico that are waiting for you at the ferry and cruise ship terminals and in front of popular attractions like the dolphin facility in Chankanaab park and hotels, if you are staying in a hotel. If they are not waiting, they're usually not far behind.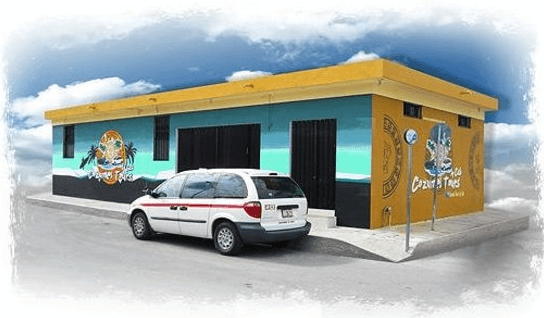 To make your taxi transactions smoother and possibly cheaper, there are a a few things you need to keep in mind.
Set Rates
Familiarize yourself with Cozumel taxi fare rates, which are regulated by the government. Signs are posted near taxi stands (take a picture on your digital camera), or pick up a fare sheet at popular tourist locations, such as at the airport or cruise ship terminal. You can also ask your cruise ship or hotel concierge for a taxi fare sheet.
Communication
Write down the name of your destination to show the driver so there are no misunderstandings, especially if you don't speak Spanish. If you want the driver to wait for you there, make this clear. Write the other locations after the first one and number them. Most drivers speak English well enough, but writing the locations down will prevent confusion.
How much?
Ask the price (in pesos or U.S. dollars) before you agree to the taxi or step into the cab. To say "How much?" in Spanish, say, "Cuanta cuesta?" (KWAN-tah QUES-tah).
On the Move
Flag down a taxi, if possible, rather than taking one that is waiting for passengers (such as at a taxi stand or hotel). Drivers may charge an extra fee if they have been waiting. To avoid this, walk out of your hotel and flag a taxi in the street. If you are coming from a cruise ship, you won't have this option.
Have a Exact Change
Pay the driver in either pesos or U.S. dollars. Avoid paying in large denominations; the driver may not have change. Tip the driver if you thought he was exceptional (e.g., extremely friendly and helpful). As of 2010, about 10 pesos (about 80 cents) will suffice as a good tip.