Scroll Down & Click on Program for More Information
from

$99.00

USD
Includes: Dolphin Royal Swim Program – A 50 minute shallow and deep water experience including touching, feeding and training with a dolphin and the opportunity for a deep-water interaction with a dolphin like a dorsal fin ride from one of the pool to the other, foot push, petting, kissing, and petting the dolphin. Plus, free hotel/cruise port transportation for participants, Facilities: lockers (with deposit), bathrooms, towels (limited), wetsuits, life jacket, showers, and beach. Also, Camel Trek: Petting zoo and 4 minutes ride. Ocean Ride: 20 minutes extreme tour through the Marina Puerto Los Cabos. "La Isla" Restaurant: Open Bar and Lunch Buffet. Bike Tour: 20 minutes bike tour through the Marina Puerto Los Cabos. Must be 8 years old and up to participate. MORE DETAILS  >>>

[hr][/hr]

from

$99.00

USD
Includes: Dolphin Swim Adventure Program – A 40 minute program where the dolphin greets you with a handshake, a kiss on the cheek, and lets you kiss them as well. Later, you will get close and personal with your new friend while it takes you on a belly-ride. At the end, you will enjoy moments of great spontaneity during your free time together. It is an unforgettable experience! Plus, free hotel transportation for participants, Facilities: lockers (with deposit), bathrooms, towels (limited), wetsuits, life jacket, showers, and beach. Also, Ocean Ride: 20 minutes extreme tour through the Marina Puerto Los Cabos. "La Isla" Restaurant: Open Bar and Lunch Buffet. Must be 8 years old and up to participate. MORE DETAILS  >>>

[hr][/hr]

from

$99.00

USD
Includes: Dolphin Encounter Program – A 30 minute shallow water experience including touching, feeding and training with a dolphin. Perfect for non-swimmers! In this program there is NO Swimming with the Dolphins. Plus, free hotel transportation for participants, Facilities: lockers (with deposit), bathrooms, towels (limited), wetsuits, life jacket, showers, and beach. Must be 1 years old and up to participate. MORE DETAILS  >>>

[hr][/hr]

Transportation for Cruise Ship & Resort Guests to San Jose

Packaged Separately
from Dolphin Program

Transportation – Free Participant Transportation service available from San Lucas, Corridor and San Jose Resorts for any Dolphin Swim Participant. Any Dolphin Encounter & Observer companions pay $20usd pp round trip transportation. To book the transportation, you need to contact the local office via email. Driving Directions: From Cabo San Lucas and the airport, take the Transpeninsular highway. Follow the signs towards San Jose. Before reaching Downtown San Jose, turn on the marked road that leads to Marina Puerto Los Cabos Paseo de Los Pescadores S/N Col La Playa. Dolphin facility is located inside the Marina. If you book online, you need to take a taxi from Cabo San Lucas to the Dolphin Facility, about $11 per person one way.

Free

 Transportation for Dolphin Swim & Encounter Participant

& Observers Pay $20pp




Taxi Ride:
$20 per person
Why Swim with Dolphins Los Cabos Program?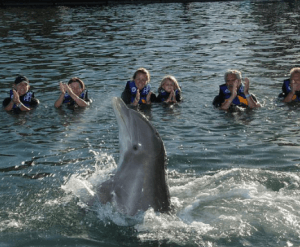 Los Cabos is a tropical paradise that entices all sorts of travelers. From breathtaking beaches and spectacular sports fishing, to top-notch restaurants and a vibrant nightlife, it is the place to go to both relax and come alive. Those with a penchant for partying roam the main strip every night from happy hour until last call. Besides a wild nightlife, the area also boasts some really delectable local cuisine. From trendy restaurants to casual seaside cafes, the freshest catches are the highlights of every menu. Some particularly delicious fish to try are the dorado, cabrilla, wahoo and marlin.
Besides eating and getting your party on, Los Cabos also offers many activities for outdoor enthusiasts, beside deep sea fishing, people flock to the area for scuba diving and snorkeling because the waters are so clear you can easily glimpse all of the colorful fish and coral reefs.
For a really memorable adventure, why not spend an afternoon swimming with the dolphins? Our dolphin programs will get you up close and personal to these charming creatures. Swim, play, frolic, heck, give them a hug. You'll learn all about their personalities and anatomy and how they communicate with each other, which is very fascinating. These 1 day programs are perfect for families, groups of friends, and even those on their honeymoon. A swim with dolphins in Los Cabos is an experience you'll never forget.