There are so many things that makes Los Cabos so wonderful. It really is the whole package. Los Cabos area pretty much encompass all of Mexico in one place, Los Cabos is one the favorite places to visit for Cruise Ship and Resort guests alike. It's the people, the proximity of everything, the weather, the marina and, of course, the food – it's a culinary treat. Every place has its own character. It really depends on if the character of the place is in harmony with your needs. People that love Los Cabos, really LOVE Los Cabos.
Dolphin Swim in Los Cabos Video
Book Your Los Cabos Dolphin Programs >>
Cruise Passenger Travel – Tender, Transportation
Cruise ships visiting Cabo San Lucas will anchor in the bay (Bahia San Lucas) on the Sea of Cortez.  Passengers take a cruise ship tender to the Tender Dock.  These Tenders (small vessels) will bring you to shore for your shore excursions.
Transportation is FREE for all Dolphin Swim participants. Any Dolphin Encounter participants or Observers will need to pay $20 round trip from the docks to the dolphin facility and back. You will be picked up from the OXXO store on the on the dock. The ride is about 50 minutes each way, so make sure you plan properly to get to your dolphin activity and to your ship on time.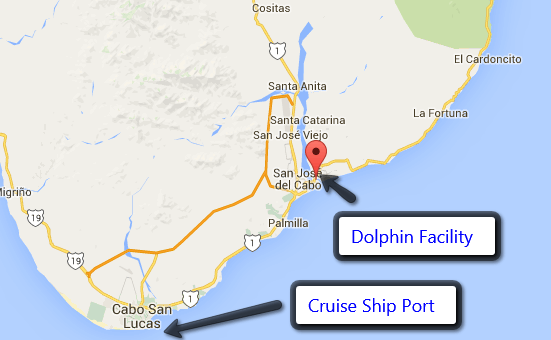 Resort Guests Travel – Transportation
Any guests staying with a resort between Cabos San Lucas and Cabos San Jose, or any resorts East of Cabos San Jose, can get FREE Transportation from your resort to the dolphin facility. Any Dolphin Encounter participants or Observers will need to pay $20 round trip from their resort to the dolphin facility and back.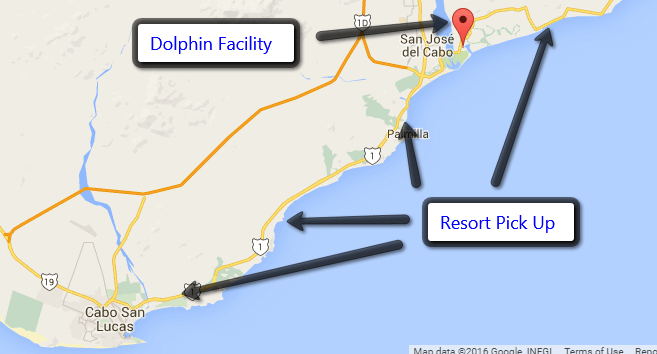 Attraction
The next time you visit Cabo San Lucas, don't miss the opportunity to take one of the most popular tours in the region. Whale watching tours have seen an increased interest for a reason: you have the chance to come close to these magnificent animals and see them in their natural habitat. More Details >>>
The Los Cabos Dolphin Program Frequently Asked Questions (FAQ)
What happens if my trip by cruise ship or plane is cancelled and I cannot make it to my program?
Let us know. Only if you send us a letter from the airline or cruise ship company informing about the situation, we will schedule again the same program for any date with a valid certificate for a year or we will give you a 90% refund on the total cost, due to a 10% cancellation charge.
Will I have a refund if there is bad weather the day of my program or if it is cancelled for some reason?
You will be able to enjoy your program during the next 7 days or we will offer a certificate valid for one year + 15% discount on additional bookings.