Scroll Down & Click on Program for More Information
from

$89.00

USD
Includes: Dolphin Royal Swim Program – A 30 minute shallow and deep water experience including touching, feeding and training with a dolphin and the opportunity for a deep-water interaction with a dolphin like a dorsal fin ride from one of the pool to the other, foot push, petting, kissing, and petting the dolphin. Plus, Beach Access (lockers, showers, swimming pool, lounge chairs), and Round trip Van Transportation from your resort to Maroma Beach, 10 minutes from Playa Del Carmen. MORE INFORMATION >>>

[hr][/hr]

from

$89.00

USD
Includes: Dolphin Swim Adventure Program – A 50 minute program where the dolphin greets you with a handshake, a kiss on the cheek, and lets you kiss them as well. Later, you will get close and personal with your new friend while it takes you on a belly-ride. At the end, you will enjoy moments of great spontaneity during your free time together. It is an unforgettable experience! Plus, Beach Access (lockers, showers, swimming pool, lounge chairs), and Round trip Van Transportation from your resort to Maroma Beach, 10 minutes from Playa Del Carmen. MORE INFORMATION >>>

[hr][/hr]

from

$89.00

USD
Includes: Dolphin Encounter Program – A 40 minute shallow water experience including touching, feeding and training with a dolphin. Perfect for non-swimmers! In this program there is NO Swimming with the Dolphins. Plus, Beach Access (lockers, showers, swimming pool, lounge chairs), and Round trip Van Transportation from your resort to Maroma Beach, 10 minutes from Playa Del Carmen. MORE INFORMATION >>>

[hr][/hr]

from

$99.00

USD
Includes: Dolphins + Manatees + Sea Lions Program – A shallow and deep water experience including touching, feeding and training with Royal Dolphin Swim + Manatees Encounter + Ray Swim and the opportunity for a deep-water interaction with a Dolphins + Manatees + Sea Lions is all done separately. Plus, lockers, showers, dolphin kayak trip, and Round trip Van Transportation from your resort to Puerto Aventuras, 25 minutes from Playa Del Carmen. MORE INFORMATION >>>

Round Trip Van Ride for Observers
$15 Entrance & Ride
Pay Day of Activity

Why Swim with Dolphins Playa Del Carmen/Riviera Maya?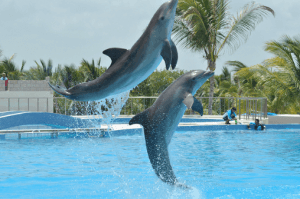 Raise your hand if you're headed for the Mayan Riviera and want to experience the thrill of a lifetime when you get there! This stretch of gorgeous coastline is a tourist haven and for good reason: It's beautiful, the people are warm and friendly, and there are plenty of activities to enjoy. What was once considered the city of Playa del Carmen is now known as the Riviera Maya tourist corridor and offers visitors to the area a chance to explore, play or just relax.
One of the coolest things to do in the area is interact with dolphins and other exotic animals. Our dolphin programs and marine animal workshops are enjoyed by people of all ages, not just those studying to be marine biologists. Our vacation packages allow people to get up close and personal to some of the most beautiful and intelligent creatures on the planet all right here in Playa del Carmen, Mexico!
The Swim with Dolphins Playa Del Carmen / Riviera Maya program was designed to thrill and inspire you. Visitors can swim out in the open water with these playful creatures or stick to shallow water where there are still plenty of fun activities to enjoy with them. You'll also have the opportunity to explore the gorgeous Puerto Aventuras area, a quaint yet modern Mexican town that offers a plethora of shopping and eating destinations. Only a 20 minute taxi ride from the hotel zone of Playa Del Carmen, our interactive facilities make the perfect day trip destination. Here's what we can promise you: should you choose to participate in our dolphin swim programs, you not only get the opportunity to interact with some of the most wondrous creatures on the planet, you'll also create memories that will last a lifetime in this Mayan Riviera Mexican coastal town!