Scroll Down & Click on Program for More Information
from

$89.00

USD
Includes: Dolphin Royal Swim Program – A 30 minute shallow and deep water experience including touching, feeding and training with a dolphin and the opportunity for a deep-water interaction with a dolphin like a dorsal fin ride from one of the pool to the other, foot push, petting, kissing, and petting the dolphin. Plus, Aquaventuras Park Admission, a dish from the "swimmers menu" and a soft drink, Dolphin and Sea Lion show, Facilities: pool, lockers, showers, restrooms. Must be 8 years old and up to participate. MORE DETAILS >>>

[hr][/hr]

from

$89.00

USD
Includes: Dolphin Swim Adventure Program – A 30 minute program where the dolphin greets you with a handshake, a kiss on the cheek, and lets you kiss them as well. Later, you will get close and personal with your new friend while it takes you on a belly-ride. At the end, you will enjoy moments of great spontaneity during your free time together. It is an unforgettable experience! Plus, Aquaventuras Park Admission, a dish from the "swimmers menu" and a soft drink, Dolphin and Sea Lion show, Facilities: pool, lockers, showers, restrooms. Must be 8 years old and up to participate. MORE DETAILS  >>>

[hr][/hr]

from

$89.00

USD
Includes: Dolphin Encounter Program – A 30 minute shallow water experience including touching, feeding and training with a dolphin. Perfect for non-swimmers! In this program there is NO Swimming with the Dolphins. Plus, Aquaventuras Park Admission, a dish from the "swimmers menu" and a soft drink, Dolphin and Sea Lion show, Facilities: pool, lockers, showers, restrooms. Must be 1 years old and up to participate. MORE DETAILS >>>

[hr][/hr]

Cruise Ships to Puerto Vallarta

Information for
the Dolphin Program

Cruise Ships – One of Puerto Vallarta's main tourist group is from the Cruise Ships and we enjoy when this group of tourist come to lovely Puerto Vallarta. Unfortunately, many cruise ship come on the same day and time, so dolphin spaces are really limited with the dolphins. If you are a cruise ship passenger, you need to book early!!  Also, one thing about booking direct with us, you will save a lot of money and time. Transportation is not provided, you will need to take a taxi from the Cruise port to the Dolphin Facility, about $10 per person.

The Dolphin Programs are on Puerto Vallarta Time Not Cruise Ship Time!



Taxi Ride:
$10 per person

Park Entrance:
$25 Adult, $19 Child
Why Swimming with Dolphins in Puerto Vallarta Program?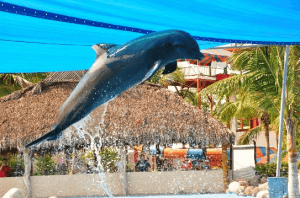 Welcome to beautiful Puerto Vallarta, one of the most stunning coastal destinations in the entire world! Located on the Pacific coast of Mexico, Puerto Vallarta is a charming and exciting resort town visited by people from all over the world. With its winding cobbled streets, stretches of pristine beach, vibrant sea life, lush, emerald mountain ranges, 5-star restaurants and activities aplenty, the area is a vacationer's paradise that offers a plethora of things to see and do.
And speaking of things to see and do, or should we say sea and do, a visit to the Aquaventuras Park is a must experience to anyone traveling to the area in search of a one-of-a-kind experience. The park offers education shows about the many sea creatures prominent in the area, as well as a thrilling water park and opportunities to interact with playful dolphins. This is the place to come to with your family, friends, or the one you love to make the kind of memories that will last a lifetime. Besides the water park and swimming with dolphins program, visitors to the park can enjoy a journey down the river or just swim and relax by the pool.
We highly recommend the swimming with dolphins in Puerto Vallarta program which will no doubt be one of the most unique and special things you'll ever experience. You can also learn about and interact with playful sea lions, who act more like big wet puppies! The educational shows are not to be missed either. Our visitor packages are the most complete and fulfilling offered in the area, and we always offer promotions and incredible deals to make your dream vacation more affordable. So what are you waiting for? Come to Puerto Vallarta and enjoy the beauty and adventure that awaits you here.