Scroll Down & Click on Program for More Information
[hr][/hr]

from

$219.00

USD
Includes: Dolphin Swim / Immersion Program – A 30 minute shallow and deep water experience including touching, feeding and training with a dolphin. You'll also swim and snorkel with the dolphin where you get play and do tricks with them. There are NO rides during this programs. Plus, General Admission to Facility, Dolphin Educational Briefing and a special guided tour of Neptune Park and the Aquarium Room. Must be 5 years old or older to participate. MORE DETAILS  >>>
Information & FAQ
High Season Rates
Low Season Rates
Reviews

[hr][/hr]

from

$179.00

USD
Includes: Dolphin Encounter Program – A 20 minute shallow water experience including touching, feeding, playing, kissing and training with a dolphin. Perfect for non-swimmers! In this program there is NO Swimming with the Dolphins. Plus, General Admission to Facility, Dolphin Educational Briefing and a special guided tour of Neptune Park and the Aquarium Room. Must be 5 years old or older to participate. MORE DETAILS  >>>
Information & FAQ
High Season Rates
Low Season Rates
Reviews

[hr][/hr]

from

$99.00

USD
Includes: Dolphin Paint Program – A 15 – 20 minute out of water interactive program combines your passion for dolphins with your passion for art! Participants will choose up to three colors for the dolphin to paint on a canvas that the participant holds over the water. Once the painting is complete, you'll have the opportunity to interact with the dolphin artist. Plus, General Admission to Facility, Dolphin Educational Briefing and Dolphin Viewing. Must be 5 years old or older to participate.MORE DETAILS  >>>
Information & FAQ
Reviews

[hr][/hr]

from

$36.00

USD
Includes: Dolphin Touch & Feed Program – A 5 – 10 minute hands-on, out of water program, where participants will learn about Atlantic bottlenose dolphins during a quick and exciting interaction. This is an out of the water dolphin interaction but you may get wet from the splashing dolphin. Plus, General Admission to Facility, Dolphin Educational Briefing and Dolphin Viewing. Must be 3 years old or older to participate. MORE DETAILS  >>>
Information & FAQ
Reviews

[hr][/hr]

from

$485.00

USD
Includes: Trainer of the Day Program – You've heard it said that being a dolphin trainer must be the coolest job in the world, and now you have the opportunity to find out first hand while participating. In this Full Day hands-on program, you will be aiding the Dolphin Crew, Preparing Meals, Feeding Animals, Attending Animal Training, Observing and Tracking Dolphin Behaviors, Hands On Dolphin Encounter, Special Trainer-For-A-Day Tank-Top, and CD Photos. Must be 13 years old or older to participate. MORE DETAILS  >>>
Why St Augustine/Daytona Beach for a Dolphin Program?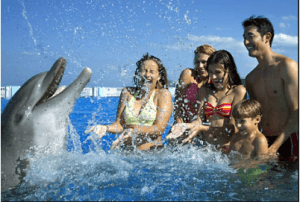 St. Augustine can boast a whole lot more than being the nation's oldest city, it can also boast being one of the loveliest and charming destinations in the country as well. This unique little village is located between North East and Central East Florida and is just a hop, skip and a jump from Jacksonville, Orlando and Daytona by plane.
The area enjoys mild year-round temperatures which is ideal for strolling through Saint Augustine's cobblestone streets lined with lovely cafes, popular bars, unique shops and historic architecture. Visitors to the city should make it a point to stop at some of the most historically important sites like the Castillo de San Marcos, the Lightner Museum, Fort Matanzas and Flagler College. Besides exploring the city's rich history and culture, visitors will be thrilled with the area's beauty as well. The coastline is pristine and the waters crystal clear; and there are a plethora of activities for tourists to enjoy.
One of the most exciting things to do in Saint Augustine is to spend the afternoon on a Dolphin Experience St Augustine beach experience. Only a short drive from St Augustine City or Daytona Beach, our dolphin swim programs and dolphin encounters get you up close and personal to these enchanting creatures. Swim, hug and frolic with lovely bottlenose dolphins and spend the day learning about their anatomy and how they communicate. If you're looking for an adventure you and your family can enjoy together, our programs will help you all create memories that will last a lifetime.