Scroll Down & Click on Program for More Information
from

$199.00

USD
Includes: Dolphin Swim Program – A 30 minute shallow and deep water experience including touching, training with a dolphin and the opportunity for a deep-water interaction with a dolphin like a dorsal fin ride from one of the pool to the other, foot push, belly ride, free swimming with the dolphin, plus, General Admission to Park, Dolphin Show, Marine Tour, and other Marine Animal Shows. Age 5+  MORE DETAILS >>>

[hr][/hr]

from

$185.00

USD
Includes: Dolphin Encounter Program – A 30 minute shallow water experience including touching, training with a dolphin. Perfect for non-swimmers! In this program there is NO Swimming with the Dolphins. Plus, General Admission to Park, Dolphin Show, Marine Tour, and other Marine Animal Shows. Must be 1 year old and up to participate. MORE DETAILS >>>

[hr][/hr]

from

$95.00

USD
Includes: Dolphin Meet Program – A 20 minute out of the water dolphin experience including touching, petting, and training with a dolphin. Perfect for non-swimmers and small children! In this program there is NO swimming or going into the water with the Dolphins. Plus, General Admission to Park, Dolphin Show, Marine Tour, and other Marine Animal Shows. Must be 5 year old and up to participate MORE DETAILS  >>>

[hr][/hr]

from

$95.00

USD
Includes: Dolphin Painting Program – A 20 minute out of water dolphin experience where you have a dolphin create a one of a kind piece of art for you while painting a canvas with colors you have chosen. Perfect for non-swimmers and small children! In this program there is NO swimming or going into the water with the Dolphins. Plus, General Admission to Park, Dolphin Show, Marine Tour, and other Marine Animal Shows. Must be 3 year old and up to participate MORE DETAILS >>>
Information & FAQ

[hr][/hr]

from

$1755.00

USD
Includes: Private Dolphin Swim Program – A 30 minute shallow and deep water experience including touching, training with a dolphin and the opportunity for a deep-water interaction with a dolphin like a dorsal fin ride from one of the pool to the other, foot push, belly ride, free swimming with the dolphin, 

1 – 6 participants maximum per private dolphin session. P

lus, General Admission to Park, Dolphin Show, Marine Tour, and other Marine Animal Shows. Age 1+  MORE DETAILS  >>>
Information & FAQ

[hr][/hr]

from

$155.00

USD
Includes: Sea Lion Swim Program – A 30 minute shallow and deep water experience including touching, training with a sea lion and the opportunity for a deep-water interaction with a like a foot push ride from one end of the natural salt water lagoon to the other, plus other deep water behaviors, and free swimming and playing with the sea lions. Plus, General Admission to Park, Dolphin Show, Marine Tour, and other Marine Animal Shows. Age 5+  MORE DETAILS >>>
Information & FAQ

[hr][/hr]

from

$259.00

USD
Includes: Dolphin Swim Program – A 30 minute shallow and deep water experience including touching, training with a dolphin and the opportunity for a deep-water interaction with a dolphin like a dorsal fin ride from one of the pool to the other, foot push, belly ride, free swimming with the dolphin, 1 1/2 Hours Guided Instructional John Pennekamp Ocean Reef Snorkel Trip, General Admission to Park, Dolphin Show, Marine Tour, and other Marine Animal Shows. Age 5+  MORE INFORMATION >>>

[hr][/hr]

from

$95.00

USD
Includes: A 4 hour boat trip with the leader of the Dolphin Alliance of Key West. The Dolphin Alliance oversees the well being of the Key West bottlenose dolphins. Your Captain will share her knowledge and leadership skills of helping these incredible bottlenose dolphin pods that reside all year long in Key West waters. Since in Key West you are not allowed to get in the water with Wild Dolphins, you will get to observe and learn about this local pod of dolphins in their own natural habitat. MORE DETAILS  >>>
a name="pickup">

[hr][/hr]

from

$329.00

USD
Includes: Round Trip Van Service from your Key West hotel or residence to the Islamorada facility (about a 2 hour ride). Plus, the Dolphin Swim Program – A 30 minute shallow and deep water experience including touching, feeding and training with a dolphin and the opportunity for a deep-water interaction with a dolphin like a dorsal fin ride / toe push from one of the pool to the other, General Admission to Park, Dolphin Show, Sea Lion Show, Marine Tour, and other Marine Animal Shows MORE DETAILS  >>>
Why Go Swim with Dolphins Florida Keys?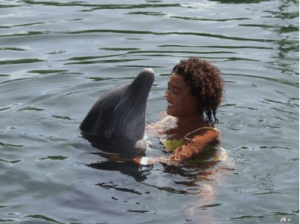 The Florida Keys are a coral cay archipelago in the southeast United States. They begin at the southeastern tip of the Florida peninsula, about 15 miles south of Miami, and extend from Key Largo and to Key West, the westernmost of the inhabited islands. The islands lie along the Florida Straits, dividing the Atlantic Ocean to the east from the Gulf of Mexico to the west, and defining one edge of Florida Bay.
The swim with Dolphins Florida Keys and Snorkel Trips are some of the best in Florida. The Keys program are designed to be fun, very informative, and interactive for you during your trained  or wild dolphins programs we offer. Also, you will have a chance to snorkel, either with a snorkel boat, during your trained dolphin swim, or the wild dolphin encounter program. So be prepared to be active and go swimming with dolphins Florida Keys or swimming while snorkeling on John Pennekamp Coral Reef or the reefs of Key West.
This may be a great way for a family to spend quality time together, a unique and romantic experience for a honeymoon couple, or a special event for young adults learning about marine biology and land animal behaviors. Your Swim with Dolphins in the Upper Keys, near Key Largo or Wild Dolphins in Key West. It will be a trip you won't forget.
Recommendations