Scroll Down & Click on the Florida Keys Combo Programs for More Information
from $259.00 USD

Includes: Dolphin Swim Program – A 30 minute shallow and deep water experience including touching, feeding and training with a dolphin and the opportunity for a deep-water interaction with a dolphin like a dorsal fin ride from one of the pool to the other, foot push, belly ride, free swimming with the dolphin, 1 1/2 Hours Guided Instructional John Pennekamp Ocean Reef Snorkel Trip, General Admission to Park, Dolphin Show, Marine Tour, and other Marine Animal Shows MORE DETAILS >>>

[hr][/hr]

from

$549.00

USD
Includes: Dolphin Swim Program, Sea Lion Swim Program, Sting Ray Swim Program, Dolphin Show, Sea Lion Show, Marine Park Tour, and Guided Instructional John Pennekamp Ocean Reef Snorkel Trip. PLUS an opportunity to discover the Everglades that only a few people get to see. This deluxe package offers a 2 hour Environmental Tour for you to discover the natural landscape, untamed animals, marine life and birds of the Florida Bay and Everglades. Key Largo & Islamorada (Upper Keys)  MORE DETAILS  >>>

[hr][/hr]

from

$639.00

USD
Includes: Dolphin Swim Program, Wild Dolphin Encounter in the Open Ocean, Sea Lion Swim Program, Sting Ray Swim Program, Dolphin Show, Sea Lion Show, Marine Park Tour, and Guided Instructional John Pennekamp Ocean Reef Snorkel Trip. PLUS an opportunity to discover the Everglades that only a few people get to see. This deluxe package offers a 2 hour Environmental Tour for you to discover the natural landscape, untamed animals, marine life and birds of the Florida Bay and Everglades. MORE DETAILS >>>
[hr][/hr]

from

$869.00

USD
Includes: Dolphin Swim Program, Wild Dolphin Encounter in the Open Ocean, Sea Lion Swim Program, Sting Ray Swim Program, Dolphin Show, Sea Lion Show, Marine Park Tour, and Guided Instructional John Pennekamp Ocean Reef Snorkel Trip. 600′ Parasailing over Key Largo back bay waters. PLUS an opportunity to discover the Everglades that only a few people get to see. This deluxe package offers a 2 hour Environmental Tour for you to discover the natural landscape, untamed animals, marine life and birds of the Florida Bay and Everglades. MORE DETAILS  >>>
Why the Florida Keys for a Combo Program?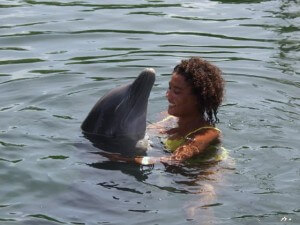 The Florida Keys are one of the few areas where we can offer programs with trained dolphins and wild dolphins. These programs can cover from Key Largo, Islamorada and Key West and give you an experience you will never forget.
The Upper Keys, Key Largo and Islamorada is where you will Snorkel John Pennekamp Coral Reef, Swim with majestic bottlenose dolphins, play and swim with sea lions and explore the back bay of the Florida Everglades.
Key West is home to pods of wild dolphins where you get to see them in their natural sea habitat. These combo tours are a must for any family that loves sea animals or a group of friends that just need to get away and have some adventure together. All the fun and excitement starts here in the Florida Keys Why wait, contact us early for more details if you need them..