Thank You for Your Dolphin World Magazine Request
 **Click the Download Button Below and Open Your Magazine Now! You Will Have the Option Either to Read the Magazine from Your Browser or to Download the Magazine on Your Computer, Tablet or Smart Phone.**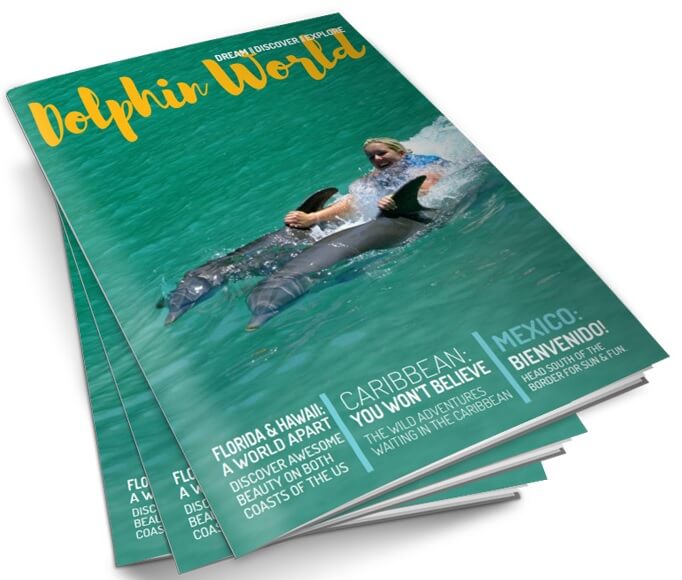 BOOK YOUR DOLPHIN PROGRAM HERE !! >> or Read On……
After you have downloaded your magazine, you will to start receiving Customized Swim with the Dolphin Email Messages with discount codes, pricing, travel information and monthly newsletter with location specials. Your DOLPHIN PROGRAM ADVENTURE Has Just Begun.
To read the Dolphin World Magazine, you need Adobe Reader. Most computers, tablets and phones have it already installed but in case you don't have it, click here to down load Adobe Reader.
A Dolphin World travel specialist will look at your request and see if you need any special information right away. We are here to help you find the best Experience with the Dolphins!
If needed, you will receive a personalized email with links to the Dolphin Programs you asked for and give you other other travel suggestions.
Discount Codes will be Email to you. Everyone loves DiSCOUNTS !!
Also in your customized email, you will receive links to hotels, activities, car rentals and air flights suggestions. The Quotes Given are Expedia Best Rates – Check Them Out!!
Once you receive our customized email, if you still have questions about any of the program, please contact us, by phone (800) 667-5524 or email.
Start now and be a Dolphin World Facebook Fan and LIKE this page!
Enter Our Dolphin World Contest. Prizes range from $25 – $250.
Each month a new Winner<Join Now!>
You can start your memories now by purchasing a dolphin product to either wear or put into your home. Check out our online Dolphin World Retail store for all our great dolphin products.
We look forward serving you and making your Dolphin Experience a dream come true for you and your family and friends!!