Even if you go on a cruise or are staying at a great all-inclusive resort and are only going to be in Puerto Vallarta or Nuevo Vallarta for one day or a week, this amazing vacation destination has a little something for everybody from shopping, restaurants and exciting attractions like swimming with dolphins. Depending on where you are staying or coming from, transportation within this old, charming Mexican city is easy to find, from buses or a taxi ride,  you can get around easily and safely.
Dolphins and Adventure Park Video
Dolphin Program Vallarta is located inside Aquaventuras Park Vallarta, one of the most amazing Vallarta tourist attractions and a favorite among locals and visitors. Nuevo Vallarta, where Aquaventuras Park is located, is just a few minutes away from Puerto Vallarta.
Book Your Puerto Vallarta/Nuevo Vallarta Dolphin Program Online Now >>>
Map of Area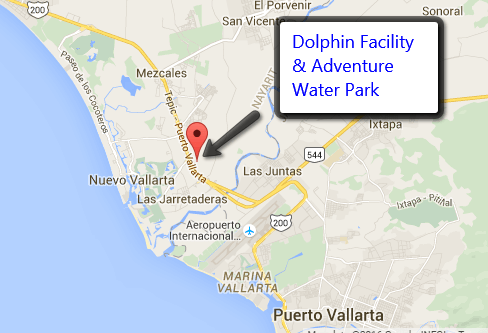 Aquaventuras Park Details
The Aquatic Park is open daily from 10:00 am to 5:00 pm. Dolphin area is open every day.
The Aquaventuras Park has an entrance fee of US $25.00 per adult and US $19.00 per child age 4-11 years old. The Park is FREE for all Dolphin Program participants.
Aquaventuras Park offers a free parking lot. Plenty of Taxis will be waiting outside to transport you.
Sea lions and Dolphin shows
10 water slides, a children's water world with small water slides, a children's playground and pool, and a lazy river
Lounge Chairs and Lockers for your belongings, inner tubes for water slides and swimming pools, bathrooms, showers and dressing rooms.
Restaurant services that offer lunch combos of pizzas, hamburgers, hot dogs or sandwiches that include sodas and French fries. Your kids will love them!
Frequently Asked Questions
What days of the week is Aquaventuras Park Vallarta opened?
The park is open 5 days a week from 10 a.m. to 6 p.m. and is closed on Mondays and Fridays. There are no shows during those days; however, dolphin programs are always available 7 days a week.
Do water slides have age and height restrictions in Aquaventuras Park Vallarta?
For safety reasons, water slides do have age and height restrictions; however, there are special water slides for everyone, including a 13-40 cm depth paddling pool for kids.
What is the time zone of Aquaventuras Park Vallarta?
Even though the park is located in Nuevo Vallarta, Nayarit, we are under Jalisco time zone for operation purposes.
What type of food can I find in Aquaventuras Park Vallarta restaurant?
We have combos that include soda, French fries, and you may also choose from pizzas, hamburgers or sandwiches, everything for only $7 or $8 dollars. Box lunches are included in selected swim with dolphin programs.
How far is Aquaventuras Park Vallarta from the airport and how much will I have to pay for a taxi ride?
The park is 10 minutes from the airport and the taxi fee from the airport is about $25.00 per trip or $7.50 per person if it is a large group. Try to look for the yellow local taxis, they will charge about $6.00 dollars per trip.
How far is Aquaventuras Park Vallarta from the dock?
The park is located 15 minutes from the dock by taxi.
Can I rent lockers and inner tubes for water slides?
Yes, for an additional cost of $30 pesos.