Going to Puerto Plata Dominican Republic? If yes, then you need to experience Ocean World and try any of the amazing Dolphin programs and combinations package. A great experience for everyone. You don't have to be a good swimmer; the life jacket will keep you a float. The dolphin and sea lions show are always a crowd pleaser, and the snorkeling in the coral pool with the fish is safe and fun.
Video
Cruise Ship Guests
Amber Cove represents the largest cruise industry investment ever in the Dominican Republic and has a two-berth port able to accommodate the largest cruise vessels operating today. It was designed to re-establish the Dominican Republic's North Coast as a popular cruise destination.
Amber Cove is about 12 – 15 minutes away to the dolphin facility by taxi.  The cost about $15 – 20usd per taxi.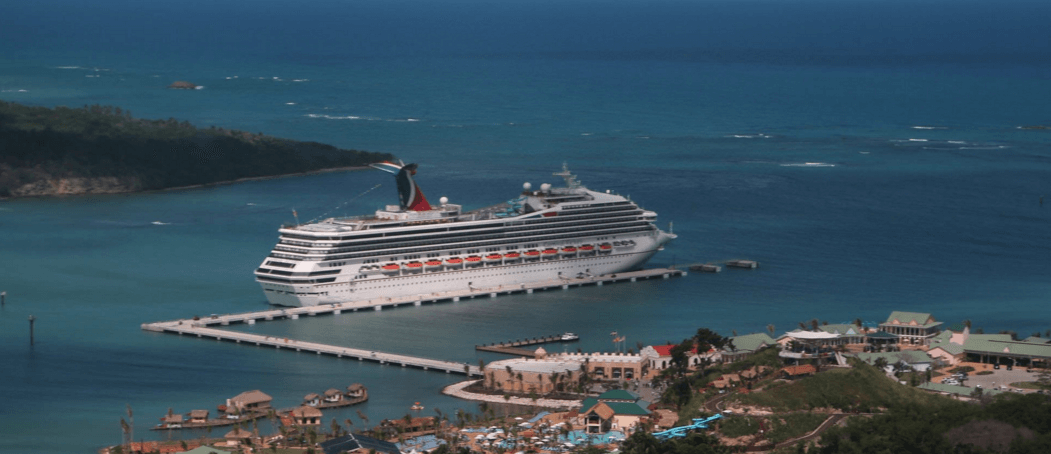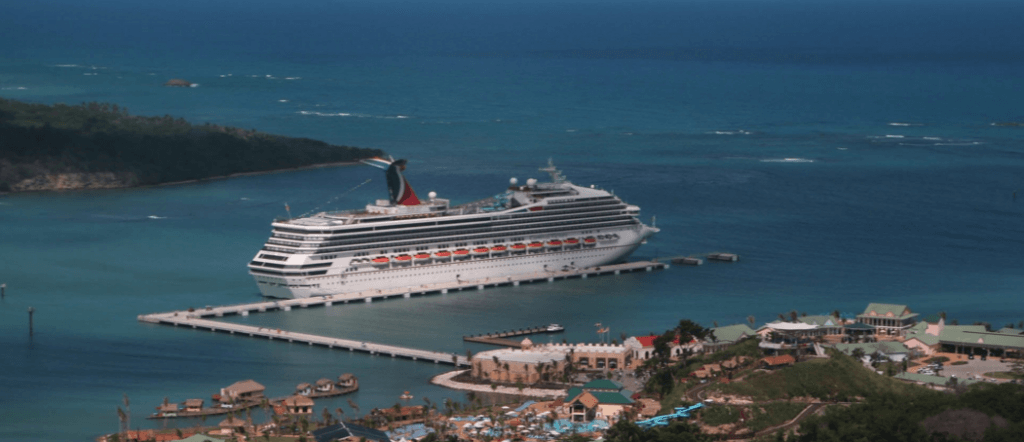 Transportation
Scheduled pick-up service from hotel (s) must be arranged with our reservation department. We offer round trip transportation free of charge for hotels in the area of Puerto Plata and most Cruise Ship passengers. Additional US$5 surcharge for clients in hotels in Sosua and Cabarete. Additional US$10 surcharge for clients in hotels in Luperon, Rio San Juan and Playa Grande.
If the resort or cruise ship guests want to arrive or leave the premises at different time than scheduled, than you are free to use private vehicle or taxi.
Book Your Puerto Plata Program Online Now >>>
MAP – Puerto Plata North Coast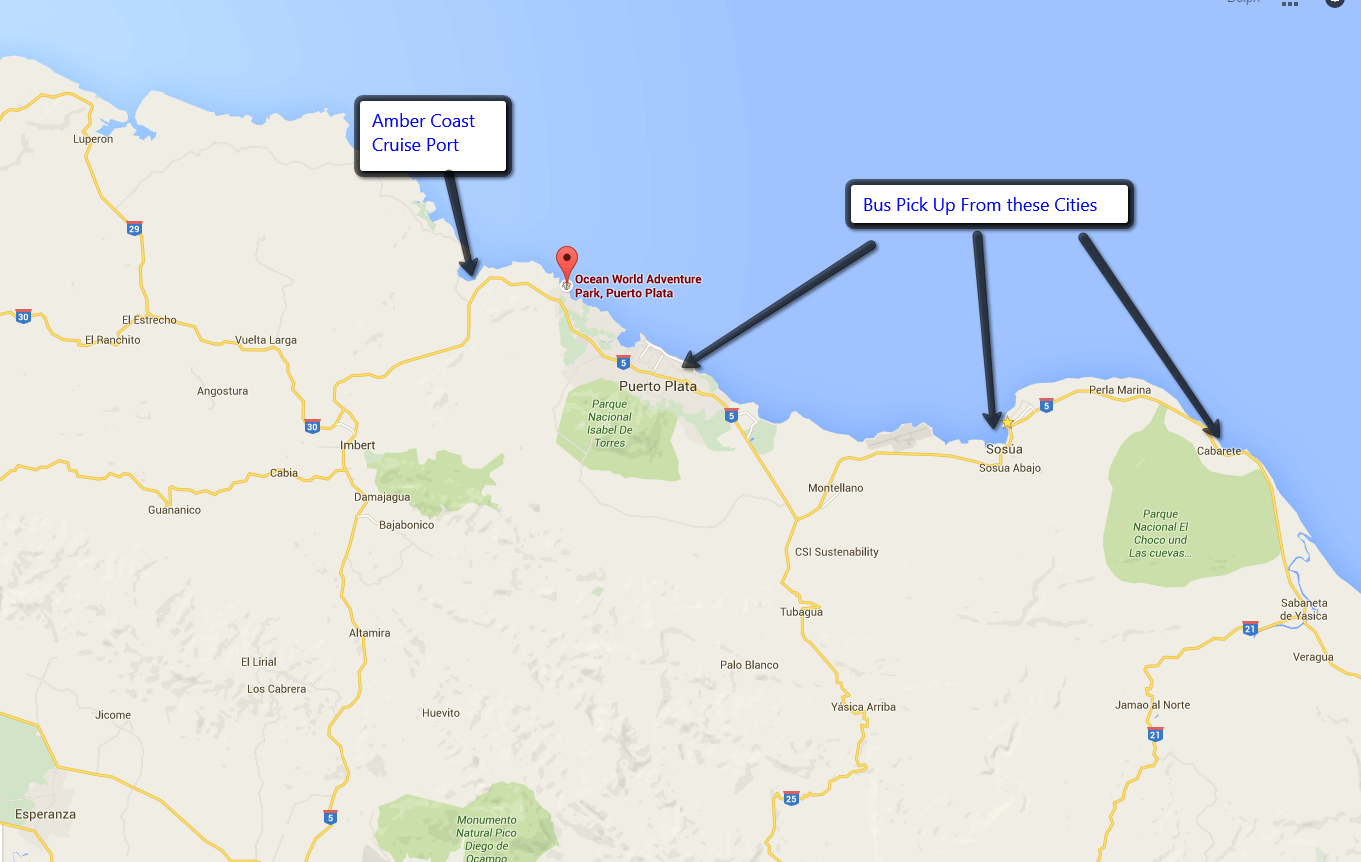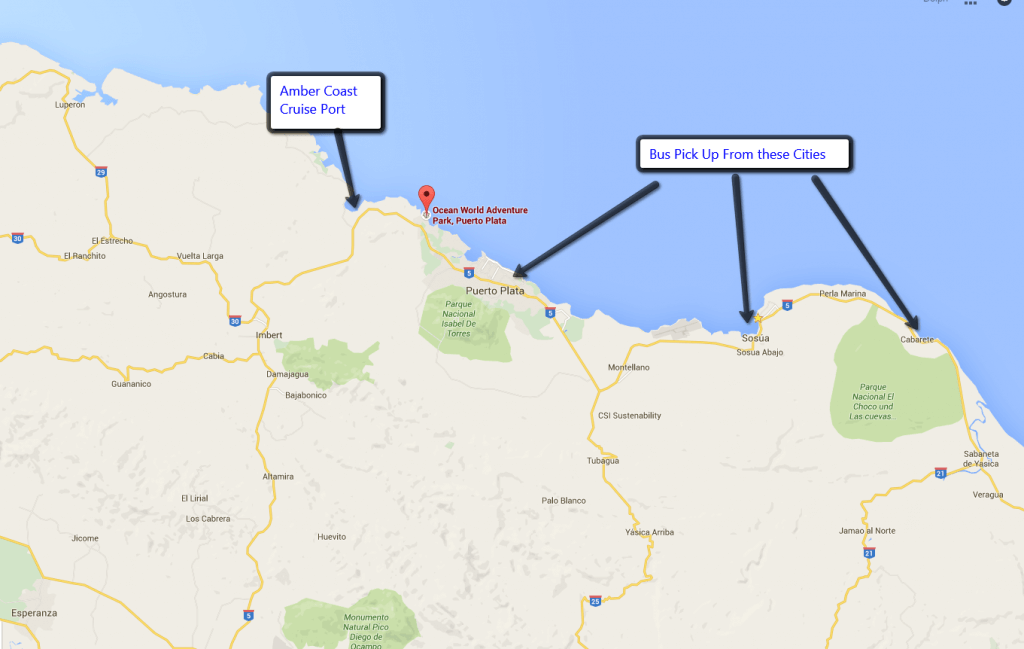 Frequently Asked Questions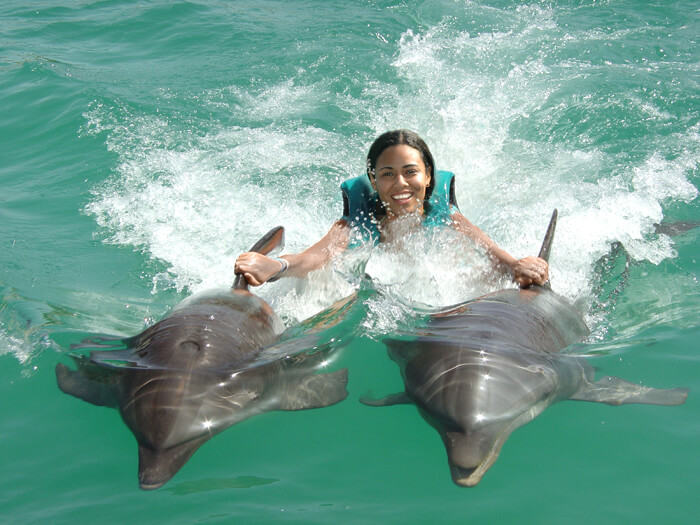 What should I bring?
Camera, bathing suit, towel, sun-block, additional money for drinks, pictures and souvenirs.
How do we get there?
Ocean World is located in Cofresi Beach, just 3 miles west from the town of Puerto Plata.
Can I bring my own camera and take my own pictures and videos?
You are free to take your own camera to take pictures and videos of the facilities. Nevertheless the use of cameras will not be allowed during interactive program.
What are your operating days and hours? Are you open during holidays?
Ocean World Adventure Park is Tuesdays to Sundays, from 8.30am to 5.30pm. We are open during holidays as well.
Is the park open when it rains?
Yes, we operate rain or shine.
How far in advance should I make my reservation?
Our program can be sold out days or weeks in advance, so we recommend booking as soon as possible.
Can I interact with animals if I can't swim?
Worried that your lack of swimming skills will keep you from meeting our marine mammals? DON'T BE!!! Our Dolphin Encounter and Sea Lion Encounter programs take place in shallow water. The animals will swim up and over the platform where you can meet them one-on-one. We want you to feel comfortable and to enjoy the program as well.
Can i participate in interactive programs if I am pregnant?
Pregnant women are not allowed in interactive programs, for their safety, safety of their child and our animals as well.
Do you provide snorkeling equipment or do we have to bring our own?
We do provide snorkeling equipments nevertheless you are allowed to bring your own.
Are there changing rooms and showers in your facilities?
YES and they are wheelchairs accessible too
Are there lockers in the facilities?
Yes and they are available for rent at additional price
Do you have towels available?
Yes and they are available for rent or purchase at additional price.
Is food included in the tour? What kind of food? Do you offer vegetarian options?
The tour includes buffet lunch and there is always some vegetarian option
For how long do you keep the pictures and videos files?
The pictures and the video files are available during 1 month after your visit.
Are the photos on high resolution so that I can print them in any size?
The pictures files contained on your CD are on the highest resolution that our 16 mega pixels professional cameras can display, so you can print your photographs in size 11×14 inches or larger.