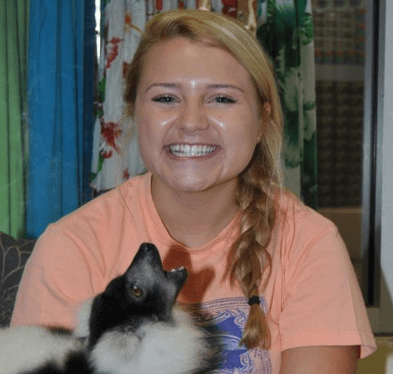 My name is Cristina and I love dolphins and all kinds of animals. On my trip to tropical and warm Miami recently, I and a group of friends, received the incredible opportunity to take part in a VIP Land Animal Tour in Miami, which has lots of animals. I had heard a little bit about the tour before, but nothing could have prepared me for what I encountered that day. I can see how you can participate in Swim with Dolphins and Miami VIP Tour in One Day.
Our day started with an absolutely delicious lunch at the Lakeside Cafe, which is included in the price of the tour, where we had a white linen tablecloth and napkins, real silverware, and ceramic plates. We even had a special worker waiting on us and making sure we were satisfied in any way he could. We were definitely receiving VIP treatment! After lunch, our aiswesome tour guide, Ryan, met us in the Cafe to start our tour.
Lemur Experience: Up close and Personal
Our tour started with a bang as we entered the gift shop and made our way to the "Lemur Experience." As we looked in the window, the lemurs were all fast asleep, awaiting our arrival to start jumping around. Ryan, our guide for the day, decided to give us a bit of information about lemurs before we went into the room. First, he told us that all Lemurs are from the island of Madagascar and that they are an extremely endangered species, there are only 300 of them left in the world! Of those 300 hundred, there are only 90 Red Lemurs in existence, and 2 of them are at Jungle Island. In fact, it is illegal to even touch a Red Lemur anywhere but Jungle Island. He also informed us that Lemur tribes have female leaders, queens, who are in charge of the group. As we entered the room, we made sure to store all of our belongings in the cabinets, as the lemurs have little hands and like to touch everything and play with them! We all received a couple of grapes, and the lemurs were released. They began by getting a feel of us and making sure we were not a threat. Then they started jumping all around the room looking for grapes, and even hopping on our heads! Our excellent photographer, Fredlin, made sure to catch the entire spectacle with his camera. Then, Ryan had the lemurs scream on command, and boy was that  loud! It was hard to say goodbye to our new lemur friends but it was time to move on to our next event: the "Winged Wonders" Show!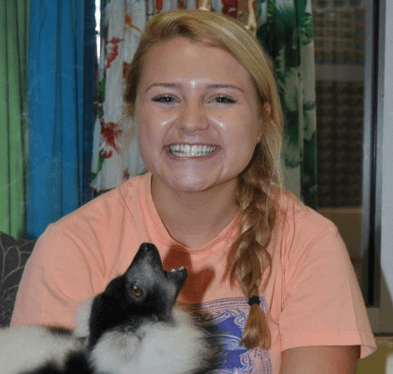 Winged Wonders: Fun with Birds
The "Winged Wonders" bird show has definitely got to be one of the most amazing things I have seen in my life. A variety of different birds were all trained to do awesome tricks and follow all of the instructions from their trainers. What was most surprising was how the birds never flew away from the show area, they came right back to their trainers! What made it the most special for me was that I had the chance to be a volunteer for one of the birds, the vulture. The other volunteer and I held out our arms and the vulture flew right through, and we got a feel of just how huge its wingspan is! We even got to pet its beautiful, soft feathers before we went back to our seats to enjoy the rest of the show. Then, out came the most dangerous bird in the entire world, the six-foot tall Cassowary. It is the closest living relative to the pterodactyl, and his claws can and has ripped apart several human beings! But don't worry, we were completely safe as the trainer had everything completely under control, as usual. We watched as it swallowed a whole apple with one gulp, watching it as it slid down its throat! But the most amazing part of our bird experience was after the show, when we had a special VIP encounter with a bird that was not part of the show, the Condor. Legend has it that touching the fluffy white collar around the Condor's neck gives you extremely good fortune, and many Royals and famous athletes visit Jungle Island just to stroke the Condor's collar!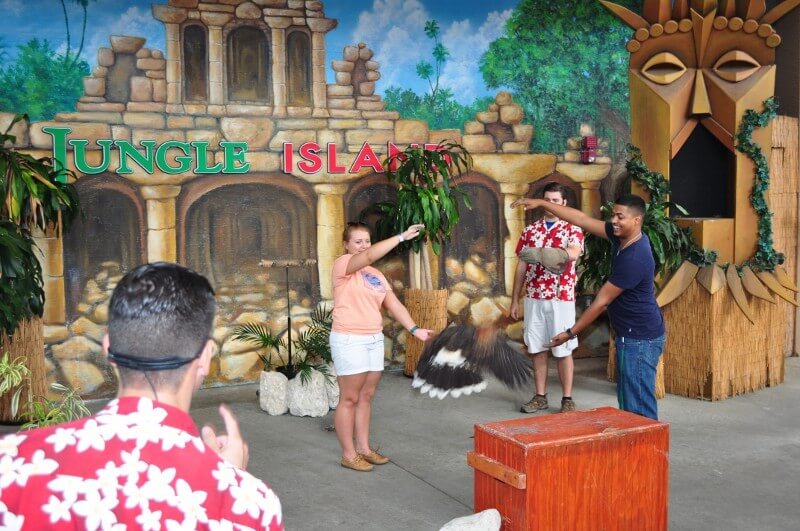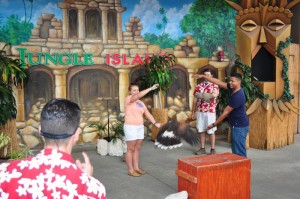 Kangaroos and Tortoises
Next, it was onto the Red Kangaroos. Again, we got some grapes from Ryan and entered the kangaroo exhibit to have an encounter with our hoppy new friends. They were so friendly and well-behaved, you would never think that there are several people a year who get kicked by kangaroos in Australia! We even got to hold one and smile for a special Kodak moment.
After that, we headed to the Tortoise exhibit where we met #84 and #85, as was marked in their shells. They have been in the area of Miami since 1935, and they are over 120 years old! You would never believe how strong these Tortoises were. They can be stronger than the tigers, which we could feel when they almost pulled us off of our feet as we fed them some carrots!
Next, we got a special look at the Orangutan Exhibit. The trainer of the beautiful Orangutans just so happened to be the mother of our tour guide, Ryan. She has been working with them for years and years, and she gave us some incredible information about the primates. First, she told us that the Orangutans paint everyday, and their artwork was displayed for everyone to see. They can also use iPads to communicate. But the most amazing thing she told us was that one of the Orangutans, Peanut, was actually the first primate to receive infused chemotherapy treatment for her cancer. It was an amazing breakthrough for scientists, and the treatment was successful and she has been healthy for over a year!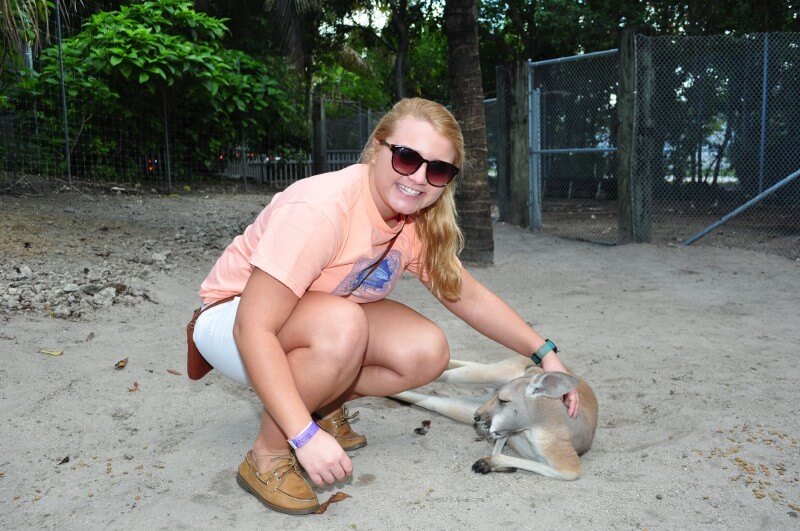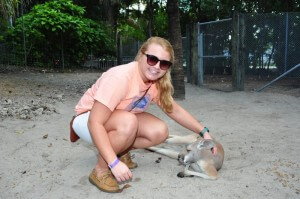 Jumpy Capuchin Monkey
For the last part of our VIP tour, we got to go behind the scenes to the veterinary offices, and got to meet a few new additions to the Jungle Island family. First, was an adorable baby kangaroo, who is only a few months old, and hangs in a pouch all day waiting for his bottle. We got hold the little guy and, of course, capture the memory with a picture! Then, we met a few month old baby Capuchin Monkey, who was as cute and as hyper as he could be! We fed him some grapes as he jumped from person to person, crawling all over our laps and heads. He also had a little blanket that he absolutely loved, and would grab it and snuggle with it whenever he wasn't hopping around!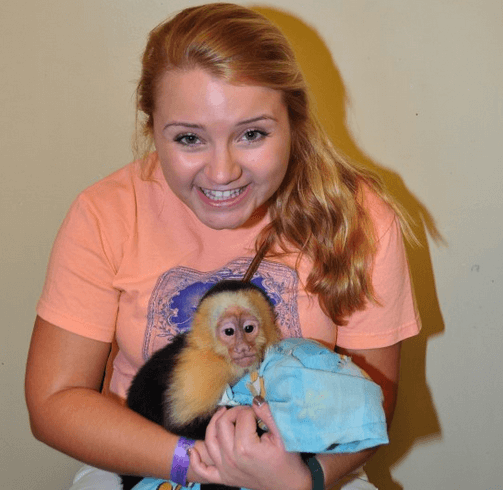 After that, we said goodbye to Ryan, and went to pick up our unforgettable photographs from the gift shop. I am so glad that we were able to capture all of the beautiful memories of our VIP Land Animal tour in Miami, and I would recommend everyone to this tour and can guarantee that they will have an experience of a lifetime!
Your Thoughts
Would you like to participate in the 1 Day Dolphins and VIP tour? This where you get to swim with dolphins and do the VIP tour in one day. I would love to hear your comments on my story.
Merry Christmas,
Cristina