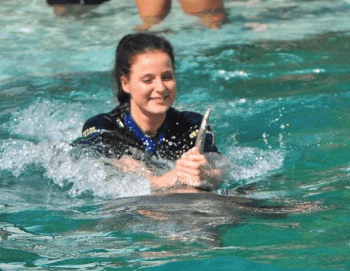 Miami has been called the Magic City and for good reason. With its tropical weather and party atmosphere, it is a beautiful and mystifying destination that offers a rich culture, vibrant nightlife, and the dazzling turquoise waters of Biscayne Bay. It also offers some pretty amazing activities for tourists like world-class shopping, watersports like snorkeling and scuba diving, and the once-in-a-lifetime experience of swimming with dolphins. A word of advice to visitors: it's a good idea to book your Miami swimming with dolphins tours and tickets now before they're all gone.
A Video Tour of Dolphin Word, Miami, Florida
Enjoy Many Activities with Dolphins in Miami
You knew you'd most likely do some salsa dancing in Miami but did you ever imagine you'd come face-to-face with a gorgeous bottlenose dolphin? Dolphin World's Dolphin Swim Program will introduce you to these playful and intelligent creatures in a 30 minute shallow and deep water experience.
Your time will start with a fun interactive class that will teach you everything you've always wanted to know about these underwater mammals. Next, you'll submerse yourself in the shallow water where you'll meet your new pals. You'll be able to give them a hug and kiss as well as help feed and train them. Next, you'll move into deeper waters where you can really interact with dolphins in their most natural habitat. Swim with them, watch them effortlessly spin through the crystal clear waters, then hold on for the ride of your life as you experience a thrilling dorsal fin ride from one side of the lagoon to the other. You'll feel like you're flying.
And never fear, you'll have plenty of opportunities to take a photo with your new best friend. The wonderful thing about the Dolphin Swim Program is that no two experiences are alike. Your time with the dolphins will be completely unique.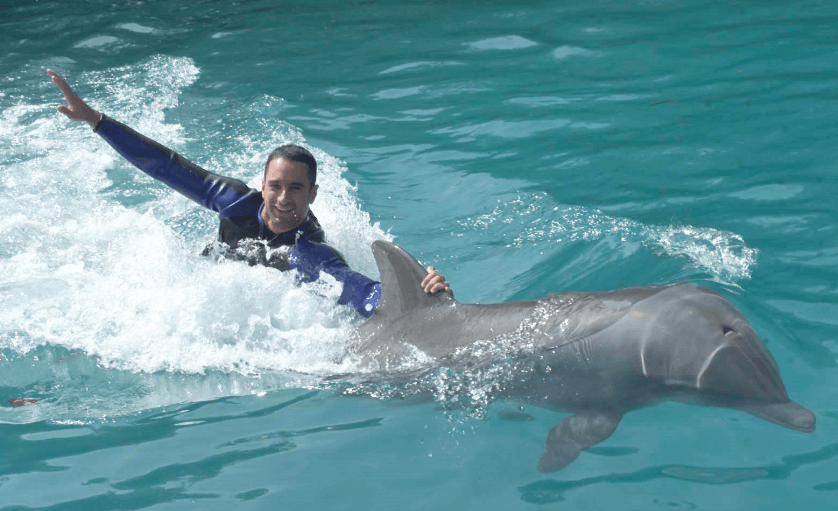 Book Your Swim with Dolphins in Miami Online Now >>>
Family Fun with Dolphins in Miami
Dolphin World is a bit like Disney World in that it offers absolute magic to people of all ages. Whether you'll be traveling with friends, parents, grandparents or little kids, there is truly something for everyone to enjoy. In fact, Dolphin World offers a non-swim dolphin program perfect for the very young or very old, or for anyone who's not too comfortable in the water. The beautiful location also makes it an ideal spot for couples on their honeymoon, and the memories they will make they'll share for years to come.
A Miami Activity for Everyone
There's no doubt about it, the dolphin swim program is one of the most popular Miami activities, but Dolphin World offers other activities too, like the sea lion swim, sea trek encounter, and VIP tours. You can also enjoy a dolphin and whale show, a marine tour, Capuchin monkey encounter, lemurs encounter, reptile encounter (alligators, lizards, or snakes), exotic bird encounter (cassowary and parrots). And if those aren't enough options, there's also an airboat tour & ride and an alligator show!
As you can see, although you may come to Miami to swim with dolphins you'll end up having one adventure after another. Book your Dolphin World tours and tickets now, then sit back and experience the thrills of a lifetime.