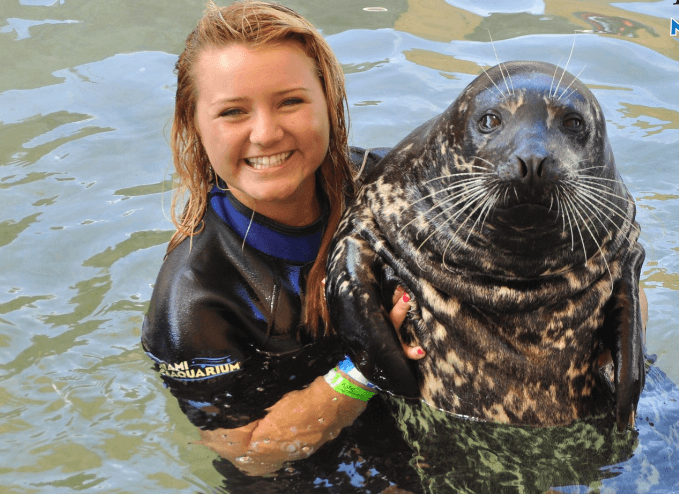 When most people think of Miami, they think of the sultry weather, the nightlife, and the pulsing Latin rhythms escaping from the doors of the innumerable nightclubs. But Miami offers so much more. Visitors can indulge in a mouthwatering meal at one of the city's celebrity-owned restaurants, hit the beach for some much-needed R&R, or take a leisurely stroll and explore the vibrant architecture in the fabled Art Deco district. Miami is also home to some very high-end shops, boutiques and world-class museums.
But for a really memorable vacation, visitors should head directly to Swim with Dolphins in Miami.
A Video Tour of the Miami Facility
Get Up Close and Personal to Bottlenose Dolphins
Whether you're nine or 99, you'll be absolutely thrilled to see these wondrous creatures up close. Dolphin World has swim programs for those seeking a somewhat docile interaction as well as for those who seek an adventure and who want to get in the water and go for a dorsal fin ride. Whichever way you choose to spend your time with these dolphins, you'll quickly discover how friendly and playful they truly are.
The dolphin swim program in Miami will teach you all about dolphins in a very fun and interactive class, as well as prepare you for the fun to come. Once you get in the water, you can expect to get a hug and kiss from your new buddies, and pet them and rub their bellies. From there it is up to you whether you'd like to go for a swim in the deeper water and even get a ride across the pool while you hold onto a dolphin's dorsal fin.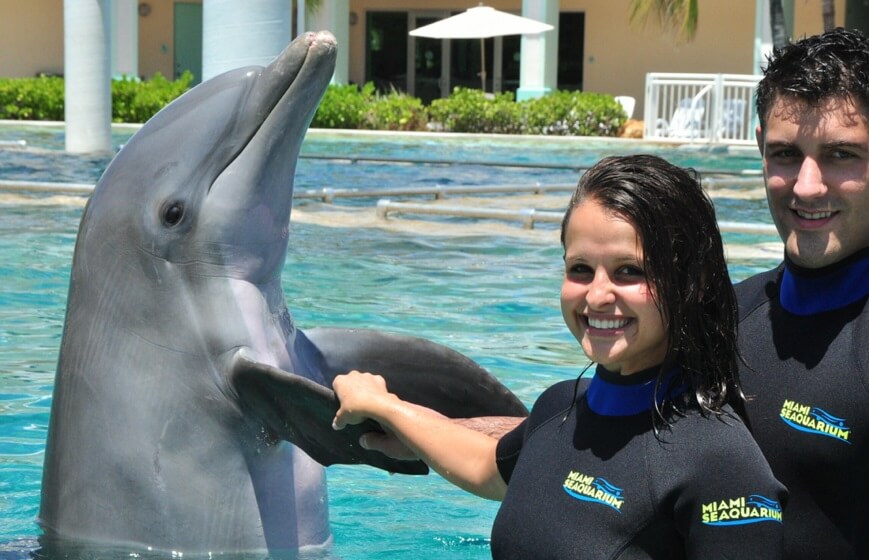 And, in case you're wondering what all of this adventure is going to cost your family – Dolphin World offers swim programs for every size budget. So, whether you're looking for something new and exciting to do during your summer vacation, or a unique birthday or anniversary event, or maybe an exciting honeymoon excursion, Dolphin World has just the program that will let you and your loved ones easily make memories that will last a lifetime but that won't break the bank.
Let the Underwater Adventure Begin!
You didn't think we were done with the fun, did you? Dolphin World offers visitors some amazing combo packages, one of them being the Dolphin Swim and Sea Trek combo. That's a ton of fun all in the same day.
Once you're done swimming with the dolphins, head on over to Dolphin World's manmade 300,000 gallon tropical reef for an underwater Snuba adventure. While wearing a state-of-the-art dive helmet that allows you to breathe freely, you'll encounter tropical fish, sting rays and a variety of unique sea creatures. And don't worry – SCUBA certification is not required, so you and your entire family can share in the underwater fun together.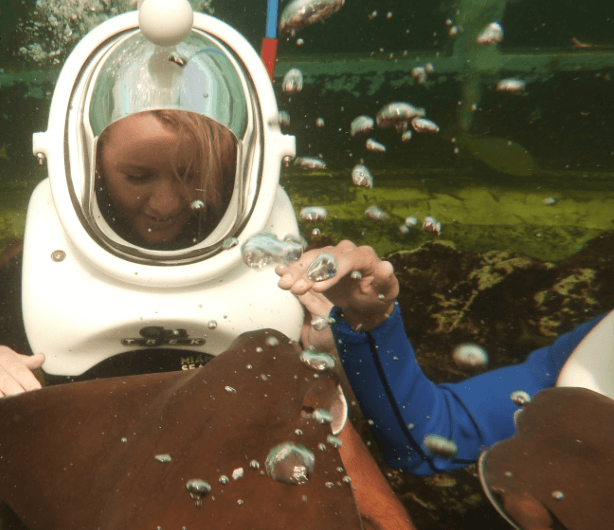 Also, we have swim with the seals program, you can do this alone or combo with the dolphins too. You would be spending 20 minutes in shallow and deep with water with these amazing sea animal. They are so special and you will have a chance to be really up close with them, where you get to pet, hug, play and swim with them.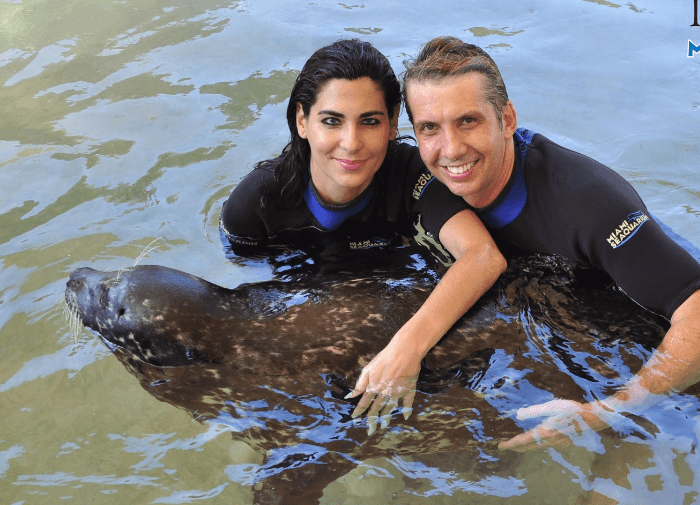 If you're heading to south Florida in the near future and are looking for something fun, interesting and totally unique to do, you'll definitely want to check out Dolphin World.
Local Place to Stay & Cruise Capital of the World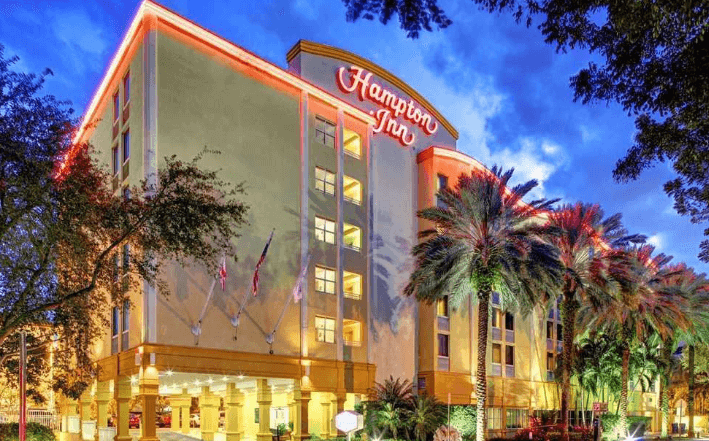 Miami hotel in Coconut Grove with free breakfast and outdoor pool
This great value hotel is only 15 – 20 minutes away from Key Biscayne Miami. A smart choice place to stay if you are looking for convenience, location, and nice place in Miami. Along with an outdoor pool, this smoke-free hotel has a fitness center and a spa tub. Free buffet breakfast and free WiFi in public areas are also provided. Other amenities include a 24-hour business center, coffee/tea in the lobby, and conference rooms. < More... >
Why don't you extend your vacation to Miami and take a quick cruise to the Bahamas or the Caribbean from the port of Miami? Why not… This port is one of the biggest Cruise ports in the world so it could be a great opportunity for those come to wonderful South Florida. < Cruise Ship Travel Info.. >
Your Miami Experience and Feed Back
We would love to hear from you and what you did in Miami and Miami Beach. Did you do any of these activities that we have listed here? What places do you recommend to go stay in or eat at? In fact we are so interested in hearing what you have to say that we will entice you to comment, the first 5 comments will receive a $5 Amazon Gift card by email. The only thing we ask that you comment has something to do about Miami and Miami Beach and your stay there or the nearby area.
There really is so much to see and do in Miami, and most likely you won't get to see everything you want to on your first visit, which means you'll just have to come back again and again!