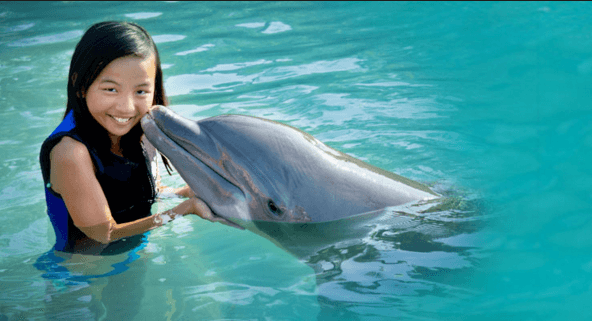 Imagine swimming next to an Atlantic bottlenose dolphin in a sunlit salt water lagoon or natural salt water pool. Arms at your sides and flippers covering your feet, you glide through the water. Touching the dolphin's back, you take a deep breath through your snorkel and dive down, side-by-side, into an underwater paradise.
The dolphin anticipates your every move and follows closely beside you. Your eyes meet and an unwavering feeling of camaraderie, admiration and gratitude overtake you. This is the dolphin's world and for just a moment, you are a welcome visitor.
The swim with dolphins in Florida is the most sought after and coveted of human-marine animal interactions. Cousins to whales, dolphins are incredibly intelligent and capable of understanding complex language. Dolphins have long intrigued humans with their playful, friendly nature and "smiling" rostrum.
Most marine parks and dolphin swim facilities in Florida have programs to match the needs and expectations of individual participants, families and small groups. These include a meet, encounter or swim with dolphins encounter, resulting in a variety of interactions and experiences.
Book Your Dolphin Programs in Florida Online Now >>>
Meet the Dolphin in Florida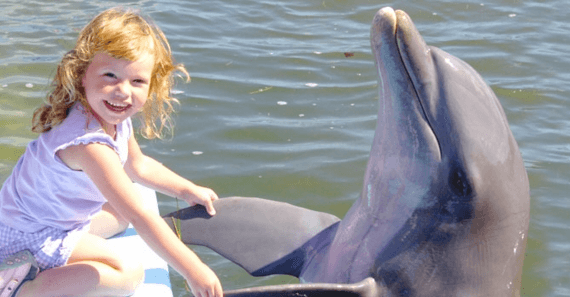 " Meet the Dolphins" is a session in which participants have the opportunity to touch and interact with the dolphins from a floating dock or platform, while the trainer guides them through a series of basic interactive behaviors. These can include rubs, kisses and cradles, toy retrieval, singing, eye contact and many excellent photo opportunities.
This is a chance to become acquainted with dolphins and in a more comfortable setting and  you don't need to go into the water at all. It is an excellent precursor to a dolphin encounter or swim with dolphins, and an ideal session for young children and those with limited mobility or an aversion to water. With the dolphins being an average length of 6-9 feet and weight of 500 lbs., the mere size of these gentle giants is surprising for anyone.
Dolphin Encounters in Florida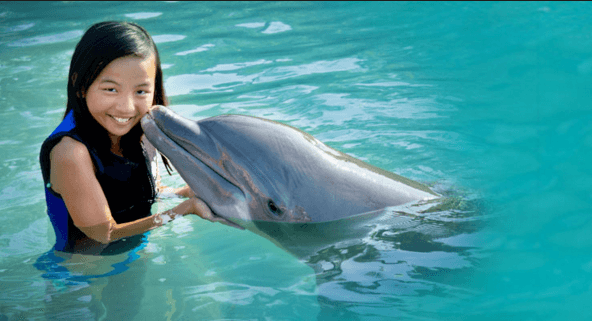 A "Dolphin Encounter " program is great for children as young as 3 and up and with parent or guardian participation in water with the child. A wade is perfect for senior citizens or those not yet comfortable with a full swim encounter.
Participants stand in 3 to 4 feet of water and are approached individually for various contact-based dolphin behaviors, with full direction from the trainer. These can include a swim-by, kiss, rostrum rub, hug, toy retrieval, and a choice of additional interactions outlined by the trainer. Many photos will be taken by the park photographer and will be available for review and purchase after your wade. You don't need to worry about any swimming in this program. This program is great for almost anyone!
Swim with Dolphin Florida Experience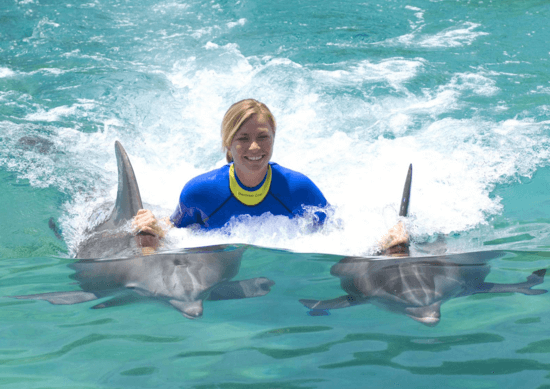 The "Swim with Dolphins" encounter is like nothing else. Champion of encounters, a swim with dolphins session, provides a rare opportunity to experience the human-marine animal connection.
The swim takes place in a pool or lagoon with water depths of 15-20 feet. It is important to be adept as a swimmer to feel comfortable during this activity and experienced with a snorkel to dive underwater side-by-side.
The swim will include individual or paired activities like rubbing and kisses, participator tricks with props such as a hoop, cradles, dorsal tows and foot pushes (much like skiing, with the dolphins providing the push power), imitative behaviors and finally a side-by side swim. You will also get a first hand look at the close relationship between trainer and dolphin, which often lasts for many years.
Whether a Dolphin Encounter or swim with dolphins in Florida is right for you and your family or group, you can depend on Dolphin World to help you find the best dolphin swim programs for your destination vacation.