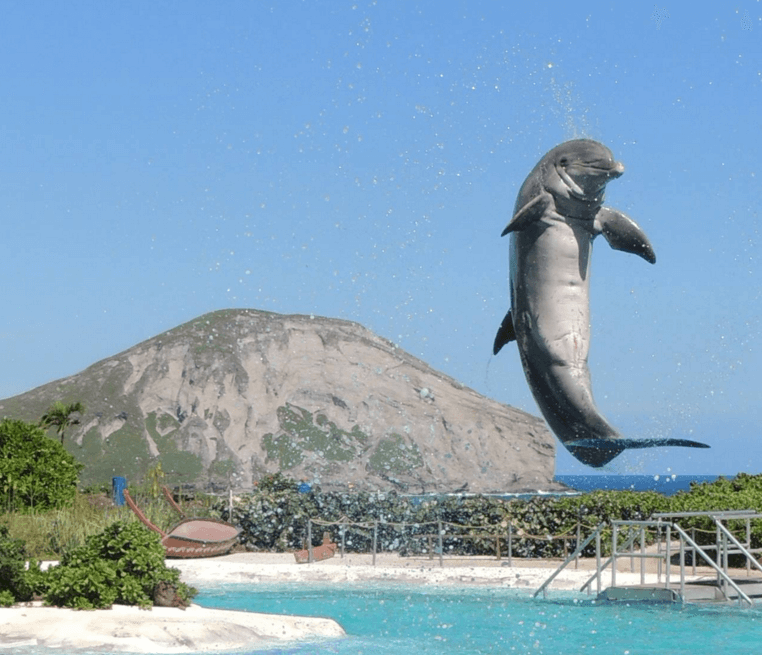 Swimming with dolphins and sea lions is just fun with a splash of excitement and a lot of laughter mixed in; from the second you step onto the platform and see the splashing dolphins to the sea lions barking their hellos. Two of the most graceful creatures will be swimming and playing with you. It truly is a most memorable experience in Oahu Hawaii!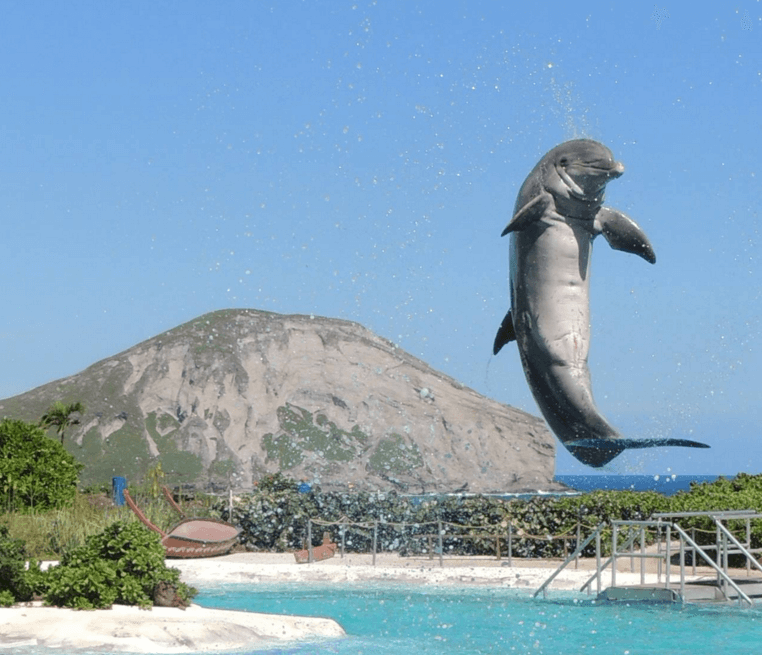 The Hawaiian Islands! Save Big on Hotels in Hawaii with Expedia!
Almost time to play!
After the walk to the platform and the anticipation building up inside you, there is the sound of water splashing and high pitch squeaks. The dolphins are already jumping and splashing in anticipation of your arrival. An excitement builds up inside of you as you approach. There is a moment of orientation with the trainer to better understand these creatures and how to have the most fun with them. All the while there is a twitch in your stance and shuffle in your feet as the dolphin pokes his head out from the water by your foot on the platform. The dolphin will start to nod and playfully splash, as if asking you "why are you not in the water yet?" "Aren't I much more interesting than that scrawny human talking to you". It is a bit comical to think a dolphin would speak this way to us, but there body language and high pitch squeaks basically translate to roughly that conversation; especially when they see new and interesting people they have not played with before.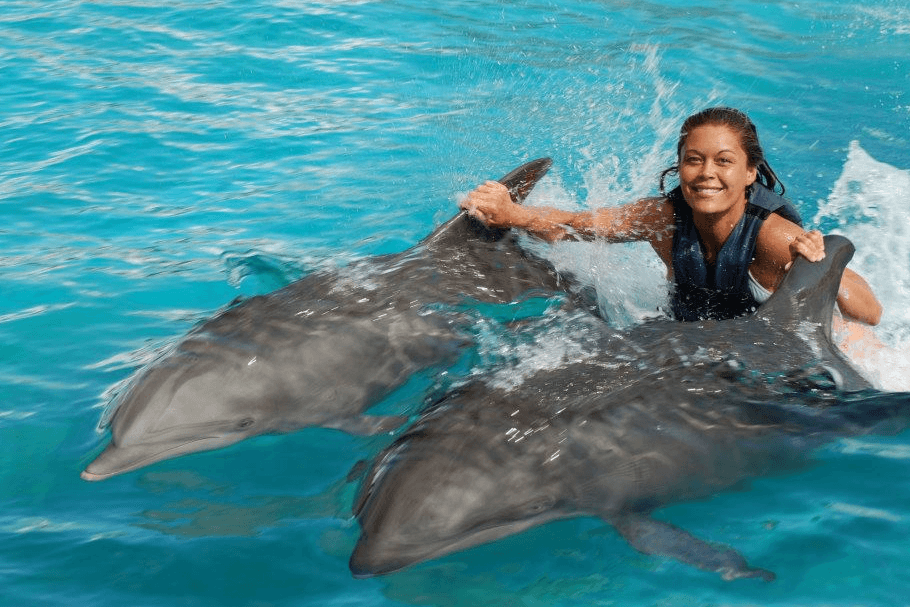 Playtime! Finally! *squeak!*
The orientation will be over and the trainers will ask you to step into the water. Although this is a group swim with the dolphins, and there might be the fear that it might not be as personal between you and the dolphin, there really is nothing to fear. Because the group is bigger and the dolphins are more numerous, there is an independence the dolphins take for themselves and you can interact with the dolphin more freely versus a trainer staring right at you the entire time. The group vibe builds the excitement and chatter, feeding the dolphin with positive energy and feeling more and more energetic as he jumps and dances with you.
Book Your Dolphins or Sea Lions Oahu Hawaii Programs >>
The trainer will teach you some hand gestures to better communicate with the dolphin and the dolphin will swim and dance as you guide him. The dolphins then recollect in the center and perform tricks for you. They show off their amazing balance by swimming on their hind fins and acrobatic synchronization as they swim in unison and flip through the air. As the tricks come to an end they will go back to you and dance, splashing you with water as they squeak with joy. They will roll over on their bellies and have you give them a belly rub and show off their super speed as they dart to and fro before you. The swim will conclude with a kiss from the playful dolphin on your cheek.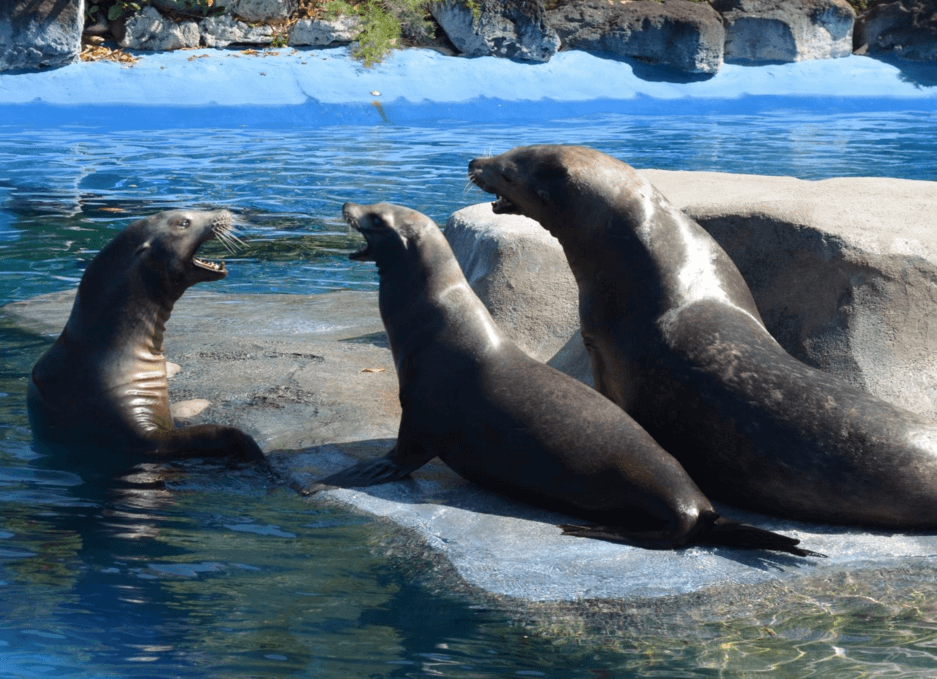 Our turn now! *BARK!* *BARK!*
As they make their way out for a rest you float there wondering what's next. But you don't have much time to ponder, it as their barks start closing in on you. The sea lions shoot through into the open water and circle around the platform, as if to say, ok the junior party is over, let the real entertainers do the work. In addition to letting you pet them and feel there shinny cool to the touch coats, they perform many tricks, jumping in the air over your head and allowing you to play ball with them. They bark and splash, with joy at having playmates. They sneak around in the clear, beautiful water and pop their heads out, lunging towards you in a hug, their whiskers tickling your neck and shoulders. Then one of them will swim very gracefully in front of you and just float there. You might try to move away but they will be having none of that. They want you to hold them, and they hold their flipper up and snuggle up against you.The swim will conclude with their giant faces up against yours and their flipper around your shoulders, in a warm, loving kiss and hug. The time will come that you have to leave and they will bark and splash, letting you know they expect you back, there new found friends.